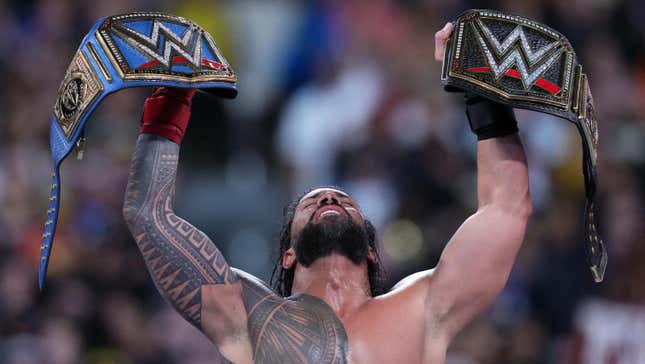 The UFC and WWE are becoming sister events under UFC's parent company Endeavor Group Holdings.

Eric Beiley Part II: Where rates are heading
The two sporting spectacles—one, real mixed martial arts tournament Ultimate Fighting Championship (UFC) and the other, the more staged World Wrestling Entertainment (WWE)—will form a new publicly traded company. The companies announced the deal today (Apr. 3), confirming a CNBC report from yesterday.
The deal effectively ends WWE's decades-long run as a family business under the helm of Vincent McMahon. The WWE owner returned to his post in January this year after retiring in wake of a sexual misconduct scandal last July. He was reportedly looking to sell the company, instructing JPMorgan to advise on a potential sale. Saudi Arabia's Public Investment Fund and Comcast had, at various points, reportedly considered throwing their proverbial hats in the ring, but it's Endeavor that took home the prize in the end.
The WWE deal, by the digits
$1.3 billion: WWE's 2022 revenue, its highest-ever. Over $1 billion came from its media unit.
$6.79 billion: WWE's market value
$9.3 billion: WWE's enterprise value courtesy the Endeavor deal
$12.1 billion: UFC's value after the Endeavor-WWE deal
51%: Endeavor would have the majority stake in the new company
49%: Stake WWE shareholders would get in the new company
$150 million: Cash UFC and WWE will each contribute cash to the new company
33%: How much shares of WWE are up this year
Quotable: The UFC-WWE live sports and entertainment behemoth
"This is a rare opportunity to create a global live sports and entertainment pureplay built for where the industry is headed. For decades, Vince and his team have demonstrated an incredible track record of innovation and shareholder value creation, and we are confident that Endeavor can deliver significant additional value for shareholders by bringing UFC and WWE together." —Ariel Emanuel, CEO of Endeavor.
A brief timeline of WWE owner and chairman Vince McMahon's career
1969: Vincent Kennedy McMahon starts his career as a ring announcer, before becoming a wrestling commentator in the 1970s.
'80s: McMahon purchases his father's New York-based wrestling territory. Over the next few decades, he turned it into a hugely lucrative international phenomenon, hosting live events and selling media rights, and more.
July 2022: McMahon is found to have paid four women upwards of $12 million in hush money over the last 16 years to cover up allegations of sexual misconduct and infidelity. McMahon announces his retirement in the wake of the sexual misconduct scandal.
November 2022: The probe concludes but the findings are not made public.
December 2022: In an email to McMahon, the board says it was willing to "welcome" his participation in business decisions, but was resisting his return to the company while government investigations are still underway. McMahon faces fresh legal demands from two women who claim he sexually assaulted them.
Jan. 6, 2023: McMahon made another case for his return, saying the special committee investigation was over.
Jan. 10, 2023: Vince McMahon is unanimously elected Vince McMahon executive chairman of the WWE board.
No leadership upsets at the new WWE-UFC company
Ari Emmanuel, owner of Endeavor, will serve as chief executive of both Endeavor and the new company.
Endeavor president Mark Shapiro will work in the same role at the new company.
McMahon will be executive chairman of the new entity.
Dana White will remain president of UFC.
WWE CEO Nick Khan will serve as president of the wrestling business.
Eleven board of directors will be appointed at a later date—six chosen by Endeavor and five by WWE.
Related stories
👊 Vince McMahon took back control of WWE
🤼‍♂️ The fighting is real, but the UFC still longs for the showmanship of pro wrestling