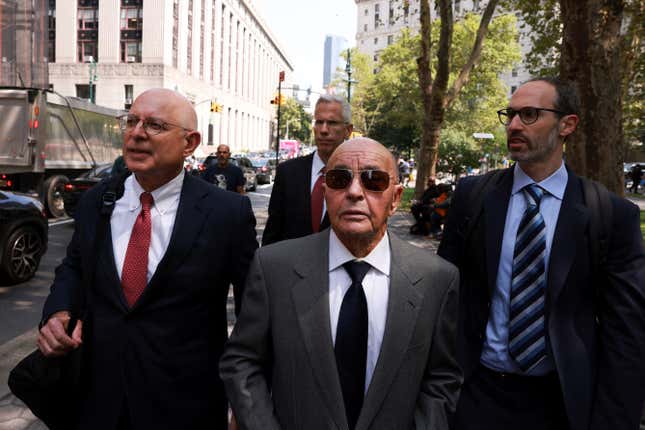 British billionaire Joe Lewis pleaded not guilty in a New York district court on Wednesday (July 26) after federal authorities charged him with running an extensive insider trading scheme.
Should you keep investing in Big Tech?
In a 29-page indictment, federal prosecutors accused the well-known businessman and investor of giving out nonpublic financial tips to close associates, including his personal assistants and romantic partners, between 2019 and 2021. In total, Lewis was charged with 16 counts of securities fraud and three counts of conspiracy.
The charges were first introduced by US attorney Damian Williams, who criticized the "brazen" scheme and said that Lewis used his insider knowledge to "shower gifts on friends and lovers."
Lewis was released on a $300 million bail secured by his private yacht and aircraft.
David Zornow, the lawyer representing Lewis, sharply criticized the charges in an email to Quartz.

"The government has made an egregious error in judgment in charging Mr. Lewis, an 86-year-old man of impeccable integrity and prodigious accomplishment," Zornow said. "Mr. Lewis has come to the US voluntarily to answer these ill-conceived charges, and we will defend him vigorously in court."
Additionally, federal prosecutors charged his two private pilots, New York residents Patrick O'Connor and Bryan Waugh, with securities fraud after they allegedly made successful trades on Lewis' tips.
How much is Joe Lewis worth?
Lewis owns a sprawling network of businesses spread across 13 countries. He first founded his private investment firm, the Tavistock Group, in 1975, and made most of his wealth short-selling currency in the 1990s.

Now he is worth over $6 billion, according to Forbes, and notably sold a David Hockney painting for $90.3 million in 2018, the largest sum ever paid for a work from a living artist. His family trust also holds the main ownership stake in Tottenham Hotspur, a Premier League football club.
Quotable: Classic corporate corruption
"None of this was necessary. Joe Lewis is a wealthy man, but as we allege he used insider information to compensate his employees, or to shower gifts on his friends and lovers... That's classic corporate corruption. It's cheating and it's against the law." — Damian Williams, US attorney for the Southern District of New York, at a press conference July 26
What are the charges against Joe Lewis?
The indictment against Lewis paints him as a reckless businessman, doling out financial tips to a wide range of people in his life.

In one scenario, outlined by prosecutors, Lewis allegedly urged his girlfriend, his assistant, and the pilots of his private planes—O'Connor and Waugh—to invest in the pharmaceutical company Mirati Therapeutics, after he learned of favorable clinical trial data through his hedge fund. Lewis was accused of lending O'Connor and Waugh half a million dollars each to invest in the stock, a sum regulators accused Lewis of using as a substitute for their retirement plan.
Lewis is also accused of concealing the extent of his investment in Mirati through an elaborate series of shell companies, as well as an offshore trust to benefit his granddaughter.
Related stories:
🪙 Elon Musk is accused again of Dogecoin insider trading
🚗 A Volkswagen board member was convicted in the Dieselgate scandal that's costing $38 billion and counting
🌎 ExxonMobil is preparing to fend off multiple shareholder resolutions related to climate change