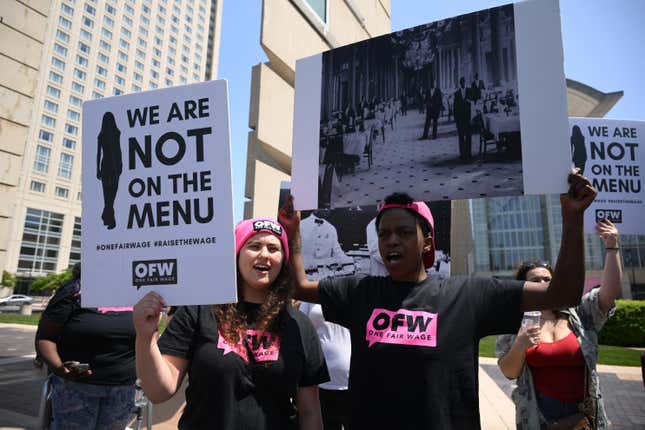 It's not uncommon for children in the US to do small jobs to pay for their weekly expenses or save for college. But a recent raft of state legislation aimed at weakening child labor regulations has raised concerns about something more sinister at play: the filling of a gap in the US labor market with cheaper, and more easily exploitable, underaged workers at the expense of their educational opportunities.

Why a tightening of credit conditions could lead to a weak economy
Iowa is the latest state to take aim at child labor protections, enacting one of the most significant roll backs to date. In late May, governor Kim Reynolds signed a law that expanded the permitted working hours and places of employment for teens as young as 14 years old. Iowa's bill, which violates federal law (pdf) according to the Department of Labor, went into effect on July 1.
The bill allows adolescents to participate in activities usually deemed inappropriate or dangerous for minors, such as serving alcohol, working in one of the state's 200-plus meatpacking plants, operating heavy machinery, or joining demolition projects, among other provisions. Many are jobs that federal law has historically prohibited to those under the age of 18. 
Advocates for child labor protections have warned that these developments could have grave consequences. "State bills to weaken child labor protections are a huge concern," said Reid Maki, a director at the Child Labor Coalition, in a statement to Quartz. "We know from academic research that if teens work more than 20 hours during the school week, grades drop and school completion rates plummet."
He continued: "Child labor protections were hard won and should not be tossed aside because of perceived labor shortages."
Regulatory rollback amid increased child labor violations
It's not just Iowa. At least fourteen states have sought to weaken regulations against the employment of children over the past two years, the Economic Policy Institute recently noted, even as violations of those laws have been on the rise. The Department of Labor (DOL) identified over 3,800 cases of child labor violations in the 2022 fiscal year after investigating some 835 businesses, the highest level of incidents since 2008. Among the violators were McDonald's franchisees, slaughterhouse cleaning company Packers Sanitation Services, and a Hyundai and Kia plant in Alabama.
A particularly vulnerable subset of minors are unaccompanied migrant children. Federal investigators are now looking into the widespread employment of migrant children in the meatpacking and produce industries, according to an NBC News report from June 7. Tens of thousands of migrant children arrive in the US unaccompanied each year, and can end up being released from custody to poorly vetted sponsors. Children, sometimes as young as 12 and 13, are being pushed to work dangerous jobs and long hours as they seek to support themselves and send money back to their families, as found in recent investigations conducted by the New York Times and Reuters.
Under a legal concept known as the preemption doctrine, conflicting federal law could supersede the new state-level laws on child labor, rendering them invalid. But that is a conclusion that would need to be determined in court (and could be a complex, drawn out process, as seen within clashes on federal and state-level drug regulation).
The two trends—legal rollbacks and increased violations—are far from coincidental. There has been a concerted push from state legislatures, trade associations, and conservative groups to expand the legal employment of young teens in various sectors, including manufacturing and services, often citing a perceived labor shortage as the motivation behind the policy changes.
Having a tight labor market has proven a boon to workers who are demanding more from employers. But the states that are rolling back child labor laws, most of which are run by Republican governors, risk opening new pathways for child exploitation in the name of propping up private enterprises.
"What's really driving this is a desire of corporations to pay less for labor. If pay were higher and conditions were better, there would likely be enough adults willing and available to do the work," said Kate Andrias, a professor at Columbia Law School who specializes in labor law, in a recent interview with the university.
Charted: The US states rolling back child labor protections
A brief history of child labor regulations in the US
1906: Indiana senator Albert J. Beveridge introduced the first federal bill to regulate child labor in the US. The bill sought to "prevent the employment of children in factories and mines." No action was taken on the bill, though it raised the profile of child labor, as well as prioritizing children's safety and education, to a national issue.
1912: President William Howart Taft established the US Children's Bureau, the first federal agency specifically focused on improving the wellbeing of children and families.
1916: The first law regulating child labor, the Keating–Owen Child Labor Act, is signed into law by president Woodrow Wilson. It banned the sale of products from some businesses, mines, and facilities that employed children. The Supreme Court struck it down in 1918 after ruling it overstepped federal authority in regulating interstate trade.
1938: The Fair Labor Standards Act (FLSA), which remains the main legislation regulating child labor in the US, is enacted. It established the Department of Labor's Wage and Hour Division (WHD) to enforce the (FLSA). It restricted child labor in certain industries to ages 16 and older, with an 18-year-old minimum for hazardous jobs.
The billionaires behind the push to roll back child labor laws
The campaign to dilute child labor protections in the US, or scrap them entirely, dates back decades. Billionaires Charles Koch and his late brother David Koch have been longtime supporters of child labor deregulation.
As reported in Popular Information, in 2014 the Cato Institute, which has received tens of millions of dollars in funding from the Koch brothers (Charles is a co-founder), published an essay titled "A Case Against Child Labor Prohibitions." The piece argues that employment of children is a natural step towards economic development. It is a common refrain in conservative arguments in favor of child labor, in which individual striving is framed as a means to address poverty, rather than welfare or systemic change.
A 2016 essay titled "Let the Kids Work," published by the Koch-funded Foundation for Economic Education argues that child labor is all about freedom of choice, and developing "the inner drive to succeed."
Quotables: Conservatives want kids in the workplace, on the clock
The answer for how to cure child labor lies in the process of economic growth—a process in which sweatshops play an important role. –A quote from 2014 essay published by the Cato Institute, "A Case against Child Labor Prohibitions"
If kids were allowed to work and compulsory school attendance was abolished, the jobs of choice would be at Chick-Fil-A and WalMart. And they would be fantastic jobs too, instilling in young people a work ethic. —A quote from the 2016 essay published by the Foundation for Economic Education, "Let the Kids Work"
Conservative organizations are promoting a pro-child labor agenda
The Koch-linked think tanks aren't alone in pushing a pro-child labor agenda. A host of conservative interest groups, including the Foundation for Government Accountability (FGA), National Federation of Independent Business (NFIB), and the National Restaurant Association (a.k.a. "The other NRA") have all been lobbying for—and sometimes even drafting—legislation to weaken child labor laws in states across the US, according to research from the Economic Policy Institute. Here's a sampling of what they've accomplished.
The FGA, through its conservative advocacy arm the Opportunity Solutions Project, was behind an Arkansas law, passed in March, that eliminated the work permit requirement for minors aged 14 and 15 years old. The FGA also had a hand in a bill introduced in Missouri intended to remove work certificate requirements for 16- and 17-year-olds, and supported the Iowa bill.
The NFIB, too, was one of 10 organizations that supported Iowa's roll back on child labor protections, and has supported similar legislation in Wisconsin (though it was vetoed by Democratic governor Tony Evers), Ohio, and New Jersey.
The National Restaurant Association has been accused of trying to relax prohibitions against teens serving alcohol in several states across the US, and has pushed to extend their working hours. McDonald's, Yum! Brands, Disney, and Darden Restaurants (owner of Olive Garden, Red Lobster) are all members, and pay annual dues to the trade association—providing an avenue for the promotion of corporate interests.
The US's labor shortage and the "Great Reshuffle"
The conservative logic behind supporting child labor is based in part on a labor shortage argument. In the aftermath of the pandemic, certain industries have struggled to maintain stable staffing, with the hospitality and food service sectors having particular difficulty. The quit rates in these sectors have remained among the highest across industries, holding steady at nearly 5% since July 2021, according to a report from the US Chamber of Commerce.
The high turnover may represent the lasting effects of the so-called "Great Reshuffle," a term referring to the increase in employee dropouts and a rise in career changes post-pandemic as workers sought better benefits and pay.
At the same time, the number of 16- to 19-year-olds entering the labor force has been increasing. A tight labor market has helped their wages to climb, as Axios reported, especially as a wave of older workers have retired following the height of the pandemic, shrinking the size of the labor pool.
But the issue here is not about teens picking up a summer job, but what happens once school starts again. A long-term, ethical solution is needed to resolve perceived labor shortages—one that does not rest on the shoulders of children.
Related stories
😕 Arkansas says teens need parental permission to use social media, but not to get a job
😰 A McDonald's franchisee was fined for employing 10-year-olds
😯 Dollar General shareholders approved a workplace safety audit against the board's wishes