In China, people will soon be able to bring nothing but their smartphones (and clothes, perhaps) when going out, and the one and only app they'll need to download is WeChat.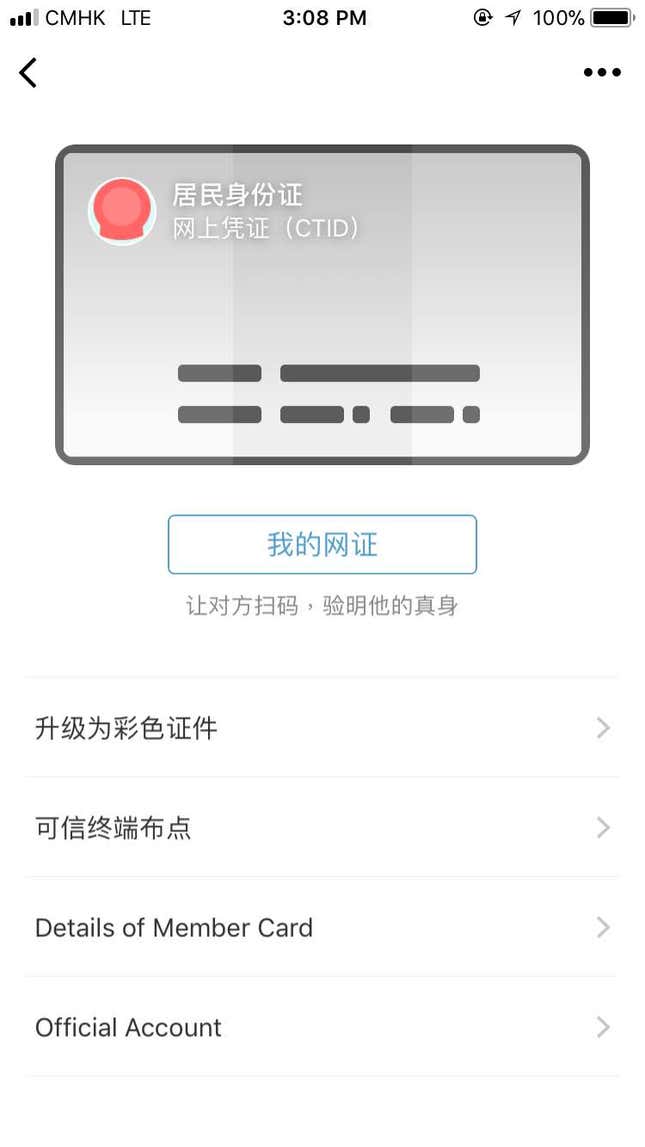 Owned by tech giant Tencent, WeChat has evolved from China's answer to WhatsApp to an all-in-one app that let users order food, hail cars, and pay utility bills through its payment function. It has made cash and credit cards obsolete for many users, and it might soon do the same to physical identity cards issued by the government. 
Earlier this week, WeChat rolled out a new function that lets users have a digital version of their government-issued ID cards. Users can go to a state-backed platform inside WeChat, enter their names and ID numbers, and then go through facial recognition to get their electronic ID cards. These digital versions will be accepted in place of ID cards for hotel check-ins and airport security checks, among other things. The program is currently available to citizens in the southern Guangdong province, and will be extended nationwide next month, according to a report from state newswire Xinhua (link in Chinese).
Previously, both WeChat and rival payment service Alipay from Alibaba rolled out similar ID card schemes in cooperation with local governments in cities such as Wuhan and Nanning. But the new WeChat feature is poised to become China's first national, official electronic ID system powered by a tech company.
As the app continues to add features, people will only become more dependent on it over time. But the scary part is that WeChat gathers and monitors user data that can be shared with the government whenever deemed necessary. Police have arrested WeChat users for writing messages critical of the government. In some cases such messages are blocked from reaching their recipients, but the sender isn't alerted to the fact. 
So while WeChat is an all-encompassing system that does indeed make everyday life easier, it's also a powerful tool of government surveillance and control. That's an awkward situation, but it's the kind any tech company has to deal with when operating within China's authoritarian realm.
Below are two lists of all the things you can—and can't—do with your WeChat account in China.
Things you can do with WeChat
Messaging, voice messaging, stickers (including badly made government ones), voice and video calls.
Share updates and photos with friends through the Moments feed.
Share real-time location with friends.
Find random people nearby through the Shake and Look Around features.
Toss Drift Bottles into a "sea" and let random people pick up your messages.
Read articles (and tip authors) through Public Accounts owned by traditional news outlets, online media, and solo bloggers alike.
Search everything that's published and shared on WeChat.
Check friends' updates and rankings in Tencent-owned mobile games (including some of the world's most popular titles, such as Honor of Kings and Clash of Clans).
Send virtual red envelopes stuffed with real money to friends—especially popular during the Lunar New Year.
Transfer money and pay in stores through the Wallet feature.
Repay credit cards, pay utility bills, top up mobile phones, or buy wealth management products and a virtual currency owned by Tencent through the Wallet feature.
Get access to third-party services including ride-hailing, online shopping, and food delivery through Wallet.
Get access to public services including booking doctor appointments, applying for visas, and checking driving records.
Use the Mini Program feature, which offers miniature, low-memory "apps" within the WeChat app itself—and basically includes everything.
Things you can't do with WeChat
Publish articles critical of the government (they'll soon be deleted).
Change your alias to certain terms including "Xi Jinping," "Falun Gong," and "low-end population."
Transfer 6.4 yuan or 89.64 yuan through Wallet around the anniversary of the 1989 Tiananmen massacre, also known as "June 4."
Spread rumors, information, and other content that "disrupt the social order," which can lead to up to seven years in jail.