In Hong Kong, a resolution to the recent unrest is as uncertain as ever: Neither side in the conflict seems to know what it's doing after the government's sternly-worded ultimatum to protestors to end their occupation of parts of the city passed today.
Despite the adage that the market hates uncertainty, investors bid up Hong Kong stocks for the second consecutive trading session. Today's gain was the biggest in a month for the city's benchmark equity index.
Still, the Hang Seng remains a bit below where it was before the protests kicked off 10 days ago, extending losses on stocks that were already falling before pro-democracy protesters took to the streets en masse: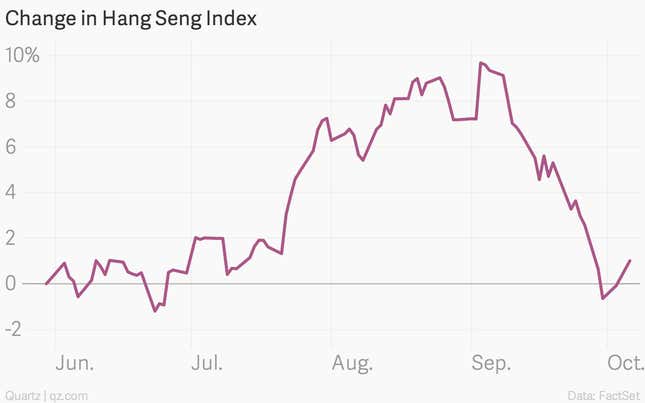 Unsurprisingly, the sharp swings in stocks—both up and down—since the protests began have pushed up a gauge of volatility, which also usually makes investors nervous: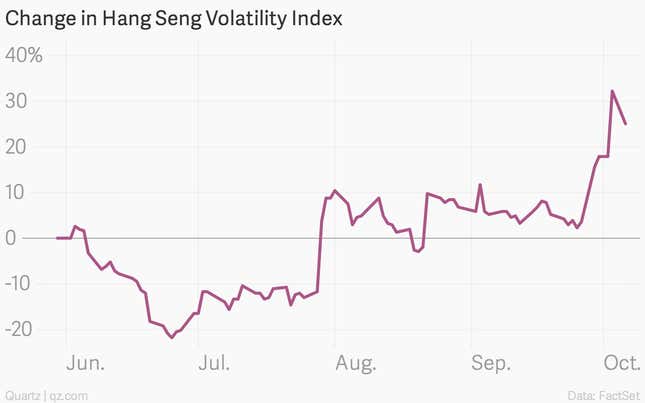 The protests will undoubtedly impose costs on the city. The disruption could cost retailers HK$2 billion ($260 million) in lost sales, as shoppers from the mainland stay away. The World Bank has trimmed its forecast for economic growth this year, while the ratings agency Fitch expressed doubts about the "basic question of governance" in the territory today.
But even if the stand-off persists, the impact on Hong Kong's main industry—financial services—will likely be modest, as it has been thus far. And as a regional financial hub, the trends in Hong Kong's market don't necessarily reflect local conditions. Everything from relaxed rules on second mortgages in mainland China to the bullish outlook for Macau casinos has pushed up the value of Hong Kong-listed stocks in recent sessions.
Some sectors have fared better than others. Tech stocks are actually up since the protests began: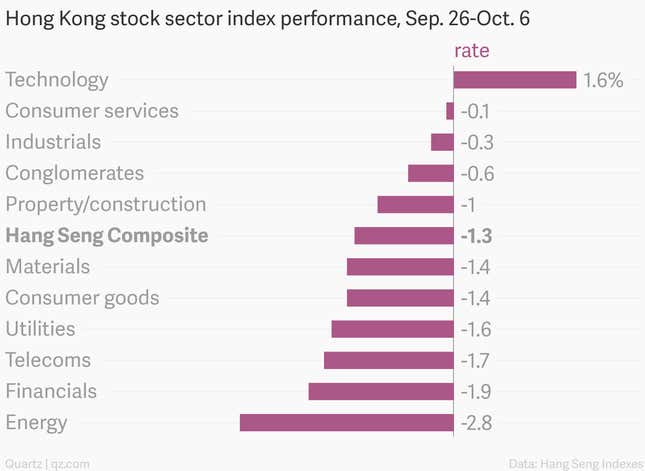 Financial markets are sometimes seen as possessing powers of prediction that they don't actually have, so reading anything specific into a couple of up days at the Hong Kong exchange is tricky. But past experience shows that the city's stock market is sensitive to Beijing's attempts to take independence away from the crucial finance and trading center. Back in the pre-handover days, reports that China was planning to put a mainlander in charge or station troops in the territory were met with much sharper drops in Hong Kong stocks than those seen in recent days.
That's cold comfort for protesters as they dig in for a second week on the streets, but it's worth noting nonetheless.