A group of burned Chinese investors are looking for help from outside of the mainland, after months of demonstrations at home failed to recover an estimated $6 billion lost in one of China's largest suspected financial scams.
More than twenty investors from Guangzhou, the mainland province that abuts Hong Kong, protested in Hong Kong's Causeway Bay shopping district on Sunday (May 22), demanding their money back from Fanya Metal Exchange, a rare metals trading platform which is now suspected to be a fraud and is under investigation. They've also taken to Twitter to spread news about their plight, begging foreign media to cover their story to put pressure on the government at home.
Thwarted at home
Some 220,000 investors across the country may be out $6 billion, following the April 2015 suspension of all trading on the exchange. The exchange's head was arrested for suspicion of  "illegally absorbing public savings" in January. But investors are still struggling to get their money back, and the Chinese government appears reluctant to help them.
Fanya was just the tip of the iceberg for Chinese financial scams last year. It's not the biggest in terms of money involved, but it remains one of the most troubling one because the company grew thanks to government support. The local Yunnan government approved its setup; state banks aggressively sold its flagship products, which promised "zero risks" and high returns, to their clients; China's national broadcaster regularly endorsed the exchange. Investors say they never imagined things could go wrong, after all this official recognition.
Investors have been trying to recoup their losses through public protests, and even at one point, kidnapping the exchange head and turning him in to the police. But their outcry has invited arrests and harassment from police—the Chinese government values "maintaining stability" in the society over protecting individuals' interests.
Their latest attempt to get their money back brings the battle outside of China for the first time. It could set an interesting precedent for other burned investors in China, making Hong Kong as a place to air grievances to an international community that aren't being heard at home.
At around 2pm on Sunday, more than twenty Fanya investors gathered at Hong Kong's Times Square to protest in matching T-shirts, with slogans including "Government fraud, banks' accomplice," and "Yunnan government pay [us] back."
They were fully prepared with banners, posters, and flyers and compact discs to give out to passers-by with information on their case. They purposefully had fewer than 50 people, so they did not need to apply for a permit to assemble in advance.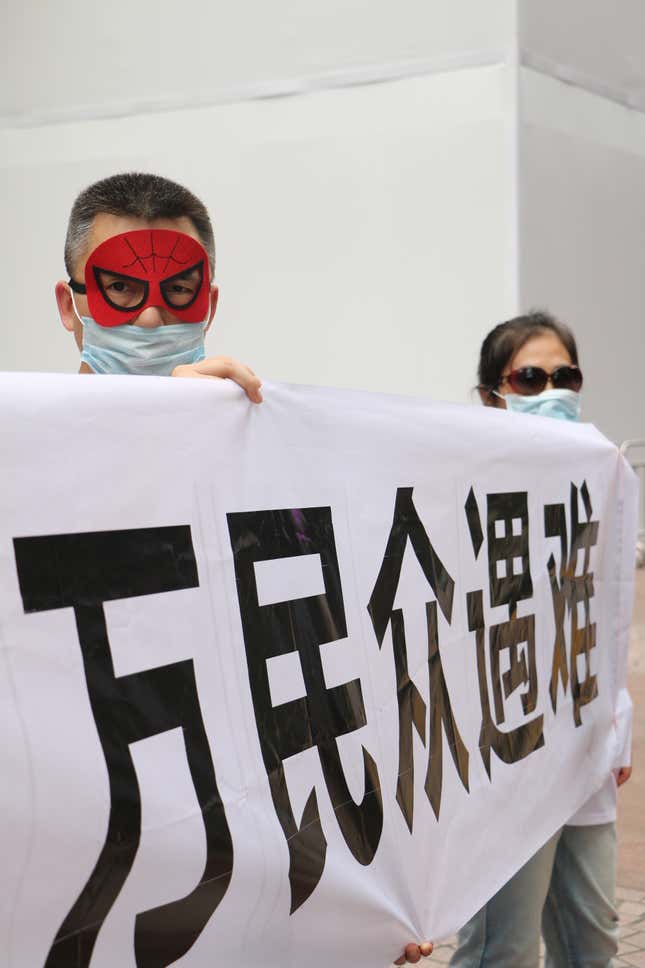 In Hong Kong, they were enjoying the ability to speak and demonstrate freely, rights they hadn't appreciated in the past, they said.
But many of them put on facial masks—and some added Spiderman eye masks—for fear that the Chinese government would retaliate.
"The more we're disappointed with our country, the more we understand the freedom of the outside world," an investor from Guangzhou, who asked to be called Richard, told Quartz at the protest scene.
A life-changing loss
Richard, 55, made his fortune through his own business, he said, and put nearly all his savings, some $1 million, into Fanya shortly before the exchange suspended all trading.
Richard called it a "free-fall change" in his life. He knows he should never have "put all my money in one basket," but it was just a short-term investment ahead of his plan to immigrate to the US. "Now I have to sell my property for my child to attend a US college, and think about how to earn money for my retirement age from the beginning," he said.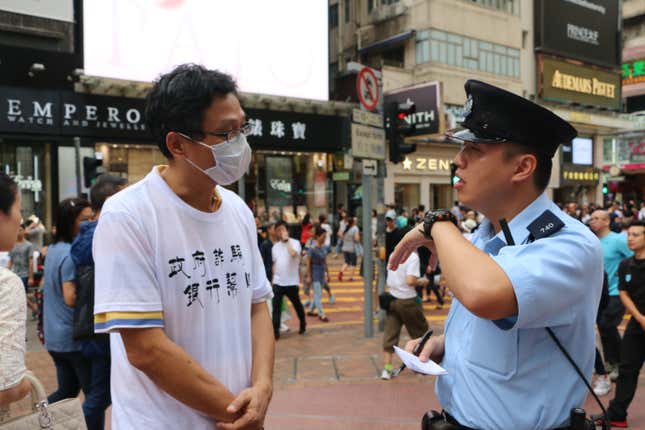 Richard has attended public protests for Fanya investors before, including a failed attempt in Beijing. In October 2015, a nationwide protest in Beijing was thwarted by the police beforehand, who arrested investors in Beijing hotels or threatened their families, as Quartz has previously reported. At least four protest organizers remain under criminal detention, and are likely to be prosecuted for the crime of "gathering crowds to disturb public order," which could carry a five-year jail term, investors told Quartz earlier.
After that incident, many investors gave up on domestic protests, Richard said, because they don't want to "get hurt for a second time." Hong Kong has become a new venue for them to speak out. "After more than a year of  defending their rights, those who didn't care about Hong Kong's freedom now do," Richard said.
"We don't want any other people to be cheated in future," one senior investor from Guangzhou, who asked not to reveal her name, told Quartz while she was handing out flyers. The woman, who said she was in her 70s, said Chinese police put her under house arrest for more than ten days in October to ban her from traveling to Beijing to protest. She said she was pushed to the ground by police, and broke a bone in the process.
Shaming Beijing overseas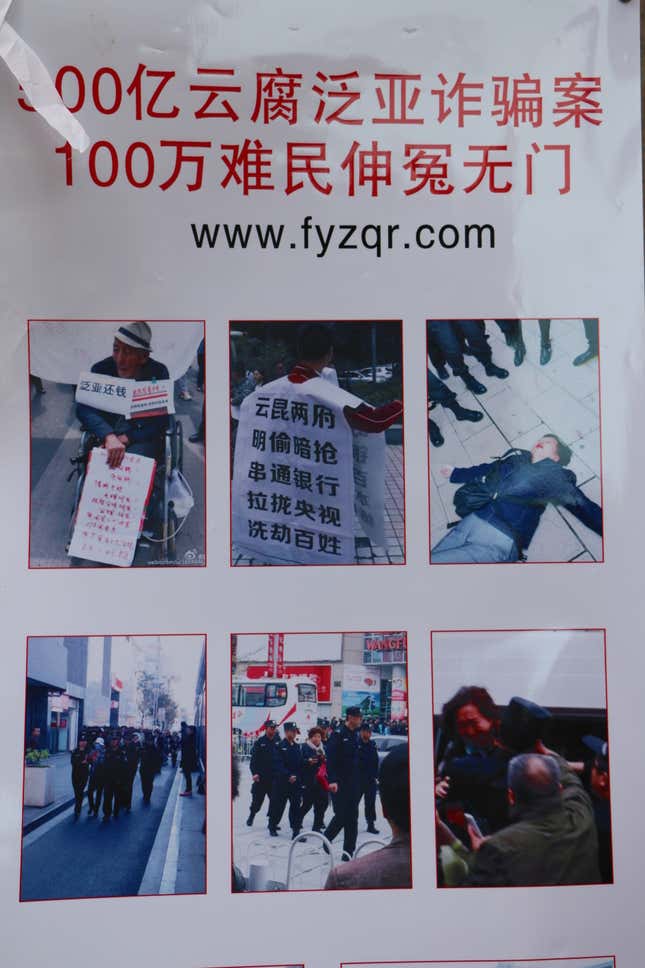 Even though the government has disappointed them so far, they haven't completely lost hope in Beijing. As one of the banners writes, their demand is to "cry for help from the central [government]" to investigate the local Yunnan government and "save the country's credibility and ordinary people." They even postponed the protest for a week, because a top Chinese government official was visiting Hong Kong.
"The Communist Party wants to save face," one investor from Shenzhen said. "It can cover up within the country but can't do so outside." He said he hoped western media would report their protest and put pressure on the government, as Chinese media are forbidden from doing so.
If the Chinese government doesn't tackle social unrest like in Fanya's case, Chinese citizens flooding in to Hong Kong could include "refugees from the entire country," Richard said, referring to China's Great Famine in the 1960s when  nearly one million Chinese citizens fled to Hong Kong. He would like to see Fanya investors from other provinces join the protest overseas, he said. "The next stop could be Singapore or New York."