Hong Kong's latest election may have ushered in a new era in politics. An unexpected number of voters turned out for Hong Kong's Legislative Council election in September and delivered surprising results, thanks in part to Facebook campaigns by the city's social media-savvy politicians.
As the US presidential election nears, analysts are speculating about the potential impact Facebook may have on turnout, and who ultimately wins the race. Hong Kong's election may provide some clues. In Hong Kong, the "Facebook effect" pushed younger, more liberal, voters to the polls and led to an upset in what was once one of the city's most conservative, Beijing-leaning districts.
Like citizens in elsewhere in the world, some of Hong Kong's 7.8 million residents have grown increasingly distrustful of their local television broadcast channel, and its politically allied newspapers. So Facebook became the medium of choice for information when these voters were deciding who to support. Many candidates and political analysts published live broadcasts and creative short films, held realtime Q&As, and sent clips of debates on TV and radio, directly to Facebook's 5 million active users in Hong Kong (link in Chinese).
As a result, mainstream media outlets attracted smaller audiences, and did worse at predicting who would win. Some candidates claimed unexpected landslide victories while other candidates who were hot in the traditional opinion polls won only by a narrow margin, or lost.
"Traditional, mainstream media had little impact on the election this time," said local political commentator Martin Oei, who publishes political blog MO's Notebook 4G (link in Chinese). "News was delivered to users in real time via Facebook, which has become the [main] source of information for a lot of people."
Record internet use in a wired city
Hong Kong's embrace of Facebook comes in part from the city's deep digital roots. With internet penetration of 74.6%, a mobile subscription rate of over 225%, and great telecom coverage even on the subway, Hong Kong has been a wired city for years. And its election campaigns are unusual; candidates aren't allowed to run political ads on television or radio—they're supposed to get "equal time" from local TV and radio stations.
This election the city's internet usage set records—traffic hit above 640G bits per second from the second half of August until election night, data from Hong Kong Internet eXchange shows. That's the highest usage for the two years that the exchange has data, and higher than the peak of the 79-day Occupy protests in October of 2014, when students were using apps and phones to organize, get news, and broadcast what they were doing.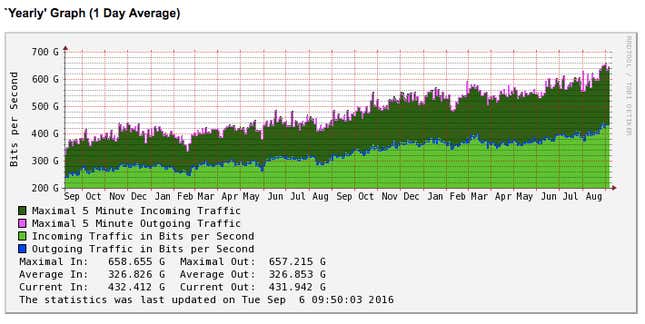 Hong Kong Internet eXchange's data does not explain the source of the traffic, but it seems obvious to associate it with the election. Everything from campaign videos to live broadcasts from news outlets to analysis by individuals went viral on Facebook during this period, as voters searched for information that they couldn't find on broadcast stations or the websites of news outlets. Facebook would not provide user data for the election period, but many analysts and politicians report a huge jump in Facebook user engagement.
Lau Sai-leung, a veteran media and political analyst, and former advisor to the Hong Kong government, said traffic for his Facebook live videos peaked over the election weekend, far surpassing traffic for his online TV station Sing Jai (link in Chinese). Two days before voters went to the polls, Lau posted Facebook live videos urging them to give up on certain candidates and political "old seafood" and stand behind those who stood a better chance of winning.
Some of these videos had more than 100,000 views, "which was unprecedented," said Lau. His support may have helped Hong Kong's most popular legislator, Eddie Chu Hoi-dick, win votes in Hong Kong's New Territories, and oust the conservative leadership that had ruled there for decades.
Television and media websites lost out
Ratings of Hong Kong's broadcasting giant TVB on election day were down significantly from the last election. Ratings on Cantonese channel Jade peaked at 10.30pm, after the polling stations had closed, with an estimated 1.3 million viewers, the channel said. Through the voting period, from 7.30am to 10.30pm, the station aired three segments that might have influenced voters' decisions—but only between 38,946 and 142,802 viewers tuned in. Four years ago, during the previous legislative election, TVB's broadcasts on election day attracted about twice as many viewers, at 76,884 to 294,722.
Even more astounding, the ratings report in 2016 includes TVB's internet viewers, although the one from 2012 does not.
Doubts about TVB's objectivity have soared since the Occupy Protests, and the channel's election coverage did little to dispel them. TVB did not report (link in Chinese) the news that some pro-democracy candidates were dropping out two days before the election, to give others in their district a better chance of winning, for example. As of two days after election day, Hong Kong's media watchdog, the Communications Authority, received 54 complaints against TVB. TVB did not comment on the ratings drop.
Winnie Leung, 38, an executive in the finance sector, is one of those who walked away from her local TV channel to watch videos and live broadcasts on Facebook. "I referred to my newsfeeds on Facebook as they are more frequently updated. Mainstream media, say local TV stations, just kept  repeating themselves with the same soundbites despite a lot of late developments throughout the day," she said. "I also find local media, particularly TV, very selective in their news coverage and not comprehensive on the matter at all."
"The widespread belief in self-censorship in traditional media tarnished people's trust in these media outlets," commentator Oei said.  "TVB's reputation is ruined. To social media users, even independent bloggers are more trustworthy because they do not have bosses behind them."
Traffic to the website of pro-democracy Apple Daily, which was the go-to news outlet for young people during the Occupy protests, paled significantly compared to Facebook posts direct from politicians to voters. Most election news items on Apple Daily's own website on Sept. 3, the day before the election, had 10,000 to 30,000 views. Some front page news had more than 161,000 views. Apple Daily said the newspaper published seven political stories on the election day and each had more than 300,000 page views—but the most successful Facebook posts by candidates and analysts about the elections had as many as 450,000 views. Apple Daily, public broadcaster RTHK, and the BBC all posted live election coverage on Facebook, rather than trying to drive people to their websites or apps to read it.
In light of the power of the Facebook, some news websites which are "pro-establishment," or Beijing-leaning, have become more active, but the interest in them lags far behind their rivals. HKGpao (link in Chinese), founded by Beijing loyalist Robert Chow last year, now has more than 53,000 likes on its Facebook page. The site argues against pro-democracy narratives and often attacks pro-democracy figures, such as student leader Joshua Wong, saying he looks like a creature from Japanese folklore.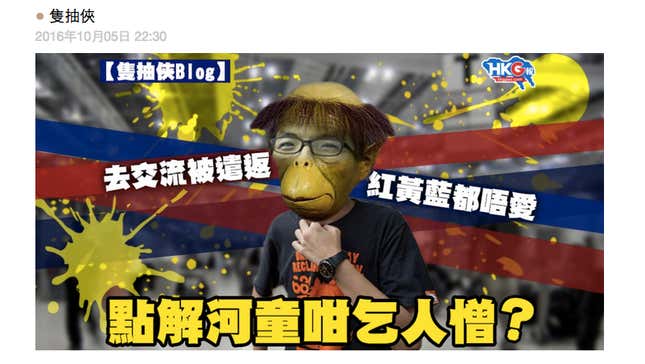 The winners and the losers
Seeing up a Facebook presence for a political campaign isn't new, and more than 90% of the 148 candidates who ran in Hong Kong's last election had one. But what they put on their page sometimes meant the difference between a surprise landslide win and public mockery.
Like many other young politicians in Hong Kong, Eddie Chu, the unexpected New Territories winner, posted a short campaign film, which featured the slogan "not giving up." It got more than 464,000 views on Facebook, representing nearly one-quarter of all Hong Kong's citizens going to the ballot for geographic seats.
"Promise me never give up. Unless you dare to say you're numb to this land," the film asks. Nearly 500 voters responded in comments below. "I ask myself if I'm numbed. No, I'm not. And many other young people are not. That's why more and more young people come out and fight," one Facebook user, Kwong Yuk Ting, commented under the video.
The film echoed Chu's grassroots campaign, which had featured homemade banners: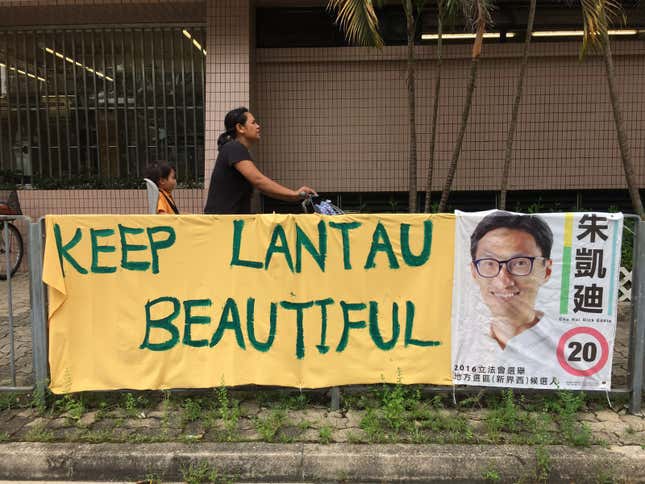 More than one million people watched independent candidate and lecturer Lau Siu-lai's Facebook clip of her tearing into pro-establishment candidate Priscilla Leung Mei-fun over labor rights, which was originally broadcast on TVB, but didn't really become part of the public discussion until it circulated on Facebook.
"Priscilla Leung, how did you vote on universal retirement protection in the past? For, abstain or against?" Lau asked. Leung did not answer the question, but she voted against the popular protection in 2012. Lau, who was arrested during the 2015 "Fishball riots" for selling squid in a street stall, won her local Kowloon West seat, defeating veteran radical lawmaker Wong Yuk-man.
Nathan Law, former head of the Hong Kong Federation of students, was the youngest winner at age 23. He racked up nearly 40,000 views on Facebook for his video about the possibility of "white terror," or suppression of political dissidents, if voters gave up.
On the other hand, the social media efforts of two pro-Beijing lawmakers, Wong Kwok-hing of the Hong Kong Federation of Trade Unions and Christopher "Tree Gun" Chung of the Democratic Alliance for the Betterment and Progress of Hong Kong, fell flat. Both have long been mocked by Hong Kong's relentless online satirists. Wong has been compared to a hip-hop star for the silly way he looped his comments. His Facebook page has just over 3,000 "likes."
Chung tried hired two youngsters to manage his Facebook account. They crafted sarcastic posts that mocked Chung's erratic behavior and notoriously bad English, showing him at Legco meetings and misspelling his name as Chirs in his posters. It earned him some popularity but not voters. His page now has 25,683 likes, but he lost the district election.
"The pro-Beijing camp failed to get support on social media. They have to stick to the traditional campaigning way such as through their membership lists and face-to-face contact, which can be more direct and efficient," Lau, the political analyst, said.
Facebook drives voters to polls
Facebook partnered with Hong Kong-based Chinese-language new media Initium Media to produce a series of live broadcasts in the weeks leading up to election, with candidates who were chosen by their popularity on Facebook. They included pro-democracy politicians Lau Siu-lai, Chu and "Long Hair" Leung Kwok-hung, but just one pro-establishment politician. The live broadcasts helped to spread these candidates' messages even further on Facebook.
Facebook launched its "Voter Megaphone" in Hong Kong for the first time for the September election, which reminds people to vote, and then lets them tell their friends when they have. While Facebook wouldn't provide data on how many people used it in Hong Kong, the election was a trending subject on Hong Kong citizens' Facebook feeds on election day, and it was impossible to avoid notices from friends announcing they had voted.
Ada Lee, a 28 year old research assistant in architecture, said Facebook played a much more important role in her voting decisions this election, in part because there were more people running for her local seat, and that's where she could find information on them. "Apart from their performances in forums, I also had to look at their popularity and chances of winning, to make sure that my vote will not be wasted. In this sense, I had to be more active in searching for information, and Facebook helped a lot."
Hong Kong's voter turnout set a new record, with 58.3% of eligible voters coming to the polls:
About 40% of total voters, some 1.48 million people, were between the ages of 18 and 45. The increase in registered young voters from 2012 to 2016 was substantially higher than the increase in young Hong Kong citizens.  Of the total 170,708 newly registered voters over the past year, 105,024 were aged 18 to 40, up 5% from the previous election. The jump was biggest among the under-30 crowd.
That rise in youthful voters responding in part to Facebook campaigns meant a smaller share of the vote for the pro-Beijing parties in the seats decided strictly by geography of where voters live (as opposed to Hong Kong's controversial "functional constituencies" which give companies like Israel's national airline a vote), analysts say:
How could this pan out in the US?
Of course, one can't directly apply the results of Hong Kong, with its 3.8 million registered voters, to the US presidential election, with 200 million.
If the election were decided solely by who's more popular on Facebook, as judged by Facebook "likes" on their candidates' official page, Republican Donald J. Trump will win.
(Trump's numbers may not be completely reliable—at least as of last year, a big chunk of the candidates "likes" came from countries notorious for running "like" farms that generate fake accounts to boost businesses or celebrities.)
But it's certain that Facebook will have some influence. Both candidates, and their fans, have been actively using the social media platform to recruit voters, replay commercials, advertise rallies, and in Trump's case, start a live broadcast. Facebook rolled out a US election guide, "Your plan," on Oct. 29 that helps voters compare candidates from president down to the local board of education level, as well as local referendums. Expect a "voter megaphone" as well on election day, which has already proven to bring voters out in smaller US elections.
Regardless of whether Trump or Clinton triumphs, Facebook is clearly benefiting from its role as news provider to voters, and everyone else, this election year. The social media giant announced in its third quarter results that net income rose 166%, to $2.4 billion, mostly from an increase in mobile advertising, and revenue per user in the US and Canada continued to climb. The company doesn't break down where those ads come from.
"Facebook is the biggest winner," said Oei. "They provide the most powerful platform and they don't even have to produce content. Times have changed."