A moment of silence, please, for the grubby old days of music festivals: contorting into the backseats of friends' cars, skipping showers, camping in rain-doused dirt.
Fans heading to Coachella this weekend can eschew the grime (the dirt, not the music genre) in favor of amenities such as private jets, boutique cycling classes, and air-conditioned tents—all sponsored by the types of large corporations that likely would've caused Woodstockers in 1969 to throw their hands up in disgust.
An explosion of both interest and competition is to blame for Coachella's swelling resemblance to a luxury resort. With music festival lineups getting more homogenous—thanks to the ever multiplying number of them, as production companies rush to capitalize on modern fans' eagerness for "experiences" over products—the 18-year-old fest has gone from a humble single-day event in the rustic California desert to a two-week extravaganza complete with holograms, fingerprint scanners, and a giant roving caterpillar. Opulent amenities are now Coachella's next attempt to remain unique.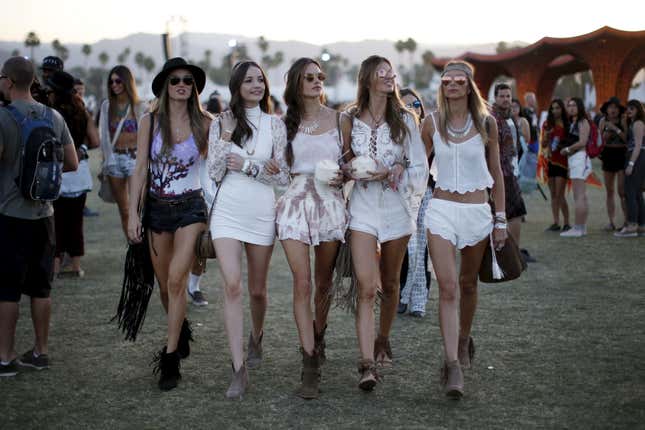 Travel like the talent itself
Let's start with how the revelers will get to the affair. Instead of carpools, the new way to attend Coachella is via private flight.
Private jet company XOJet said private-jet activity into three airports near the venue during the festival dates rose 40% in 2016 from a year earlier. Competitor JetSuiteX is offering flights for the first time this year from Burbank, California, to Jacqueline Conchran Regional Airport, a 20-minute drive from the festival grounds. "We've created a schedule that helps people get to and from the desert at prime times," a spokesperson tells Quartz, adding the flights are 50% booked already.
Then there's JetSmarter, a new company that bills itself as the "Uber for private jet travel," providing flights throughout the Coachella region as well; rides are free for people already signed up for the subscription service, but non-members can book one through the company's app for $599.
Sleep comfortably through the show
Coachella's lineup this year includes Lady Gaga, Radiohead, Bon Iver, Lorde, Kendrick Lamar, and dozens of others; glitzier than the celebrity musician in the daytime, however, are the posh facilities for guests at night.
Furnished safari tents have been offered for several years as VIP perks for those willing to shell out a few extra thousand dollars and "glamp" rather than stay in a cheap hotel (or—heaven forbid—rough it out in the hot desert). But this year Marriott, the world's largest hotel chain, is getting in on the action.
The company recently auctioned off eight air-conditioned tents each set up to look like a real Marriott hotel room, which were only allowed to be bid on using hotel loyalty points. Marriott is even tacking on parking, on-site concierge, and private restrooms, ostensibly for people to completely forget the fact that they came to attend an outdoor festival.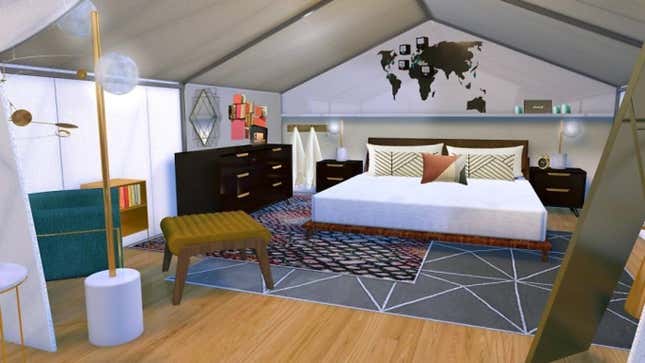 Of course, no luxury experience would be complete without American Express, the Jay Z of the financial services world. The credit-card company—which has been partnering with Coachella in recent years to offer special discounts and promotions for cardmembers—is this year setting up the "American Express Platinum House" at the nearby Parker Palm Springs hotel, open to holders of its $550-a-year Platinum card.
Billed as the "perfect spot to hang out before hitting up the festival grounds," AmEx's hotel experience will offer premium snacks and beverages, as well as SoulCycle spinning classes and merchandise from the cult fitness chain that's become a synonym for all the interests of the fervently young and wealthy. Which, as it turns out, is Coachella's primary demographic.
Do it for the Instagram
A hungering for aesthetics plagues not only the stage, but the crowd standing in front of it. While all music festivals take their inspiration from Woodstock, dressing like a hippie isn't exactly enough.
"Festival attire" has come into the norm—or rather, the necessity. Behold Vogue's dozens-strong archive of articles explaining how to dress for Coachella; Cosmopolitan's best-dressed festival round-ups; Condé Nast Traveler's pastel-heavy guide; Esquire's male wardrobe template; and Harper's Bazaar's collection of favorite high-end looks.
The frilly, boho, and occasionally offensive festival aesthetic is distinctive enough that retail companies have also launched entire lines of festival wear, heavily promoted during summertime festival season, but now available year-round.

Such a phenomenon recalls the "resort wear" trend of years past. Characterized by loose, laid-back clothes in bright shades, the trend emanated a certain attitude that grew beyond its physical designation; resort wear was worn by people on the street, not just while on vacation, and it was instantly recognizable for the lifestyle it conveyed.
Festival attire—like the ubiquitous athleisure—promotes a distinctive culture without supplying any evidence of it. The beads and feathers adorning Coachella-goers' shirts immediately say: I am a person who loves music! (Yet that regularly proves untrue, as demonstrated by the television hosts who've made a sport out of tricking attendees to cheer on fake bands.)
Last month, Coachella's organizers revealed perhaps the true extent of its corporatization, when it filed a lawsuit against hipster retail brand Urban Outfitters. The crime? Urban Outfitters had named several items of clothing after the festival without seeking its permission.
According to Coachella, Urban's "unauthorized apparel" interfered with the festival's official merchandise sales and brand name—concerns less befitting of a niche music celebration than, say, a money-grabbing corporation. That, in the end, is Coachella's new soul.