Emmanuel Macron is laying on the charm in East Africa.
In a four-day trip to Djibouti, Ethiopia, and Kenya, the French president is undertaking a strategic tour aimed at deepening economic and political ties, boosting the role of French businesses in the region, and countering China's growing place on the continent, besides signing a mix of both military, infrastructure, and creative deals. The visits to Ethiopia and Kenya, where he is today (March 14), clearly mark Macron's turn towards heavyweight non-Francophone states, who boast of some of the most populous and fastest-growing economies in the continent.
The French leader's visit to Ethiopia earlier this week was especially crucial, given the sociopolitical and economic changes taking place there. During his meeting with prime minister Abiy Ahmed, Macron said that since the latter's ascension to power last April, France's vision of Ethiopia "has profoundly changed," declaring Paris wanted to write "a new page" in relations with Addis Ababa.
After years of protests and state killings, the reformist Abiy has overseen seismic political and economic changes that have radically altered the trajectory of Africa's second-biggest nation. Abiy's office said France would commit to an earlier pledge to restore the historic rock-hewn churches of Lalibela and will provide €100 million ($113 million) to boost economic growth.
France will also help develop Ethiopia's navy—a noteworthy step for a landlocked nation that has been eyeing and slowly investing in neighboring ports in Somaliland, Djibouti, and Eritrea.
Macron is also the first sitting French president to visit Kenya since independence in 1963. Besides signing deals worth some €2 billion ($2.3 billion), president Uhuru Kenyatta said France will construct a commuter rail from the central business district to the main international airport in Nairobi. The project is part of an effort to decongest the capital and to improve transport systems.
It was in Djibouti though, a former French colony, that Macron showcased France's intention to spread its influence not just in East Africa but beyond.
There, like many Western leaders, he directly criticized China's deepening reach in Africa, saying "what can look good in the short term … can often end up being bad over the medium to long term." China has been accused of encouraging dependency using opaque and predatory loan practices, allegations that Beijing has vehemently denied. Djibouti is also home to France's largest naval base in Africa, and as of August 2017, China's first overseas military base.
Macron added he "wouldn't want a new generation of international investments to encroach on our historical partners' sovereignty or weaken their economies."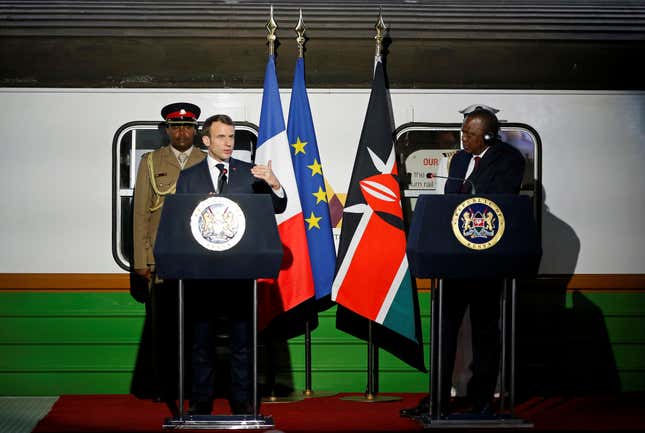 This week's visit is part of Macron's campaign to shift France's paternalistic relationship with Africa, and especially its extensive military influence and control over the currencies of former colonies. Since coming to power in 2017, the 41-year-old leader has visited almost a dozen nations, from Tunisia and Egypt in the north to Nigeria and Burkina Faso in the west. He also commissioned a report that called for the restitution of looted art—a growing debate across Africa—and has promised to support African startups.
This shift in engagement is probably what's attracting the political establishment in Rwanda, who after years of accusing Paris over its role in the 1994 genocide, invited Macron to the 25th commemoration event in April.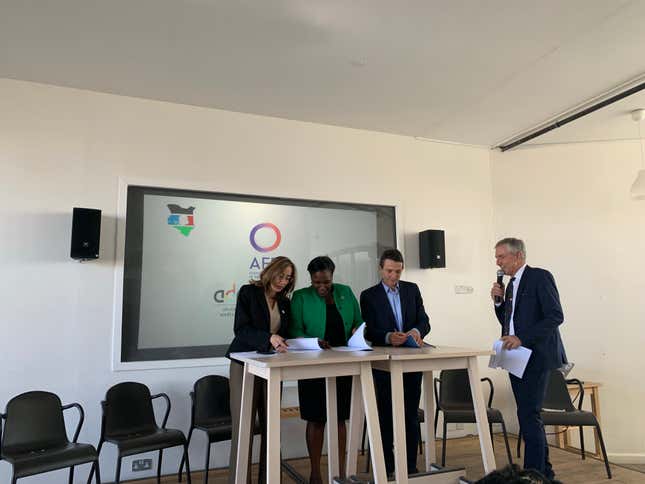 Macron also established a presidential council that comprises prominent African civil society members advising him on which key sectors to engage in Africa. On Wednesday, the nine-member team was present in Nairobi, where the French gaming school Rubika signed its first African partnership with the Nairobi-based African Digital Media Institute.
Rima Le Coguic, the French development agency's Africa director, said they were backing the deal to boost the creative and technical skills of students because it's "one of the most important sectors for the future of Africa, especially in terms of creating employment."
Rubika school director Stéphane André said Africa was a market they were looking to tap, and wanted to not only invest but also learn from: "It's a dream to be here."