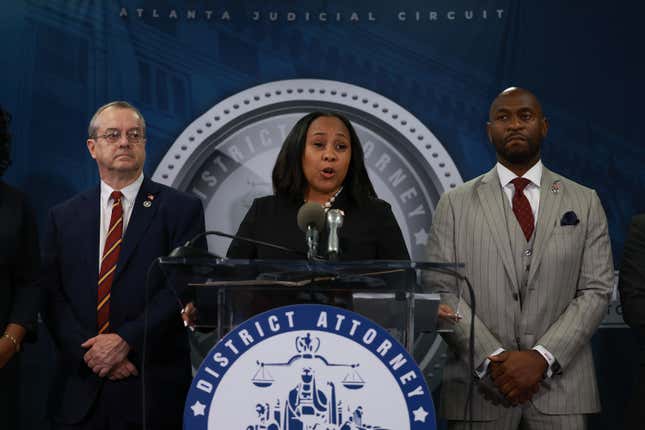 Donald Trump and some of his staunchest allies have been indicted on racketeering and conspiracy charges in Georgia for their efforts to overturn Joe Biden's 2020 election win in the state. It is the fourth criminal case in which the former US president has been indicted this year, adding yet another legal hurdle as Trump seeks to reclaim office in 2024.

Why a tightening of credit conditions could lead to a weak economy
The sweeping 41-count indictment (pdf), issued on Monday (Aug. 14) by an Atlanta grand jury, charged 19 individuals in total, including former White House chief of staff Mark Meadows, and former members of Trump's legal team including Rudy Giuliani, Kenneth Chesebro, Jenna Ellis, and Sidney Powell. All defendants were charged with racketeering, a crime usually related to the actions of organized crime syndicates, while Trump was personally handed 13 felony counts. In total, the indictment listed 161 acts as part of the conspiracy.
"Rather than abide by Georgia's legal process for election challenges, the defendants engaged in a criminal, racketeering enterprise to overturn Georgia's presidential election result," said Fulton County district attorney Fani Willis at a press conference.
Trump issued a statement on Truth Social following the indictment, calling the charges "bogus" and claiming that the current criminal investigations into his actions in 2020 were "slow-walked" to interfere with his 2024 presidential bid.
Willis said she would set a trial date within the next six months, and that the defendants have until Aug. 25 to surrender to authorities.
What are the charges against Donald Trump in the Georgia indictment?
Violation of the Georgia Racketeer Influenced and Corrupt Organizations (RICO) Act
Solicitation of the violation of oath by a public officer (x3)
Conspiracy to commit impersonating a public officer
Conspiracy to commit forgery in the first degree (x2)
Conspiracy to commit false statements and writings (x2)
Conspiracy to commit filing false documents
Filing false documents
False statements and writings (x2)
Quotable: Trump's quest for votes
"I just want to find 11,780 votes, which is one more than we have because we won the state." —Donald Trump speaking to Georgia secretary of state Brad Raffensperger and other officials on a Jan. 2, 2021 call whose transcript was published by The Washington Post. One of the charges against Trump:"solicitation of the violation of oath by a public officer," relates to the demands made in this call.
The three other criminal indictments against Trump
Mar. 30: Trump was indicted on charges related to the alleged payment of hush money to adult actor Stormy Daniels prior to the 2016 election
June 9: Trump was indicted on 37 criminal counts for mishandling classified documents at his Mar-a-Lago estate
Aug. 1: Trump was charged with four felony counts related to his attempts to overturn the 2020 election results
Person of interest: District attorney Fani Willis
Willis, the first woman to become district attorney of Fulton County, is a prosecutor who has made her name taking on complex criminal cases. In the past, Willis has handed out RICO indictments to rappers Young Thug and Gunna, cracked down on Atlanta's gangs, and successfully tackled a test cheating scandal in Atlanta's public schools. Her hard-hitting methods, which have sometimes drawn criticism, have nevertheless earned her a reputation as a formidable prosecutor.
For most of her career, Willis worked as an assistant district attorney in Fulton County, which includes the majority of Atlanta. In 2020, Willis was elected DA in Fulton County with an overwhelming 73% vote, ousting her former boss Paul Howard, who held the seat for six consecutive terms. She launched her investigation into Trump's election interference in Feb. 2021.
Willis attended Howard University before attending the Emory University School of Law. She was mostly raised by her father, who was a criminal defense attorney and a member of the Black Panther party.
Related stories
🧑‍⚖️ A Mar-a-Lago worker is the third person indicted in the Trump White House classified documents case
💰 Donald Trump's media company can go public after its SPAC settled securities fraud charges
✖️Elon Musk's X was fined $350,000 for delaying the handover of data related to Trump's account