Hi, Quartz Africa readers!
SPENDING POWER
In the early 2010s, African tech ecosystems were defined by the promise of e-commerce with a simple mission: getting hundreds of millions of young Africans to make online purchases.
A decade on, the mission still remains a work in progress with question marks lingering around logistics and last mile delivery problems—and that's reflected in the level of spending among African shoppers.
Across the continent, recently released data shows South African shoppers spent an average of $109 on online purchases on consumer goods—the most among African countries. Despite ranking top on the continent though, South Africa's spend is still nearly $400 lower than the global average. And, of the 44 countries analyzed in the digital trends report by Hootsuite, the six African countries featured all rank in the bottom 10.
The spending levels reflect the current state of local markets with the continent's major players still struggling to prove viability. Despite a high-profile IPO on the New York Stock Exchange, Jumia—the largest e-commerce operator on the continent, has quit smaller markets on the continent over the last three months. And, amid an enduring streak of million-dollar losses, the company is now betting on a fintech pivot to drive up revenues in pursuit of elusive profits.
In addition to shoppers in Africa's developing markets typically having less disposable income for online purchases, the relatively low spending levels also tell the story of how the adoption of e-commerce has been hobbled by infrastructure problems, especially payments. Trust issues also persist as e-commerce operators still maintain cash-on-delivery options as a workaround to ease skepticism and foster trust.
In pursuit of e-commerce success, unorthodox, hyper-local methods have also come under consideration. In Kenya, Copia Global, which   raised $26 million last November, is gaining traction by serving unbanked customers in rural areas, allowing them walk into stores of partnered agents who place orders on their behalf, take payments and serve as delivery points.
But overall, investor attention and appetite across the continent has clearly shifted away from e-commerce. The latest annual funding report by Partech Africa shows online commerce platforms received only 6.1% of total funding, far less than dominant fintech startups.
— Yomi Kazeem, Quartz Lagos correspondent
Five stories from this week
Burkina Faso's contemporary dance festival turns the discourse away from terror. Recent news headlines out of Burkina Faso have been focused on the country's ongoing combat against terrorism. But, as Clair MacDougall in Ouagadougou explains in this photo essay, the country's internationally acclaimed dance festival, which draws troupes and performers from Europe and the US, has provided a timely and powerful reminder of the importance of culture.
Ethiopia's political and economic transformation has left it with deep uncertainty. Lingering remnants of Ethiopia's long-running political culture appear to be remain in place despite seeing dramatic, sweeping changes under prime minister Ahmed Abiy, writes Mulugeta G Berhe. But now, in addition to those concerns, analysis by Dan Kopf finds there is growing evidence the country's rapid economic progress is now starting to slow down and might even unravel.
Trump's "visa ban" poses a threat to Nigeria's tech ecosystem but also reveals its diplomatic weakness. New visa restrictions by the Trump administration mean the US will no longer issue immigrant visas to Nigerian applicants. But the threat of increased scrutiny on all Nigerian applicants means the restrictions could also significantly hamper progress in Nigeria's fast-growing tech industry. However, as Chidinma Irene Nwoye explains, the ban also reflects a dearth of diplomatic clout on the international stage on the part of the Nigerian government and with the Nigerian diaspora community.
A ban on commercial motorcycles by Lagos puts a spotlight on its inadequate public transit system. A ban on commercial bikes and tricycles aimed at resolving traffic congestion in Africa's largest city  has, so far, not gone according to plan. Without adequate public alternatives in place, the ban has left residents stranded and has triggered protests by drivers .
African countries are on edge as the coronavirus threat looms and Ethiopian cuts back on China routes. African countries are at a severe risk of a coronavirus outbreak due to their fragile health systems warns the WHO, which has prioritized 13 countries to focus on with new testing laboratories being opened. In the meantime, perhaps due to economic reasons as much as anything Ethiopian Airlines, Africa's biggest carrier, has begun using smaller planes and reducing flight frequency with China reports Ciku Kimeria.
The Dealmaker
Toyota is making a small bet on a big opportunity in African mobility startups. The trading arm of Japanese car giant Toyota, backed the promise of mobility on the continent with a $7.6 million investment in Sendy, a Kenyan logistics startup, reports Oluwatosin Adeshokan. The investment by Toyota Tsusho Corp's venture arm Mobility 54 was part of a $20 million Series B round led by Atlantic Ventures. The investment comes within six months of Lori Systems and Kobo 360, two other major logistics startups operating on the continent, raising $50 million between them.
Venture fund TLcom Capital has closed its TIDE Africa Fund having raised around $71 million. The fund, which invests between $500,000 and $10 million in early-stage and high-growth startups, has already backed Andela, Twiga Foods and Kobo 360 among others…Elmenus, an Egyptian food delivery startup, raised $8 million in a Series B round led by Global Ventures, a United Arab Emirates-based venture fund and Algebra Ventures, an Egyptian venture fund…Homzmart, an Egyptian e-commerce furniture startup founded by ex-Rocket executives, raised a $1.3 million in a seed round with participation from MSA Capital, a Chinese venture fund, Oman Technology Fund, 500 Startups and Equitrust, the investment arm of Choueiri Group, the Middle Eastern media giant.
Chart of the Week
The proposed African Union passport will only improve mobility in Africa. Despite question marks over its scheduled availability, there is little doubt that the AU's proposed continental passport will boost movement across the continent. Youyou Zhou found recent data shows, Africans typically make far fewer intra-continental trips—in total, and per person—than Europeans, Asians and Americans.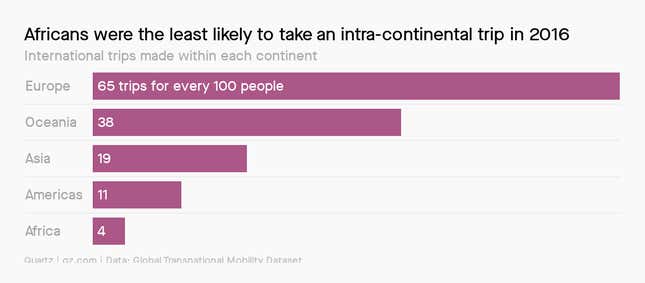 Quartz Membership
By nearly every measure, the venture industry has boomed. Venture capital has evolved from small-scale, hyperlocal deals to a global industry that invests $250 billion each year. Quartz contributor Dave Edwards reports on the forces that transformed VC—and lays out what the explosion of private investment means for all of us.
Other things we liked
The Icelandic fisherman who fought the "sharks" of Namibia—and won. Icelandic fisherman Johannes Stefansson had been involved in the fishing industry all his life before he started traveling the world with his country's largest fishing company. His travels took him to work in Namibia where he got caught up in an unsavoury mix of broken promises by his company, dodgy Namibian government officials and having to employ a Congolese bouncer round-the clock.  Simon Allison tells the story for the Mail & Guardian.
Reflections on 1960, the Year of Africa. In 1960, 17 different African countries gained independence and it was known as the "Year of Africa". New York Times photo editors have pored through the archives for photos from that year across Africa and featured essays from prominent Africans including the Ivorian former soccer star Didier Drogba and architect David Adjaye.
Trump's handbag designer South Africa ambassador has run into controversy. Eyebrows were raised when US president Donald Trump appointed former handbag designer Lana Marks as the South Africa ambassador. Marks had no previous diplomatic or goverment experience. While that isn't unheard of, Robbie Gramer finds for Foreign Policy she is one of several Trump appointee ambassadors who've removed long-time State Dept professionals in favor of personal apppointees, in this case her son.
ICYMI
Africa Food Prize for Innovation in African Agriculture. A $100,000 prize for individuals or institutions in recognition of "bold initiatives and technical innovations" in agriculture. (June 1)
Lionel Cliffe Memorial Research Scholarship. The scholarship offers £3,000 research grants to two African scholars studying or living on the continent (Mar. 15).
Keep an eye on
33rd Ordinary Session of the African Union Summit, Addis Ababa (Feb 9 -10). African leaders will converge in Ethiopia for the AU summit, with Antonio Guterres, the United Nations secretary general, Tedros Adhanom Ghebreyesus, director general of the World Health Organization and Canadian prime minister Justin Trudeau are also expected to be in attendance.
CcHUB and Facebook Innovation Showcase Week, Lagos (Feb. 13-14). The 2020 edition of the showcase will present innovations created by 18 companies.
*This brief was produced while listening to Bi Lamban by Toumani Diabaté and Ballaké Sissoko (Mali). Sissoko's custom-built kora was destroyed by US customs officers during a baggage inspection.
Our best wishes for a productive and ideas-filled year ahead. Please send any news, comments, suggestions, ideas, even more coronavirus resistant hand sanitizers and tickets to future Burkina Faso contemporary dance festivals to africa@qz.com. You can follow us on Twitter at @qzafrica for updates throughout the day.
If you received this email from a friend or colleague, you can sign up here to receive the Quartz Africa Weekly Brief in your inbox every week. You can also follow Quartz Africa on Facebook.