Hi Quartz readers,
As omicron sweeps the globe, breakthrough infections are on the rise, including in places with high vaccination rates. That means many people who spent the past few months approaching normalcy must now re-familiarize themselves with the protocols for distancing, masking, and alerting close contacts. In other words, it's time for a refresher.
1️⃣  So you want to get tested… 
If you need peace of mind, or proof of negative covid-19 status to travel, a rapid antigen test makes the most sense. It gives reliable results in about 15 minutes, and can be performed at home if needed.
For a more accurate result, you can opt for a molecular test, known as polymerase chain reaction, or PCR test. This test looks for the genetic material of the virus, and detects even smaller quantities of it. The results can take up to a few days, and you must isolate as much as possible until you receive your result.
Antibody tests were once popular but can only tell you if you had covid-19 somewhat recently; if you're vaccinated, they can't tell you if immunity is due to the vaccine or infection. In short, skip them.
2️⃣  So you've tested positive…
Isolate immediately by staying in a room by yourself or keeping a distance of at least six feet from others for 10 days (although the CDC has in some cases recommended just five). If you don't have the space or means to keep six feet of distance, maintain good ventilation while indoors, mask up, and ensure everyone around does, too. An N95 mask or comparable ones provide the best protection, so stock up.
If you live alone, contact someone who can check in on you consistently, and instruct them to contact emergency care on your behalf should your condition worsen significantly. You should also get in touch with anyone you have been in close contact with to let them know about your status, so they can get tested.
3️⃣  So you did all that…
In the absence of severe illness, now you just have to wait, rest, drink plenty of fluids, and take paracetamol or ibuprofen if needed. You may also want to monitor your blood oxygen level through a pulse oximeter, if you can get one. Don't head to a hospital, doctor's office, or emergency room unless you experience severe symptoms.
Finally, make the most of your means of digital communication and stay in touch with your loved ones—10 days can be a long time to be alone, and it will help your mental health.
---
An interlude by design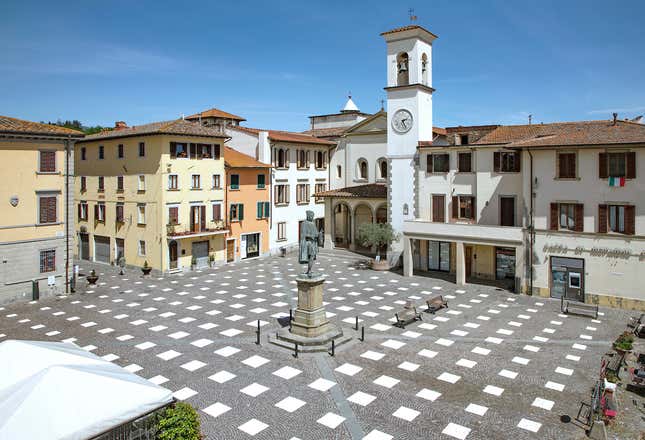 It may seem strange to hold an exhibition about design solutions for health crises while the world is still in the throes of one. But Design and Healing: Creative Responses to Epidemics, which recently opened at New York's Cooper Hewitt, Smithsonian Design Museum, subverts this premise. The exhibition's 50 objects and architecture projects, ranging from homespun ventilators to innovative hospital designs, underscore "how designers have been attuned to the mental and emotional wallop of the pandemic," writes Anne Quito.
---
Talking points
✈️  Is it time to require vaccines on US flights? International travelers have to prove vaccination to enter the country; Anthony Fauci floated a mandate for domestic travel, too.
🧪  The US testing plan falls short. Testing Americans two times a week would require 2.3 billion tests a month, versus the 500 million the White House said it will purchase.
⏩  There is one easy way to get more rapid tests. The US could allow foreign manufacturers to ship tests being used in other countries to bolster supply in the US.
📱  TikTok is bigger than Google now. The social video site was the most popular web address in the world in 2021, overtaking Google and all of its properties for the first time.
💉  The US military is pursuing a vaccine for all variants. The Walter Reed Army Institute of Research's "pan-SARs" strategy aims to produce vaccines for this and future pandemics.
🏈  The NFL is only testing players with symptoms. The National Football League is essentially adopting the strategy many US employers have favored over the past two years.
🎬​​  Theater vs. cinema rules are omicron confusion in a nutshell. Multiple shows on Broadway have been postponed, while movie theaters just blocks away are still in business.
---
✦ What's never confusing? Keeping up with the world through Quartz. Try membership free to check out exclusive emails on emerging industries, critical companies, and the biggest stories of the week.
---
Toil and trouble?
Usually when market watchers fret about a stock bubble, they're thinking about tech startups like Zoom and Peloton, which saw their share prices soar as high as 10 times their original value during the pandemic. Investors drove up the value of these stocks as the world locked down, betting on companies that develop tools for work, shopping, exercise, and connecting with loved ones from home. But as soon as wealthy nations started rolling out vaccines, these so-called "stay at home" stocks tanked.
Cathie Wood isn't worried. In fact, the rockstar stock picker known for making bold bets on disruptive tech companies has bought even more shares of companies like Zoom, telehealth platform Teladoc, and electronic signature company DocuSign. By comparing their stocks' recent nosedives to the steady gains they've made on measures like revenue and profitability, Wood argues that lockdown stocks are actually in "deep value territory," and trading at a discount.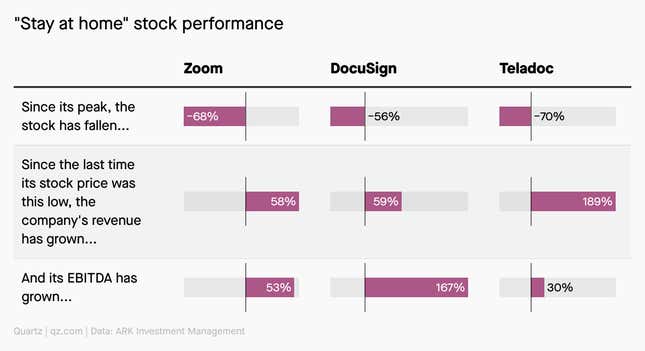 ---
Something sweet
Sourdough isn't the only baked good having a pandemic moment. Sweets in general are skyrocketing, with triple chocolate cookies seeing over 5,000% sales growth from 2019 to 2021. Raisin loaf follows, along with white cake and strawberry cake.
What are people not coming back for? The cruffin (a sugar-coated croissant muffin), cowboy cookies, plain doughnuts, spice cake, frosted doughnuts, and macarons. Sales of macarons—the sequins of food, really—fell 75% from 2019 to 2021.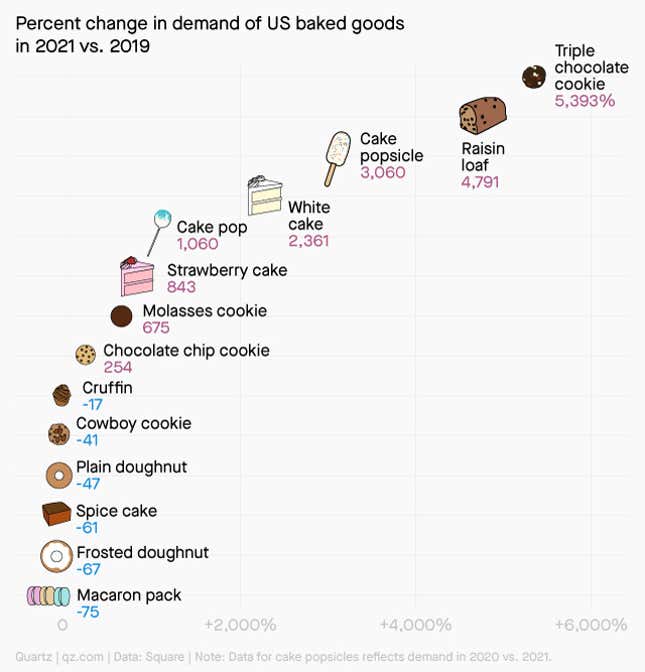 ---
Elsewhere on Quartz
---
Our best wishes for a healthy day. Get in touch with us at needtoknow@qz.com, and live your best Quartz life by downloading our iOS app and becoming a member. Today's newsletter was brought to you by Annalisa Merelli, Anne Quito, Nicolás Rivero, Clarisa Diaz, Sarah Todd, and Kira Bindrim.