Good morning, Quartz readers!

---
Here's what you need to know
Facebook and Instagram's parent company launched a subscription service. The offering, called Meta Verified, costs $11.99 per month and targets content creators.

The US said China is considering arming Russia. US secretary of state Antony Blinken cited new information indicating that China may escalate its support of Russia to include weapons and ammunition.

Ola Electric earmarked $920 million for EVs. The Bengaluru-based company announced its investment not long after India discovered a major deposit of lithium, which is used to make batteries and electric cars.
North Korea test-fired an intercontinental ballistic missile. Pyongyang claimed the launch was in response to US-South Korea military drills.
A famous Japanese pop musician academy is reopening. The Okinawa Actors School, which helped produce celebrities like Namie Amuro, is looking for a class of new superstars.
---
What to watch for
US president Joe Biden is expected to arrive in Poland tomorrow (Feb. 21), where he's due to give a speech pledging continued support for Ukraine a few days ahead of the one-year anniversary of Russia's invasion of its southwestern neighbor.

Biden's trip to Poland coincides with Russian president Vladimir Putin's annual State of the Nation address, scheduled for tomorrow. A year ago on that date, Putin recognized Ukraine's separatist regions of Luhansk and Donetsk as independent and, instead of the customary address, he gave a belligerent speech in the early hours of Feb. 24 before Russian tanks began rolling into Ukraine.

The US has committed nearly $30 billion in military aid to Ukraine since Russia's invasion, but with the Republican party now holding a majority in the House of Representatives, it remains to be seen how much additional aid US lawmakers will commit to supporting the country.
---
World Bank leadership needs a shakeup
The World Bank president is stepping down. Appointed by US president Donald Trump in 2019, David Malpass resigned months after he faced criticism for being a climate-change denier. Now, the question is who will take his place.

For the past nearly 80 years, the US has appointed a steady stream of American bankers or economists to lead the institution. It's high time for a change. As an international institution, it would make sense for the World Bank's leadership to reflect its global priorities. (After all, diversity in leadership these days is in short supply.)

But it doesn't seem like the Biden administration is in the mood to break the World Bank presidency's unwritten code. Rajiv Shah, the head of the Rockefeller Foundation; Samantha Power, the former US ambassador to the UN; and Indra Nooyi, the former CEO of PepsiCo, have been floated as replacements for Malpass—and all three are American.
---
The label behind BTS wants more control of K-pop
Hybe, the company behind Korean boy band BTS, one of the most popular musical groups in the world, is going on a buying spree.

It recently bought a 15% stake in rival firm SM Entertainment, and reportedly offered to buy an additional 25%. The combined investment would be worth $900 million, good for 40%—and control—of one of K-pop's most powerful companies. Naturally, the deal is raising the eyebrows of South Korea's antitrust regulators.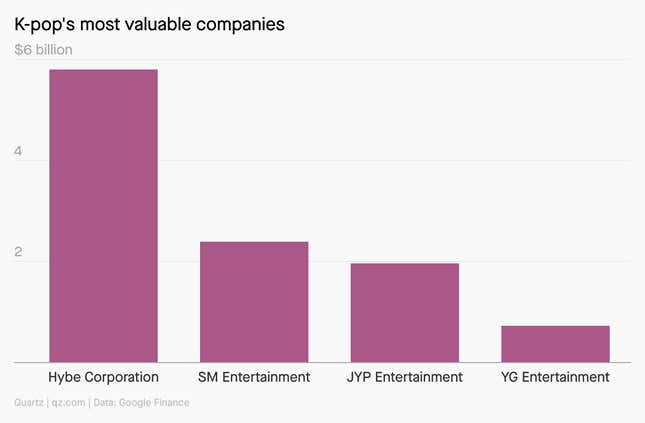 ✦ Love reading Quartz's latest hits? Help keep our content free and accessible by picking up an annual membership. Daily Brief readers get 50% off.
---
Quartz's most popular
🗣️ George Soros says Narendra Modi must answer for Adani row
🧠 How to recover from a layoff, according to positive psychology
😶‍🌫️ A Chinese billionaire banker has gone missing
🪧 Tesla fired workers in Buffalo where a union campaign is underway
🚪 Google and Twitter are shrinking their footprints in India
🧐 What to do when you encounter unhelpful pay ranges on job postings
---
Surprising discoveries
Plants make distress calls with the same chemical that's used to manage Parkinson's disease. L-DOPA is communicated through roots as a cry for help.
Baby shrimp have disco ball eyes... Larvae are basically invisible to predators because they're transparent and make the sea reflect off their little orbs.

…and cuttlefish have incredible 3D vision. Their eyesight is so good that robot makers are copying them.

Pickles and ranch are hot pizza topics. But they still have nothing on mushrooms. 

It may pay to be dumb. Smarts only lead to higher wages up to a certain point, then it's all luck and who you know, one Swedish study found.
---
Our best wishes for a productive day. Send any news, comments, disco balls, and ranch pizza to hi@qz.com. Reader support makes Quartz available to all—become a member. Today's Daily Brief was brought to you by Diego Lasarte, Sofia Lotto Persio, Julia Malleck, and Morgan Haefner.