Good morning, Quartz readers!

---
Here's what you need to know

Amazon is laying off another 9,000 employees. The cuts will affect the e-commerce giant's cloud and advertising businesses, and come after 18,000 workers were laid off earlier this year.

French president Emmanuel Macron narrowly won a no-confidence vote. The vote was spurred by an unpopular pension reform bill raising the French retirement age from 62 to 64.
Starbucks got a new CEO ahead of schedule. We knew Laxman Narasimhan was on deck, but we didn't know Howard Schultz would step down two weeks early, leaving a grande legacy in his wake.

Thailand found its radioactive cylinder. But that's where the good news ends.
---
The other losers in the Credit Suisse debacle
When a bank—let's say Credit Suisse—sells over a weekend to another bank, and that deal is worth only 60% of the first bank's value at market close on Friday… you're going to have shareholders counting their losses.

Credit Suisse's largest shareholder, Saudi National Bank, has had to say good-bye to $1.2 billion. And it's not the only one taking stock of its stock after the UBS takeover.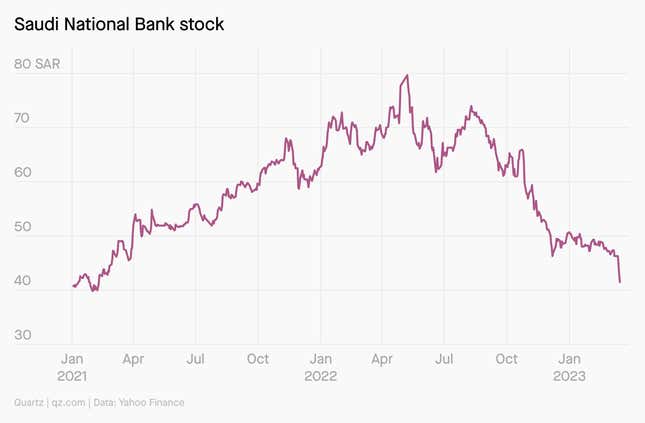 ---
The IPCC tried on a little climate positivity for size
"Our world needs climate action on all fronts—everything, everywhere, all at once."
—UN secretary-general António Guterres in a speech yesterday, nodding to the title of the most recent Oscar Best Picture winner, when discussing a new Intergovernmental Panel on Climate Change report that was less doom and gloom than usual.
---
A surprising consequence of the pandemic
Let me get this straight:
The pandemic made us nice?
That dismal era??
The World Happiness Report found that despite the obvious misery that covid inflicted, it also appears that people treated one another better during the crisis than before. A similar uptick in kindness is playing out in Ukraine right now because of the war, but definitely not in Russia.

And we appreciate your own kindness in humoring our not-great haikus during World Poetry Day.
---
Quartz's most popular
🚔 Why Donald Trump is fearing arrest
🏦 UBS's takeover of Credit Suisse failed to reassure markets
🛑 The Hindenburg findings have forced Adani to halt a $4.2 billion project
🪧 Protests are roiling all four corners of Africa
🧐 Arkansas is accepting funds for an "unborn children" monument
↩️ Finding a "return to work" program after a break in your career
---
Surprising discoveries
Eco-friendly golf courses aren't green. Water conservation means a lot of dirt and stones.

Feeding peanut butter to babies can drastically reduce their risk of becoming allergic to it. But the window of opportunity is only between 4 and 6 months old.
Gangs are blowing up ATMs in Germany to get cash. The flagrant cash grab happened nearly 500 times last year.

The Australian Outback has millions of rotting fish. Floods and hot weather led to a major die-off, creating an olfactory disaster as well as a "logistical nightmare."

America's digital medical data revolution is thanks to one woman. Judy Faulkner founded Epic—the maker of MyChart—in her basement. Now, it handles the health records of 200 million Americans.

🎧 Listen to "Your Chart: A body of information," the latest episode of the Quartz Obsession podcast on: Apple Podcasts | Spotify | Google | Stitcher

👀 Or, check out the transcript!
---
Our best wishes for a productive day. Send any news, comments, creamy peanut butter, and nose plugs to hi@qz.com. Reader support makes Quartz available to all—become a member. Today's Daily Brief was brought to you by Morgan Haefner and Susan Howson.