Good morning, Quartz readers!

---
Here's what you need to know
The US Securities and Exchange Commission is keeping a tight grip on crypto. While mulling a lawsuit against Coinbase, regulators went after crypto entrepreneur Justin Sun and the celebrities who backed his products.
The Federal Reserve hiked its key interest rate. The quarter-point increase signals that the Fed thinks recent panic in the banking sector will be contained.
Starbucks employees at 100 US stores went on strike. Workers welcomed new CEO Laxman Narasimhan with a walkout ahead of the company's annual meeting today.
Relativity Space successfully launched its 3D-printed rocket. Terran 1's launch marked a milestone even though it failed to reach orbit.
---
A glimpse of Russia's new energy dominance in China
There were a lot of chummy exchanges between Chinese president Xi Jinping and Russian president Vladimir Putin in Moscow this week. If deeds do indeed speak louder than words, then the growing energy trade between China and Russia only underpins the two countries' evolving—and ever more complicated—relationship.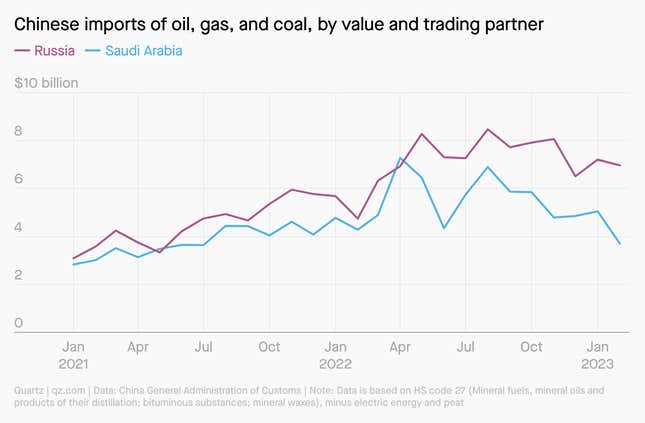 ---
TikTok's CEO will testify
TikTok chief Shou Zi Chew appears before the US Congress today. He'll be grilled on:
🛡️ TikTok's consumer privacy and data security practices

🧒 The platform's impact on kids

🇨🇳 TikTok's relationship with the Chinese Communist Party

Chew has a plan to persuade lawmakers that any proposed bans are unnecessary, but it remains to be seen if that will be enough to dissuade their waning trust in the app.
---
Who are the IMF's top debtors?
Ukraine just got the International Monetary Fund's first war-time loan. But the country is far from new to going to the IMF for money—in fact, it's one of the organization's top debtors.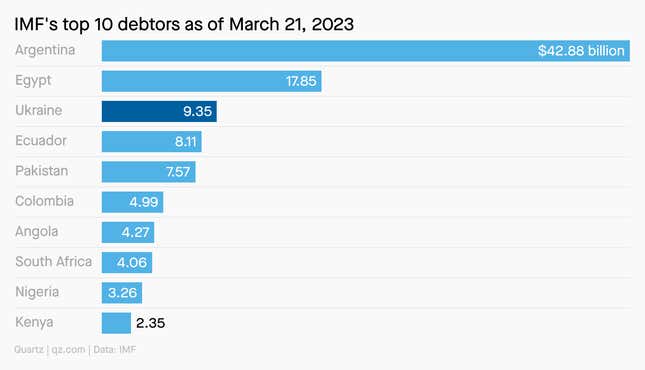 ✦ Love stories like this? Help keep our content free and accessible to all by becoming a member. Daily Brief readers get 50% off.
---
Quartz's most popular
🗣️ Boris Johnson insists he did not lie to lawmakers about lockdown parties
💰 These banks are the biggest funders of the fossil fuel industry
🐓 Rich countries are all set to hoard bird flu vaccines that don't even exist yet
🎮 GameStop posted its first profitable quarter in two years
🚀 Is $200 million enough to save Virgin Orbit?
🧊 China's freeze on foreign video games is thawing
---
Surprising discoveries
For sale: A vintage Silicon Valley Bank Christmas sweater. It could've been yours for $35.
The next hit sitcom could be written by ChatGPT. But the chatbot won't be getting standalone author credits.
Beethoven's genome was sequenced. A lock of hair showed that liver problems—surely exacerbated by his midday liter of wine—likely contributed to his death.
An endangered turtle became a father at 90 years old. Congrats, Mr. Pickles!
Father of capitalism Adam Smith never mentioned "capitalism" once in his writing. Learn more about the misconceptions surrounding the Scottish economist's foundational ideas in the latest episode of the Quartz Obsession podcast.
🎧 Listen on: Apple Podcasts | Spotify | Google | Stitcher
👀 Or, read the transcript!
---
Our best wishes for a productive day. Send any news, comments, robots writing movies about robots, and turtle bassinets to hi@qz.com. Reader support makes Quartz available to all—become a member. Today's Daily Brief was brought to you by Sofia Lotto Persio and Morgan Haefner.