Good morning, Quartz readers!

---
Here's what you need to know
Russia said it'll put nuclear weapons in Belarus. The planned placement of the short-range weapons comes after the UK provided uranium-based ammunition to Ukraine.
Hong Kong saw its first protest since 2020. Under heavy police supervision, only 100 people were allowed to attend the rally against a new city planning measure.
India's largest insurer is capping investments in companies. Life Insurance Corporation of India got burned by the fallout of Hindenburg's Adani report, and is putting up safeguards to avoid similar situations in the future.
A US state thinks Juul created a new generation of nicotine addicts. A first-of-its-kind trial against the e-cigarette company and its former investor Altria Group begins today in Minnesota.
---
The gender gap in US homeownership is growing
Pop quiz: What percentage of homes in the US are owned by single women?

A. 13.4%
B. 24.5%.
C. 41.2%
D. 56.1%
Quartz's Clarisa Diaz has the answer for you, along with an explanation as to why this percentage is shrinking.

---
Offshore oil is booming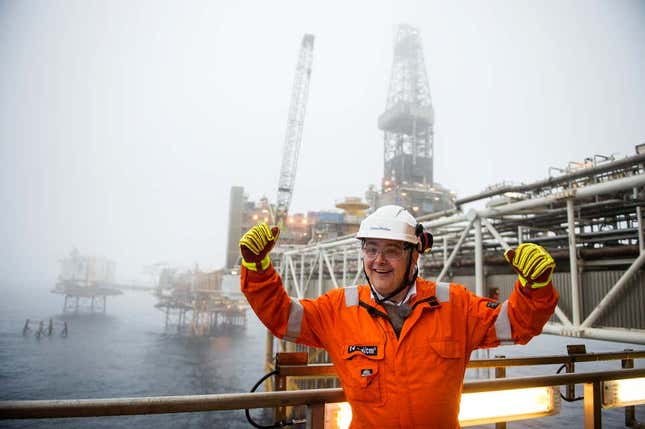 $214 billion: The total amount that countries and companies are pouring into new offshore oil projects over the next two years
High oil prices over the past year have fueled these investments, royally complicating climate priorities for countries—cough, cough, Norway—that are often seen as stalwarts of sustainability.
✦ Love understanding the competing levers that move the global economy? Help keep our content free and accessible to all by becoming a member. Daily Brief readers get 50% off.

---
Twitter is about to purge unpaid blue ticks
"In a few months, we will remove all legacy blue checks. The way in which they were given out was corrupt and nonsensical." — Elon Musk, in a Dec. 12, 2022, tweet

Those few months are over, and the purge will begin April 1. Quartz's Ananya Bhattacharya has a non-exhaustive list of personalities who might be logging off for good after this week.
---
Quartz's most popular
🥩 The meat industry blocked the IPCC's plant-based diet
🧠 US lawmakers' minds were already made up about TikTok
🚓 A South Korean crypto boss was arrested after a six-month manhunt
🤳 What was up with all those AI-generated Trump photos?
⏲️ The world's top climate negotiators can't end a meeting on time
🥬 Why Switzerland is giving weed a try
---
Surprising discoveries
Will there be Muskville, USA? Elon Musk has some development plans that may be worthy of a town incorporation.
The Chilean abalone was crowned this year's Mollusc of the Year. We thought it stood no chance against the wavy bubble snail.

The Pantheon is getting an entrance fee. Italy's most-visited cultural site will now be accessible for a cool €5, unless you're Roman.

California is gearing up for a super shroom event... Twenty-nine atmospheric rivers have even made foraging in the city park a reality.
…and mushrooms are also making for a great leather alternative. Especially since other vegan options are just glorified plastic. Quartz editor Sofia Lotto Persio and host Annalisa Merelli explain why fungi should be favored in the latest episode of the Quartz Obsession podcast.
🎧 Listen on: Apple Podcasts | Spotify | Google | Stitcher

👀 Or: read the transcript!
---
Our best wishes for a productive day. Send any news, comments, snail mail, and shroom soup to hi@qz.com. Reader support makes Quartz available to all—become a member. Today's Daily Brief was brought to you by Morgan Haefner.