Good morning, Quartz readers!

---
Here's what you need to know
US inflation slowed more than expected in March. It's the ninth consecutive month of slowing inflation, but the Federal Reserve probably isn't finished hiking (rates, that is).

The Environmental Protection Agency (EPA) took aim at car pollution. The US agency's new rules on tailpipe emissions will boost the production and sale of electric vehicles without imposing an outright ban on gas-powered cars.
An industrial fire in Indiana forced 2,000 residents to evacuate. The owners of the plastic recycling plant in Richmond were cited in 2019 over a fire hazard at the site.
Warner Bros. rebranded its streaming service. The Max platform combines the catalogs of Discovery+ and HBOMax, including new Max Originals and HBO Original titles. 
---
Twitter's ad business has an Elon Musk problem
28%: Expected decline in Twitter's ad revenue this year compared to 2022, according to the market research firm Insider Intelligence

The biggest obstacle that the social media company faces in its ad business is the personal brand Elon Musk has intertwined with Twitter, one that, as Quartz's Scott Nover explains, exudes chaos, not trust.
---
What to watch for
"Public libraries are not places of government indoctrination. They are not places where the people in power can dictate what their citizens are permitted to read about and learn. When government actors target public library books because they disagree with and intend to suppress the ideas contained within them, it jeopardizes the freedoms of everyone."
—Excerpted from Texas residents' lawsuit, part of an escalating book ban feud in Llano County. Officials are meeting today to consider whether to shut down the community's three public libraries instead of restocking banned books. While the community is small—it has a population of 22,000—it's an ominous sign of what's to come in parts of the US where several other library wars are brewing. 📚
---
Americans decidedly see China as a foe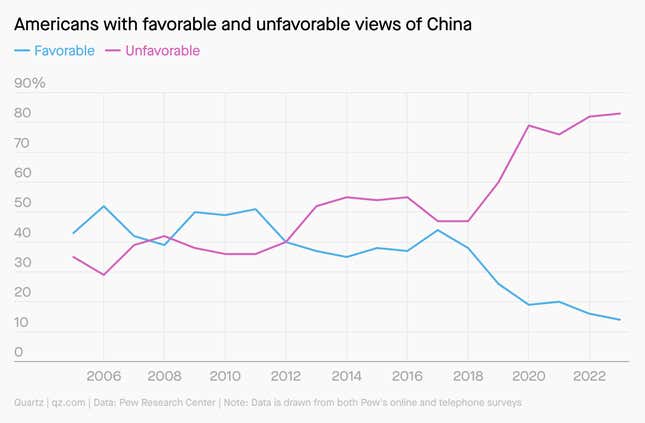 What's growing this divide in the American consciousness? Quartz's Mary Hui has some answers.
---
Quartz's most popular
🥸 Elon Musk is rebranding Twitter as X Corp
👖 The secondhand clothing market is exploding
🤝 Five negotiation myths that hold you back from more money
⏱️ Ousted Twitter execs are tired of waiting for their legal reimbursements
🇨🇩🇨🇳 The DRC is auditing mining deals skewed towards China
💷 Demand for cash has hit a two-decade low
---
Surprising discoveries
Michael Jordan's NBA Final shoes sold for $2.2 million. They're the most expensive sneakers ever auctioned, a feat LeBron James (who we're obsessed with) just hasn't been able to beat.

South Korea is paying young people $500 to socialize. The program is aimed at getting recluses out of the house.

China saw its first human death from a common bird flu strain. No human-to-human transmission of the illness has been detected.
Arnold Schwarzenegger was so mad about a pothole in his neighborhood, he filled it. He kind of looked like the Terminator while doing it.

The Super Mario Bros. theme song was added to the US Library of Congress. The original 1985 version is one of the "defining sounds of [the] nation's history." But what about the 1UP noise??

---
Our best wishes for a productive day. Send any news, comments, expensive shoes, and money to socialize to talk@qz.com. Reader support makes Quartz available to all—become a member. Today's Daily Brief was brought to you by Sofia Lotto Persio, Morgan Haefner, and Susan Howson.