Good morning, Quartz readers!

---
Here's what you need to know
Linda Yaccarino was confirmed as Twitter's next CEO. The advertising veteran said she's inspired by "provocative leadership," and Elon Musk's Twitter certainly fits that bill.

A Tennessee-based airbag manufacturer opposed a recall order. US regulators want ARC Automotive to recall 67 million of its airbags, including nearly 1 million installed in General Motors vehicles.
Vice Media has filed for bankruptcy. A consortium of its lenders is poised to take over the media company.
Fanatics is making a $150 million bet on online sports betting. The Jay-Z-backed sports apparel and collectibles company wants to buy the US assets of the Australian platform PointsBet, which is licensed to operate in 14 states.

---
Why are Apple's eyes on Vietnam?
Vietnam's technology sector is booming, and Apple wants a slice.
Some big numbers are convincing the iPhone maker to place another bet on an emerging market in Asia:
40%: Estimated pace of Vietnam's internet economy growth annually
$23 billion: Value of Vietnam's digital economy in 2022, set to hit around $50 billion by 2025

93.5 million: Number of smartphone users in Vietnam as of March 2022

73.5%: Estimated share of Vietnamese adults with smartphones as of March 2022
Read the full report from Quartz's Julia Malleck.

---
The US Supreme Court found common ground on pigs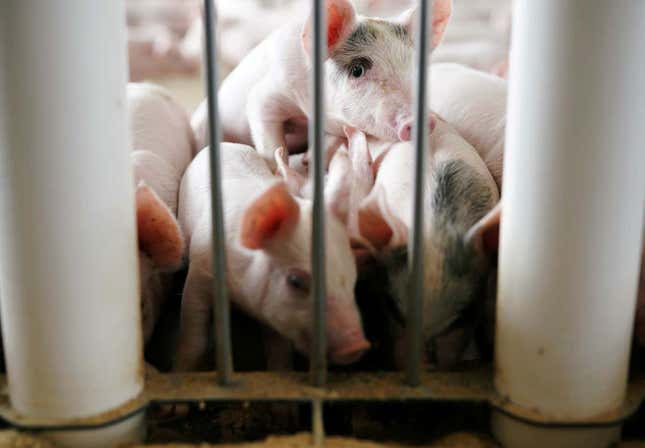 "The competing goods are incommensurable. Your guess is as good as ours. More accurately, your guess is better than ours. In a functioning democracy, policy choices like these usually belong to the people and their elected representatives."

—Justice Neil M. Gorsuch, who wrote the majority US Supreme Court decision upholding California's Prop 12, which mandates humane pork production. A controversial point of the case was whether policy choices like these belong to elected officials or the courts.
---
Europe now has too much gas
150%: Drop in the price of European gas futures from August 2022 to May 2023
A harsh 2022-23 winter didn't quite materialize, demand stayed low, and Europe ended the season with record-high natural gas stocks as of March. But that doesn't mean European consumers can expect lower bills this winter—read more about why.
---
Quartz most popular
👟 Adidas has finally decided what to do with its Yeezy stock
🇨🇳 Russia wants to settle its trade in yuan—and India is running out of options
🤔 How did Sam Bankman-Fried get away with peddling FTX?
🙊 It's not just conversation—Gen Z is missing some essential nonverbal skills, too
🏏 Disney+ is losing subscribers, thanks to India's obsession with cricket
🚗 US inflation is once again about used car prices
---
Surprising discoveries
A skin patch could prevent peanut allergies. The patch was statistically superior to a placebo in reducing sensitivity to the nuts.

Australian wildfires have worsened African droughts and Atlantic hurricanes. The blazes set off a rare three-year La Niña from late 2019 through 2022 as smoke shifted cloud and rain belts.
The largest cosmic explosion ever was detected. It's 10 times brighter than a supernova and has lasted more than three years.
Campers have a new incentive not to bathe. Soap can cause mosquitoes to swarm.
When AI bots hallucinate, a lot of lies come pouring out. It's a deep problem that traces back to how these models are built and trained. Host Scott Nover and Quartz reporter Michelle Cheng dive into why these slips are called hallucinations in the latest episode of the Quartz Obsession podcast.
✅ Or find it wherever you get your podcasts: Apple Podcasts | Spotify | Google | Stitcher | YouTube 

---
Our best wishes for a productive day. Send any news, comments, bug spray, and truthful robots to talk@qz.com. Reader support makes Quartz available to all—become a member. Today's Daily Brief was brought to you by Sofia Lotto Persio and Morgan Haefner.