Good morning, Quartz readers!

---
Here's what you need to know
Bill Gates sees AI as a threat to e-commerce behemoths. The Microsoft co-founder thinks the likes of Google Search, Amazon, and Shopify will soon be outdated because of progress in generative AI.
A Florida restaurant is suing the state and its governor over an anti-drag law. Hamburger Mary's Orlando claimed the "Protection of Children" bill violates the business's First Amendment rights.
Meta was hit with a record EU fine. The €1.2 billion ($1.3 billion) penalty over data privacy, which the Facebook parent company plans to appeal, is bigger than its past six fines combined.
WhatsApp is getting an edit button. Users will soon have 15 minutes to fix their typos after they hit send.
The case for a public tech bank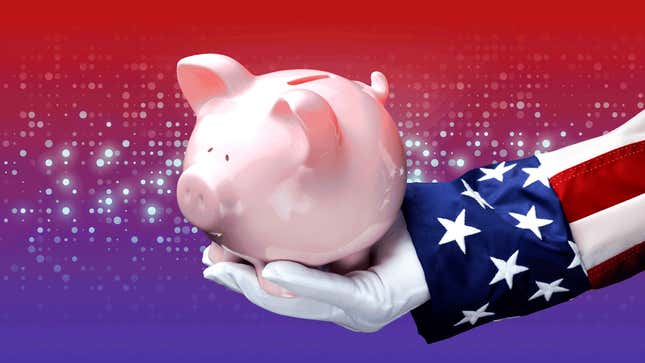 The US government's bailout of Silicon Valley Bank depositors—though not the bank itself—was an emergency move to save the economy from the ripple effects.
But what if the government got involved with tech banking a lot earlier? What if it created a public tech bank that would not only provide stability, but allow more long-term planning for tech projects that could improve the lives of generations to come?
In the latest episode of the Quartz Obsession podcast, economics reporter Nate DiCamillo explains to host Scott Nover why SVB's failure is the perfect moment to rethink how we finance innovation.
✅ Subscribe wherever you get your podcasts: Apple Podcasts | Spotify | Google | Stitcher | YouTube 

👀 Or, read the transcript
---
Exxon wants to join Big Shovel
"Big Shovel": A phrase used by Daniel Yergin, an energy and geopolitics expert, to describe the mining boom that will power the shift from a fuel-intensive energy system to a critical minerals-intensive one.
ExxonMobil is just one of several oil giants digging into this opportunity, particularly in the extraction of batteries' best friend, lithium. It's all in an attempt to cash in on a future of renewable energy. Read more about the investments Big Oil is making.

---
Where it costs the most to get a work visa
Before you consider leaving it all behind and becoming an expat in a new country, it pays to know just how much it will cost to work there (in addition to which countries are known for large income gains).

Looking for a cheaper work visa? See which countries have the lowest fees.
---
Quartz most popular
😬 Uber suspended its DEI chief after she hosted events titled "Don't Call Me Karen"
😬😬 Mistake at work? Try this 3-step process to address it
🤔 The healthiest people in the world don't go to the gym
🤔🤔 Europe's new energy problem: it now has too much gas
🦜 Twitter's new 2-hour video feature is already making it a hub for pirated movies
🦜🦜Of course Meta is building a Twitter competitor
Surprising discoveries
It matters into which ear you whisper your sweet nothings. Our brains have an affinity for hearing pleasing voices from the left side.
The first wooden satellite could make its way to space as early as next year. Magnolia proved to be the best material to make the more sustainable orbiter.
A Londoner thrifted Qing Dynasty jars for $25. The antiques have since sold for $75,000.

Toronto's Don River came back to life. The river was pronounced dead in 1969, but wildlife has returned to the site, and the city is spending billions to clear its water.

Used diapers can be used to make homes. Nappies can partially replace sand in the mortar and concrete composites used to construct buildings, without compromising their structural integrity.
---
Our best wishes for a productive day. Send any news, comments, Steel Magnolias, and antique jars to talk@qz.com. Reader support makes Quartz available to all—become a member. Today's Daily Brief was brought to you by Sofia Lotto Persio and Morgan Haefner.