Good morning, Quartz readers!

There will be no Daily Brief next Monday, and we'll pick up where we left off on Tuesday.

---
Here's what you need to know
Nvidia is nearing a $1 trillion valuation. An unprecedented stock boost after the semiconductor giant's banner earnings report rocketed it into the company of Apple, Saudi Aramco, Microsoft, Alphabet, and Amazon.
Shell shrugged off a $10 million emissions fine. The British oil company admitted a plant in the US state of Pennsylvania breached limits, but the plant will keep operating.
Microsoft said Chinese hackers are targeting Guam. Espionage agency Volt Typhoon has allegedly been conducting malicious activities on US cyberinfrastructure via the American island territory.

Virgin Galactic made it to the edge of our world again. The space tourism company flew its rocket plane to the limit of the atmosphere and back yesterday for the first time in nearly two years.

---
Surprise! (not): Chevron's carbon offsets are mostly junk
93%: Share of Chevron's carbon offset programs that haven't reduced greenhouse gas emissions from 2020 to 2022

Carbon offsets have long been under scrutiny for failing to reduce carbon emissions while providing a veil for corporations to claim that their continued emissions are paired with a project that is good for the environment. Read more about why offset projects are mostly a sham for the US oil gas giant and the industry at large.
---
Oh, to be a "creator" at Max
"We will correct the credits, which were altered due to an oversight in the technical transition from HBO Max to Max and we apologize for this mistake."

—Warner Bros. Discovery in its apology for changing writer credits on its newly named Max segment (formally HBO Max) in a way that lumped writers, directors, and producers together as "creators." While there's no good time to publicly discount writers (ahem), Warner Bros. Discovery picked the worst possible moment for this fiasco. Read more about why.

---
Adani's back, back again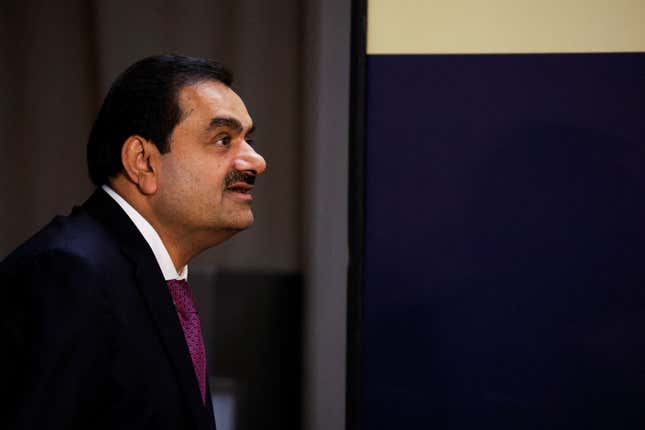 The world's top 20 billionaire list welcomed home a familiar face this week: Adani Group's founder and chairman Gautam Adani.

Adani's net worth plummeted $56.4 billion earlier this year after Hindenburg Research accused his enterprises of stock manipulation and fraud. But a new report from regulators in India gave investors and Adani's net worth a reason to celebrate this week, at least for now. Read about why, and how failure probably wouldn't have stopped Adani anyway.
---
Quartz most AI
🚪 OpenAI's Sam Altman threatened to leave the EU if he doesn't like their ChatGPT regulation…
💣 …but he doesn't seem to mind how the IAEA regulates.
😁 Nvidia sees "two simultaneous transitions" in tech—and investors are psyched
🖼️ Adobe is adding AI to Photoshop just as Wall Street goes on high alert over fake images
🚣 Google believes AI can minimize deaths from flooding in 80 countries
💻 With AI, Bill Gates sees the end of Google Search and Amazon
---
Surprising discoveries
You may be in luck if you eat the world's deadliest mushroom... Scientists think they've found an antidote in fluorescent dye.

…but if you do die, mushroom coffins can biodegrade your remains in 45 days. If mushroom leather can become mainstream, who's to say mycelium eternal resting places can't?
New York state's growers have too much weed. A slow rollout of its marijuana market is leaving thousands of pounds of product without buyers.
It's likely 1.7 billion T. rex dinosaurs once roamed the Earth. If that scares you, the newer estimate is 800 million lower than an earlier one.

There's a blueprint for making a federal green bank in the US. Connecticut, New York, and California have all tried it out at the state level, and could act as models. Hear how that relates to current banking trends in the latest episode of the Quartz Obsession podcast, season five.

✅ Subscribe wherever you get your podcasts: Apple Podcasts | Spotify | Google | Stitcher | YouTube 

👀 Or, read the transcript

---
Our best wishes for a productive day. Send any news, comments, mushroom risks, and mushroom rewards to talk@qz.com. Reader support makes Quartz available to all—become a member. Today's Daily Brief was brought to you by Morgan Haefner.