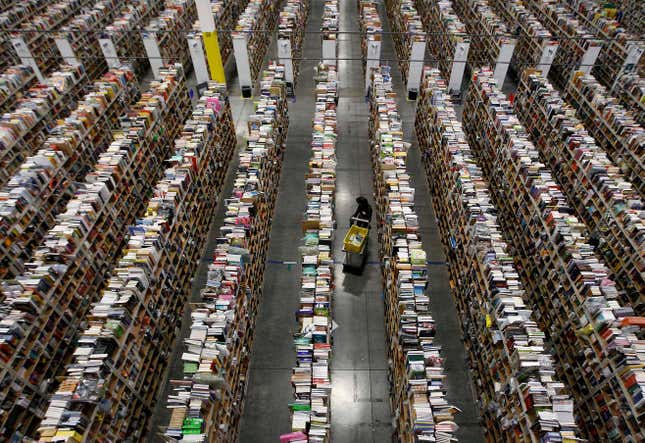 Good morning, Quartz readers!
---
Here's what you need to know
Amazon says it's not a "very large online platform." The extremely large online platform disputes a European categorization that would require tougher content restrictions, more data sharing with regulators, and extensive audits.
Quartz Smart Investing with NewEdge Wealth's Ben Emons
India's dreaded 28% online gaming tax is here. Industry players say the new indirect tax will hurt revenues and stifle innovation in a fledgling industry.
Airfare in the US lost a little altitude in June. The price of tickets dropped 8% as part of cooling inflation.

We're on the brink of an actors' strike. The last time actors' and writers' strikes overlapped was in 1960.
---
Come on in, the North Atlantic is a little too fine
Vermont is flooded. Canada is burning. Johannesburg saw snow (more on that below). It's a wild time for weather all over the globe.
Scientists are still examining why this year in particular is so off the charts, and one of the factors is a North Atlantic water temperature that's higher than it's ever been. Clarisa Diaz looks at the quest to find out how it's connected to the El Niño in the Pacific and the new jet stream pattern over North America.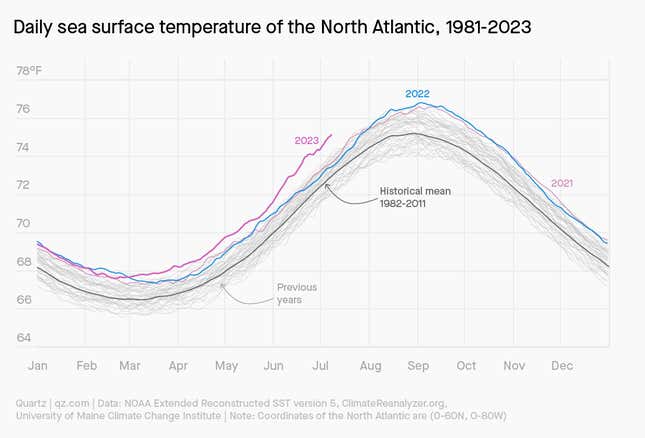 Insurance companies, however, are looking less into the "why" and more into the "when"—moving forward, your damage from extreme weather may not be covered.

---
Slow down AI
The authors of a new model about how to regulate technologies like AI sketch out a few assumptions about what they call transformative technology:
It can increase productivity in any sector in which it is used…
… But it can also be misused (intentionally or otherwise) to create a disaster. Think of the internal combustion engine, or transistors.
Their tentative conclusion: slow it all way down. Tim Fernholz explains why and how.
---
Pop quiz: How is Shopify making meetings more meaningful?
A cost calculator that puts a meeting's dollar value directly onto the invite
A "skip intro" button for the throat-clearing at the start of a meeting
A punctuality score that predicts who will show up late
Let's not waste your valuable non-meeting time—it's A., a cost calculator that's less about the actual dollars than it is a reminder that perhaps your meeting might not be necessary.
We rounded up our own ideas for software developers out there who are as annoyed as the rest of us about excessive meeting culture. But we'd love to hear your suggestions for how you'd throw technology at the problem, if you could.
---
Quartz's most popular
⚠️ Prime Day reminder: The FTC is still suing Amazon for subscription tricks
😃 Threads isn't just growing fast—its users are also more engaged than on Twitter
🌊 The time for a moratorium on deep-sea mining is now
🤖 5 ways AI could automate management tasks
🍲 Everything on Janet Yellen's "God of Money" restaurant menu in Beijing
🛌 For maximum recharge, take a Wednesday off
---
Surprising discoveries
France is subsidizing clothing repairs. Down with fast fashion, up with creative mending.
Ex-OpenAI engineers have created a "safer" AI. Claude 2 involves humans, feels more human, and constantly reminds you it should not be mistaken for a human.
Johannesburg saw snow for the first time since 2012. Don't think it means climate change is solved, though.
Burger King's new burger has no burger—just 20 pieces of cheese. It's only available in Thailand, and reviews aren't mixed.
Elon Musk announced a new AI company led by 11 males with a vague mission to "understand reality." On second thought, none of that is really too surprising of a discovery.
---
Our best wishes for a productive day. Send any news, comments, best mending attempts, and a burger that's all bun to talk@qz.com. Reader support makes Quartz available to all—become a member. Today's Daily Brief was brought to you by Susan Howson.