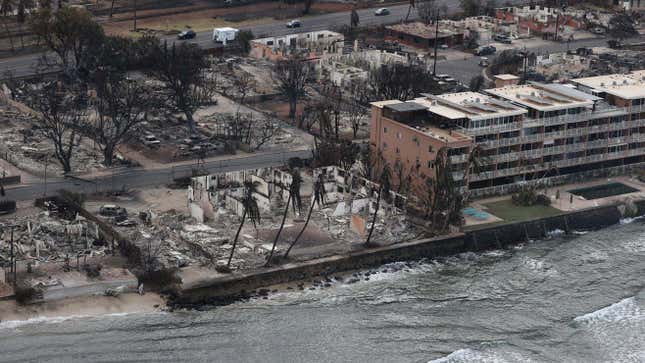 Good morning, Quartz readers!
---
Here's what you need to know
Hawaiian Electric's stock price plunged as questions about its role in Maui's wildfires surfaced. Multiple class action lawsuits have been filed against the public utility firm for failing to shut off power.
Should you keep investing in Big Tech?
Where's the Lioness love? When it comes to hosting the kind of public viewing parties men's World Cup matches get, English councils are dropping the ball for the women's championship game against Spain on Sunday.
The US Federal Reserve's July minutes show a commitment to keeping employment steady. The central bank intends to restore its dual mandate of price stability and maximum employment.
Paramount is holding on to BET. The company is no longer looking to sell its majority stake in the cable channel, despite interest from the likes of Tyler Perry and Sean "Diddy" Combs.
---
Lab-grown diamonds are a consumer's best friend
Scoff all you want, gem purists, but lab-grown diamonds are here, and they're pretty dang glittery. They've also made it a lot easier to afford diamonds—both natural and otherwise.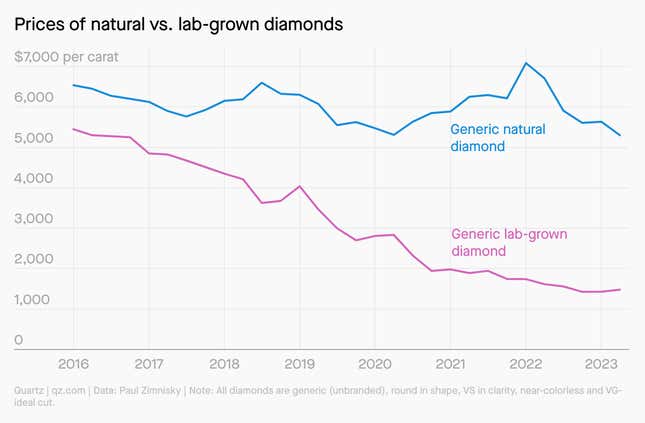 That's because more lab-grown diamonds in the market mean more diamonds in the market, period. And more anything in a market means lower prices. But, in the long term, natural diamonds may still be forever, Clarisa Diaz explains.
---
Quotable: But is it art (or asset)?
"Investors absolutely thought of this as an investment, as opposed to some sort of collectible or a piece of art that they wanted to own. I don't really know of anyone who went into this with an art collector's mindset." — Sean Masson, legal representative for the plaintiffs in a class action lawsuit against Sotheby's, in an interview with Quartz
Last week, a group of art investors announced they were suing Sotheby's—one of the world's largest auction houses—for allegedly colluding with a blockchain firm to inflate the price of non-fungible tokens (NFTs) during a 2021 auction. The suit was originally filed against a wide range of celebrities and influencers in December 2022 but was amended last week to include Sotheby's.
The big question it asks: Is art principally an asset class or a creative endeavor?
Quartz's Diego Lasarte talked to the representing legal counsel for the plaintiff, who says it comes down to the type of person making the bid.
---
It's not just the heat, and it's not just Maui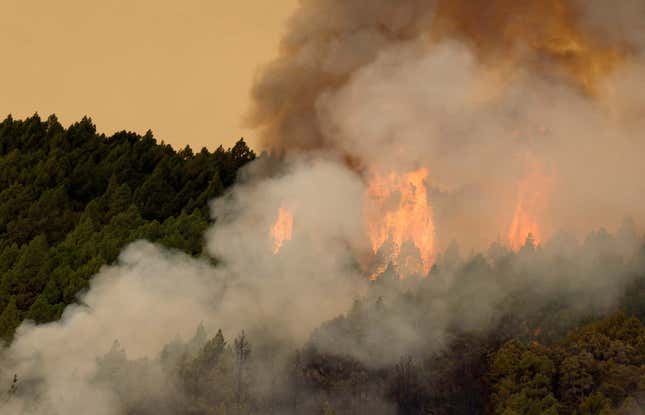 The photo above—of a wildfire that broke out on Wednesday in Tenerife, Canary Islands—may have escaped your notice in a news feed that's becoming increasingly saturated with natural disasters. Depending on where you live or travel, you're more likely to be aware of some climate change effects over others (that's a psychological phenomenon described as "construal level theory," if you're interested).
But historic floods in Norway, cave-ins in Japan, and the rest of this summer's disturbing events are worthy of your attention. It's all connected, after all. Check out our slideshow.
---
Quartz's most popular
🪧 The United Auto Workers union wants members to authorize a strike against Ford, GM, and Stellantis
🥰 Every successful relationship is successful for the same exact reasons
🟫 America's wholesome square dancing tradition is a tool of white supremacy
💻 It's no surprise Zoom wants workers back in the office
🚘 A Vietnamese EV manufacturer is now worth more than legacy US carmakers Ford and GM
🏠 Home Depot sees shoppers pulling back. So why is Warren Buffett bullish on home builder stocks?
---
Surprising discoveries
Fan interest in the IMAX version of Oppenheimer may signal a new oppen-tunity for Hollywood. The 70mm projectors are hard to come by, and are in high demand.
Fish meal is a cautionary tale. The protein that fattened the global north in the mid-20th century took a serious toll on the global south that produced it—and it's back.
Fewer American adults have tattoos than you'd think. Well, fewer American adults have tattoos than we'd think anyway (it's 32%).
A pig kidney has been functioning in a human body for a month. It's good, if weird, news.
Climate change is hurting restaurants with al fresco dining. This scalding summer has seen a lot of empty tables on patios that were lifelines during the pandemic.
---
Our best wishes for a productive day. Send any news, comments, indoor reservations, and pig kidney tattoos to talk@qz.com. Reader support makes Quartz available to all—become a member. Today's Daily Brief was brought to you by Susan Howson.