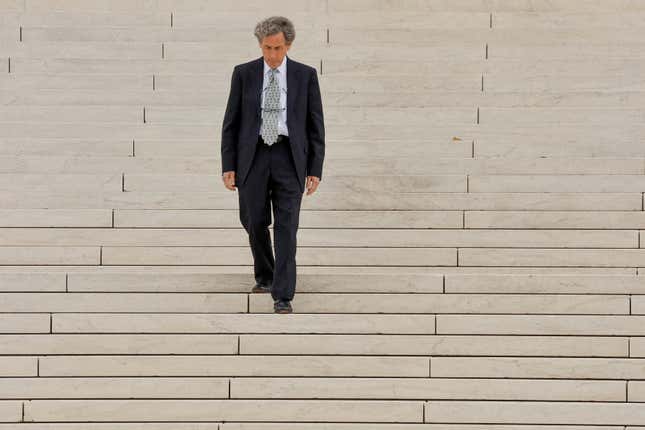 Here's what you need to know
Diversity has powerful opponents in the US. The same conservative activists (like Edward Blum, pictured above) who helped dismantle affirmative action for college admissions are going after law firms for offering fellowships designed for minority applicants.
Quartz Smart Investing with Cameron Dawson, Part 2
The Digital Services Act went into effect in the EU. It's designed to protect and inform users, and carries fines that could reach into the billions for companies like Google and Amazon.

The gig economy lives. Instacart, a grocery delivery app, is preparing for an IPO, and while it turned a profit in 2022, it warned in its S-1 filing that its margins remain thin.
The American Petroleum Institute, Chevron and the state of Louisiana are suing the US government. They claim that 6 million acres in the Gulf of Mexico, home to Rice's whale, one of the most endangered whale species in the world, should be included in a drilling rights auction in September.
---
Honey, honey, oh sugar, sugar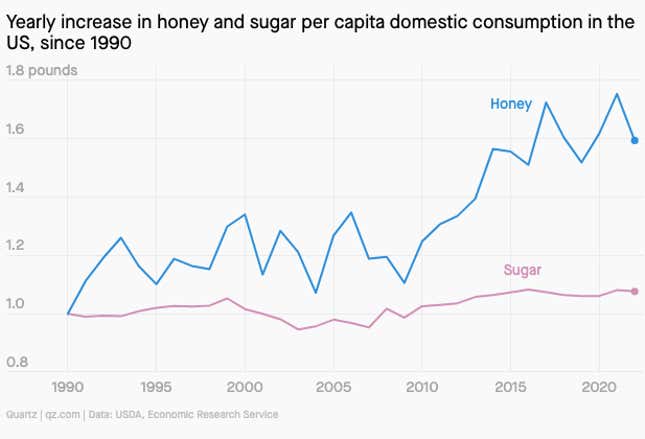 Yes, Americans consume a lot of sugar, whether that's in sweetened beverages, as an additive to processed food, or in cookies, cakes, and brownies—almost 70 pounds per person, per year. Per capita consumption, though, has only grown by 7% since 1990, a downright moderate increase when compared to honey. In the same time period per capita consumption has jumped by 60%, largely due to honey's reputation as a "superfood."

---
Just follow the R-star
In a speech at the Jackson Hole Economic Symposium in Wyoming on Friday, Federal Reserve chair Jerome Powell declined to name the neutral interest rate, or "R-star" as it's commonly called. This rate neither spurs nor hinders the economy, and determining it, amid the economic fallout from covid and inflationary concerns, has proven tricky. Here's a brief timeline of Powell's stance on inflation:
2020: Powell unveiled the Fed's new flexible average inflation targeting framework.
2021: Powell emphasized that inflation would be transitory, meaning that it would subside as supply conditions improved.
2022: Powell acknowledged there would be "unfortunate costs" associated with bringing down inflation.
---
Quartz's most popular
🔥 The US is suing SpaceX for refusing to hire refugees and asylum recipients
❌ Donald Trump posted his mugshot on X to drum up campaign contributions
🥘 Tupperware: Can't be contained
🛢️ The 6 newest BRICS nations are rich with oil and instability
🖼️ To improve team performance, start by reframing the role of manager
🧓 3 things we gain when we stop fixating on generational divides in the workplace

---
Surprising discoveries
Octopus moms use underwater hot tubs to hatch their eggs. Octopuses are usually solitary, but thousands gather around deep-sea hot springs so their eggs will develop more quickly.
Light-up dance floors, so 1970-late. Scientists discovered what they believe is a dance floor that mimics the sound of thunder and lightning, made by a pre-Incan society in Peru.
Flaming hot arson charge. A woman in Missouri used a spicy tortilla chip to start a house fire, police say.
Where was everyone last week? August 24 is the biggest sick day of the year for American workers.
The fungus among us. New and sometimes deadly fungal infections are popping up around the world and medicine doesn't always have an answer.
---
Our best wishes for a productive day. Send any news, comments, baby octopus photos, and jars of honey to talk@qz.com. Reader support makes Quartz available to all—become a member. Today's Daily Brief was brought to you by Annaliese Griffin and Samanth Subramanian.