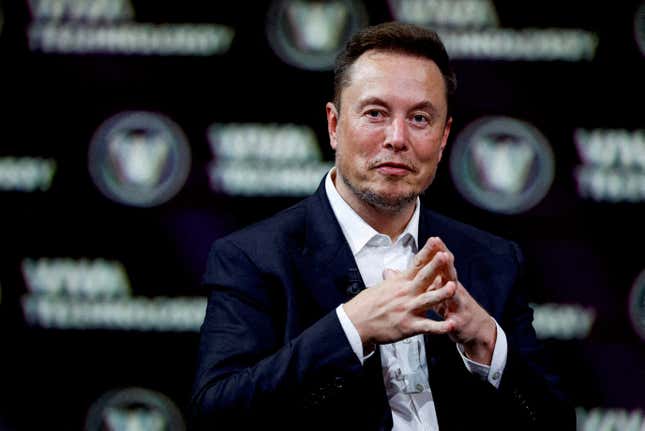 Good morning, Quartz readers!

You won't be receiving a Daily Brief on Monday, as it's a holiday for our US-based crew, but we'll be back on Tuesday with your news, your surprising discoveries, and everything in between.
Why a tightening of credit conditions could lead to a weak economy
---
Here's what you need to know
Video and voice calls are coming to X (formerly Twitter)… maybe. Elon Musk teased the features yesterday, but like many of his announcements, it's not clear when they'll actually come to fruition.
India's economy grew 7.8% between April and June. Good performances in its agriculture and finance sectors fueled the growth.
Hyundai and LG are funneling another $2 billion into their Georgia EV plant. The added investment in the US manufacturing hub, first announced three months ago, includes 400 more jobs.

Commercial whale hunting can resume in Iceland. The country had temporarily banned the practice in June, but now it's resurfaced, with stricter rules and supervision that activists aren't impressed with.
---
It's not landscaping, its firescaping
When wildfires raged through Lahaina, Hawaii a few weeks ago, a lone home along Front Street remained intact. That building had a protective metal roof, but also another feature: landscaping that gave the house some added protection against fire
Residents in California are all too familiar with the need for "firescaping," which can be broken down into three zones:
🫸 Reduced fuel zone: The area furthest from a home, where grass is no longer than 4 inches (10 cm), and distance is created between shrubs and trees
🌳 Lean, clean, and green zone: In this middle area, trees are pruned, and all dead and dry vegetation is removed
🔥 Ember-resistant zone: Closest to the home, this area has no vegetation, and ground cover like pebbles and gravel, or a patio, create a barrier against fire
Quartz's Clarisa Diaz illustrated how this kind of firescaping is designed—take a look.
---
Quotable: Modi has had little to say about Adani
"I don't understand why the prime minister is not forcing an investigation. Why is he quiet? Why doesn't he say that he is going to make sure that this issue is investigated and the people who are responsible are put behind bars? This is raising a very serious question on the Indian prime minister just before the G20 leaders come here."—Indian Congress leader Rahul Gandhi on Aug. 31.
Gandhi was speaking to new corruption allegations involving the Adani Group, Gautam Adani's massive conglomerate. The company has become one of India's largest and most powerful corporate forces—but, as Gandhi and others have argued, not without a bit of favoritism from the country's ruling party.
---
Quartz's most popular
🐌 These are the US states where homes sell the slowest
🛋️ The abrupt shutdown of a 34-year-old furniture company left more than 500 workers jobless
🏳️‍🌈 Canada issued a warning to LGBTQ tourists visiting the US
🍔 A judge ruled Burger King can be sued for exaggerating the size of its Whoppers
🗺️ China's new standard map reignited a land dispute with India
🤑 Tech IPOs are returning—this time with profits
---
Surprising discoveries
The next double feature to buy tickets for is… Exorswift! Taylor Swift's Eras Tour movie and the latest installment of The Exorcist both come out Oct. 13.
Seven new species of leaf insects were identified. What a pleasant scientific gift just in time for fall.
In other bug news: 5 million bees fell off a truck in Canada. The beekeeper called in to wrangle them described the swarm as "very angry, confused, and homeless."
A college volleyball match in the US broke a world record in women's sports attendance. More than 90,000 people packed into Memorial Stadium in Lincoln, Neb., for the event.
The James Webb Space Telescope snapped detailed pictures of a star that exploded in 1987. It looks like a cosmic strand of pearls.
---
Our best wishes for a productive day. Send any news, comments, Exorswift memes, and leaf piles to talk@qz.com. Reader support makes Quartz available to all—become a member. Today's Daily Brief was brought to you by Morgan Haefner.