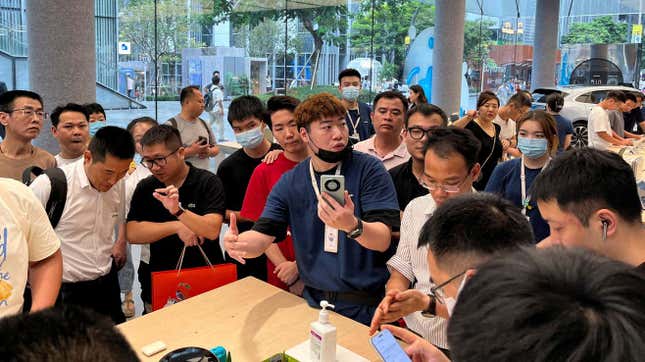 Good morning, Quartz readers!
---
Here's what you need to know
A new Huawei phone runs on an unexpectedly advanced chip. China has been barred by sanctions from accessing the latest semiconductor technology, but its own industry is making chip breakthroughs.
What inspired Elon Musk's design for Tesla's Cybertruck?
Saudi Arabia and Russia agreed to extend oil production cuts. US president Joe Biden warned of consequences if the former partnered on cuts with the latter—and everything that relies on transport will most likely see costs rise.
Arm is looking for a smaller IPO than initially reported. At $4.87 billion, the chipmaker's debut on the New York Stock Exchange would still be the year's biggest.
The Munich auto show demonstrated Germany's blind spot. China has left the former industry leader in the dust by investing into EV technology.
---
Revenge is an insurance policy best shopped for in Hong Kong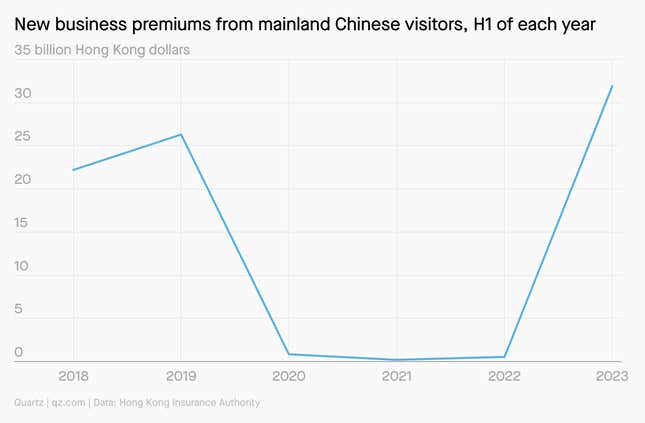 After three years of pandemic travel restrictions, Hong Kong's borders are open once again. And mainland Chinese visitors are flying to the city on shopping sprees for, you guessed it, insurance policies.
Buying insurance plans in Hong Kong—where, unlike in mainland China, the local currency can trade freely in international markets—has long been a workaround to Beijing's capital controls. By buying Hong Kong insurance policies, mainlanders can transfer capital overseas.
After years of chaotic covid management and amid a shaky economic situation, there are a lot of reasons why Chinese people might want to take life and health protection into their own hands, Mary Hui explains.
---
Elon Musk is blaming the Anti-Defamation League for X's financial problems
Musk says he has no choice but to sue the prominent Jewish civil rights group for encouraging advertisers to pause their spending on Twitter (now X). ADL claims hate speech was spread on the platform, which Musk denies.
Let's take a look at just the last year (not to mention the last decade or so) of accusations of hate speech on Twitter/X:
Jan. 24, 2023: A lawsuit filed in Germany accuses the platform of mishandling Holocaust denial
Feb. 9, 2023: The Center for Countering Digital Hate reveals Twitter stands to earn $19 million annually from ads on just 10 toxic reinstated accounts
April 5, 2023: Germany threatens to fine Twitter €50 million ($54 million) per case for failing to act on antisemitic speech takedown requests in the country. At the time, there were around 600 cases.
That just gets us to spring. Ananya Bhattacharya flips through the rest of the calendar.
---
Canada burned through an annual wildfire record twice over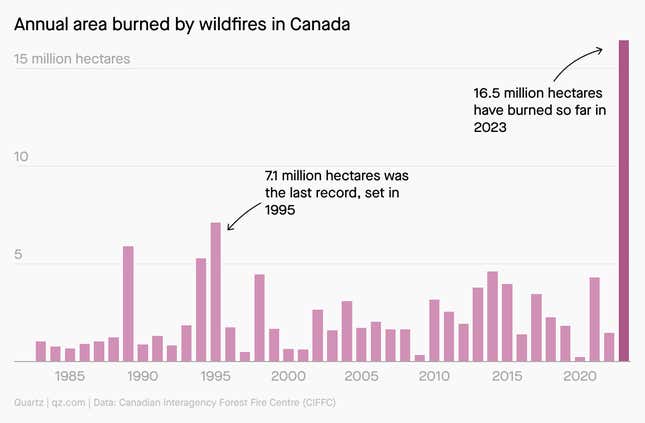 The number of fires burning isn't much bigger than normal; it's that they're just so much worse than they should be. Clarisa Diaz explains what happened—and what's going to keep happening for weeks to come.
---
Quartz's most popular
🔭 Is the end of Donald Trump's Truth Social in sight?
✈️ American Airlines demonstrated what could be the world's cheapest way to fight global warming
🥊 ​​Elon Musk's feud with the Anti-Defamation League has been brewing all year
💊 A weight-loss drug company is close to becoming Europe's biggest market cap stock
👀 Muhammad Yunus, the father of microfinance, is facing a prison sentence
🌶️ Sriracha: The good kind of heat
---
Surprising discoveries
More and more American executives are hanging around the office way too long. Wasn't early retirement supposed to be the goal?
Smuckers knows Uncrustables are really for adults. People outside of the US—consider getting on board with weird frozen PB&J empanadas.
Be proud that you stick your tongue out while your hands are busy using tools. It means your brain is functioning properly!
A lot of space is taken up by unused solo office desks. The people want small collaborative spaces in their offices.
Chinese construction workers drove through the Great Wall. Shortcut: achieved. Damage: irreversible. 
---
Our best wishes for a productive day. Send any news, comments, longcuts, and crustables to talk@qz.com. Reader support makes Quartz available to all—become a member. Today's Daily Brief was brought to you by Susan Howson.