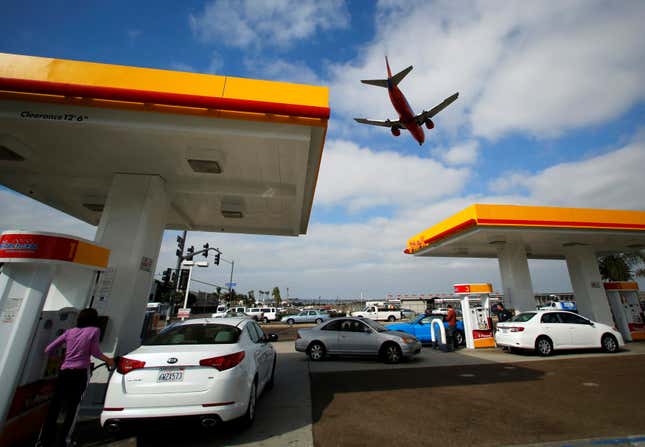 Good morning, Quartz readers!
---
Here's what you need to know
Oil prices are up 25% since June. Analysts predict that brent crude oil could climb to $100 a barrel, levels not seen since the first months of Russia's invasion of Ukraine.

Why a tightening of credit conditions could lead to a weak economy
The Taiwan Semiconductor Manufacturing Company said its Arizona plant is progressing quickly. The update comes as the project faces a delay until 2025 because of worker shortages, with technicians having to be flown into the US to train staff.

WeWork wants to renegotiate all of its leases. The coworking space company is trying to lower its operating costs after sounding the alarm just weeks ago that it might not have a future.

The 2023 season of the National Football League starts today in the US. The opening game will be hosted by defending Super Bowl champs the Kansas City Chiefs against the Detroit Lions, and the sports bettors are ready.
---
Lula's bringing the 2000s back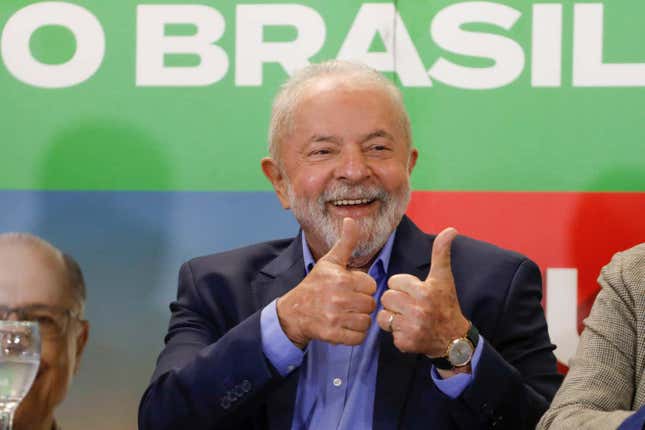 Since taking over as president at the beginning of this year, Luiz Inácio Lula da Silva's time-tested tax-and-spend strategy—along with a strong campaign for public ownership of utility and energy companies—appears to be stimulating Brazil's economy.

It's a callback to his early aughts. To understand the successes of his current presidency—which so far include growing the country's GDP and raising its credit rating—it's helpful to look back at his first, during which Brazil embarked on the largest-ever expansion of its economy. Diego Lasarte has the highlights.

---
Truth Social will be Trump's meme stock…
Sure, Donald Trump's Truth Social won more time to go public, but with only about 2 million active users, the right-wing Twitter clone is not as much a viable social media business as a vehicle for the former US president's cult of personality.
Digital World Acquisition Corp. (the shell company that Trump's media firm wants to merge with to go public) has effectively become a meme stock. And perhaps that's how the new combined firm, which has scaled nearly every barrier preventing it from actualizing as a public company, should be understood. Not a real business, but a stock-market stand-in for one of the most influential and controversial men on the planet. Quartz's Scott Nover has the take.
---
…and Ramaswamy's ETF firm is getting a presidential boost
"It is a rare feat for any indie issuer to hit $1 billion in first year, let alone one that is largely a pushback to ESG as many of those ETFs have flopped. Ramaswamy's wealthy backers helped a lot and running for president probably can't hurt either. That is some unchartered territory when it comes to ETF marketing."—Bloomberg Intelligence senior ETF analyst Eric Balchunas

Ramaswamy's asset management fund Strive calls itself "anti-woke" and "anti-ESG"—and is, in a sense, his US presidential launchpad. But the fund, launched in 2022 and backed by the likes of Peter Thiel and Bill Ackman, is facing legal trouble, and its hype may be short-lived.
---
Quartz's most popular
✈️ American Airlines demonstrated what could be the world's cheapest way to fight global warming
🤳 A new Huawei phone has defeated US chip sanctions against China
🧩 4 questions to ask in a job interview to make sure the new position is a fit
🚌 A new metro system is pushing back against the worst traffic in the world
🤐 Elon Musk's feud with the Anti-Defamation League has been brewing all year
🚀 What SpaceX has to do to convince the FAA to let Starship fly
---
Surprising discoveries
People in the US can buy old bridges. Pick up your 128-foot (39-meter) Warren pony truss from 1912 today.
A 2,200-lb (998-kg) bull in Nebraska rides shotgun in his owner's car. Half of the vehicle's top has been removed so Howdy Doody can properly fit.
The 400-year-old skeleton of a child was found with its foot padlocked to stop it rising from the dead. The remains were in the same Polish gravesite where a "vampire" woman was found last year, and we will be staying far away from there, thank you very much.

Opposites don't really attract. In fact, most couples are remarkably similar (and every successful relationship is successful for the same reasons, too).
Ten languages are officially spoken across the RuPaul's Drag Race editions. New goal: learn how to say "death drop" in each (along with every other piece of Drag Race jargon outlined in this week's Quartz Obsession).
---
Our best wishes for a productive day. Send any news, comments, pet bulls, and strong coffee to talk@qz.com. Reader support makes Quartz available to all—become a member. Today's Daily Brief was brought to you by Morgan Haefner and Scott Nover.