Good morning, Quartz readers! Here's what you need to know
The world's top economic officials map out a pandemic recovery. The pandemic response, vaccine distribution, and economic recovery and resilience will dominate discussions at World Bank and IMF meetings this week. Read more below.
Boris Johnson outlines the UK's international travel plans… The prime minister is considering is a traffic light system that grades destinations by Covid-19 risk. Also, twice weekly rapid Covid-19 tests will be offered to everyone in England starting Friday.
…and Covax hopes to have vaccines in more than 100 nations soon. But the World Health Organization is likely to miss its goal of starting vaccinations in every country by April 7.
Jordan's former crown prince was placed under house arrest. Officials accused Hamzah bin Hussein of plotting to destabilize the country, while the prince said he is a victim of a crackdown on dissent.
Benjamin Netanyahu was in court for his corruption trial. The Israeli prime minister denies allegations that include bribery and fraud. Meanwhile, the president is beginning post-election talks to decide who should form the next governing coalition.
A hacker leaked over 500 million Facebook users' personal information. The phone numbers and other data that were scraped from the site in 2019 were posted to a public forum.
A Florida wastewater reservoir is at risk of a "catastrophic" collapse. Governor Ron DeSantis declared a state of emergency around Piney Point, and its acidic water is being pumped out to prevent a breach that would flood nearby areas.
---
What to watch for
The International Monetary Fund and World Bank kick off their spring meetings. As the world's financial elite gather virtually for a week of debate and policymaking, the mood should be much more optimistic than 12 months ago, when the IMF predicted 2020 would be the worst year since the Great Depression.
IMF managing director Kristalina Georgieva has already revealed the group's latest world economic outlook report, to be released tomorrow (Apr. 6), will be even rosier than the 5.5% expansion in global output forecast in January, thanks to US president Joe Biden's ambitious spending plans and the country's rapid vaccine rollout.
But the economic recovery won't be felt evenly. Africa may not reach herd immunity until 2023, due in part to wealthy countries hoarding Covid-19 vaccines. The rising cost of commodities like oil and steel, meanwhile, threatens to slow India's growth. And even some developed countries have been forced to temper expectations for 2021: France trimmed its GDP growth forecast from 6% to 5% as it entered a third nationwide lockdown Saturday.
---
Charting the EU's carbon prices
After years of low prices and stagnant trading, carbon prices across Europe are now reaching record heights: €40 ($47) per metric ton. Policymakers in Brussels say they're committed to maintaining a meaningful price on carbon in the future to drive more emission reductions.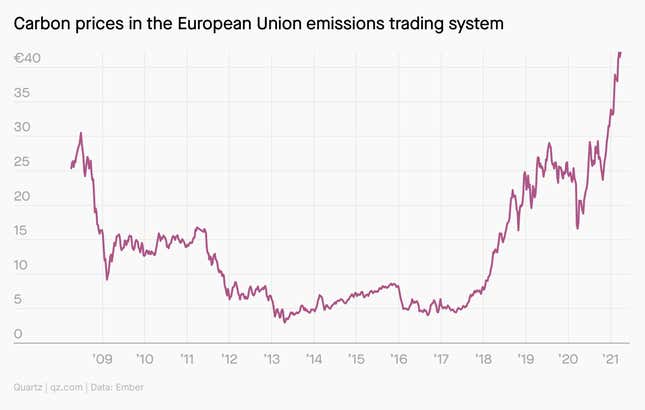 The UK has been participating in the European Union's emission trading system, the EU-ETS, since 2005, but left as part of Brexit last December. For now, the country has nothing concrete to replace it. Michael Coren explains what's at stake if the UK opts to go it alone.
---
Covid-19's lasting impact on the workplace
A year into the pandemic, work is different—it's better, but also harder. What does that mean for the future?
6.9%: Jobs posted on Indeed in Feb. 2021 that are for remote positions, vs 2.9% in Jan. 2020
79%: Global survey respondents who said "the ability to live anywhere" would be important to them
2.5: Additional hours per week people are working on average during the pandemic
61%: Corporate leaders (more likely to be men who worked from home in executive jobs) who say they're thriving right now, according to a 2021 Microsoft survey
44%: Remote workers who say their mental health has declined in the past year
✦ Dive deeper into the changes to office culture and what comes next with our field guide on what a year of Covid has done to work. What can a Quartz membership do for you? Try it for free and find out.
---
Handpicked Quartz
💣  How to spot design traps like the "money bomb" Trump used to dupe supporters
⭕️  Hula hoops are the latest 1950s fad resurrected by the pandemic
💉  Why Africa doesn't have its own Covid-19 vaccine
🇺🇸  1 million US jobs a month aren't enough
🥗  Weight loss app Noom was ready for its pandemic moment
🖋  Egyptian feminist Nawal El Saadawi showed a generation of female writers how to be fierce
🇮🇳  India walks a tightrope between vaccinating its own people and sending vaccines to the world
Surprising discoveries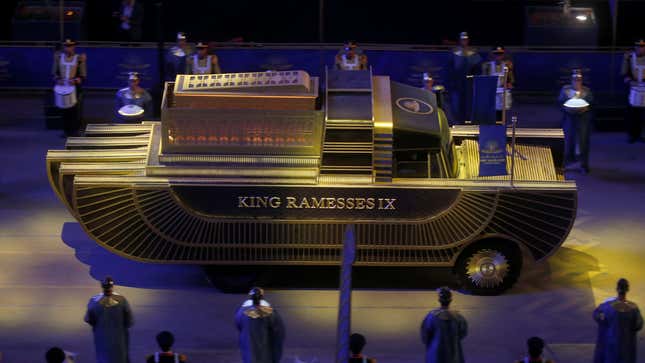 Twenty-two mummified royals paraded through downtown Cairo. The kings and queens were transported from the Egyptian Museum to a new home four miles away.
New research is redefining our timeline of human innovation. Archaeologists in South Africa believe humans communicated through complex symbolic behaviors 105,000 years ago.
Nike and FedEx haven't paid federal income tax since 2018. Although both companies made billions in pre-tax income, they received millions in tax rebates. 
China made a propaganda musical about Xinjiang inspired by La La Land. There are no concentration camps for Uyghurs in Wings of Song.
Deforested land sprung to life after a coffee pulp treatment. After only two years, 80% of a test plot that had been smothered by the waste product was home to young trees.
---
---
Our best wishes for a productive day. Please send any news, comments, tax loopholes, and propaganda musical numbers to hi@qz.com. Get the most out of Quartz by downloading our iOS app and becoming a member. Today's Daily Brief was brought to you by Mary Hui, Tripti Lahiri, Michael Coren, Lila MacLellan, and Liz Webber.