Good morning, Quartz readers!
Here's what you need to know
Joe Biden's $6 trillion budget aims to expand the US middle class. With major investments in infrastructure, education and healthcare, it will raise federal spending dramatically in a bid to improve life for working-class Americans.
The EU is sending more than 100 million vaccine doses to Japan… That's enough to cover about 40% of the population. But is it enough to save the Olympics?
…and India made it easier to import foreign Covid-19 vaccines. "Well-established" jabs like those from Moderna, Johnson & Johnson, and Pfizer no longer need to carry out local clinical trials. Meanwhile, China's Sinopharm finally released a full accounting of its vaccine trials.
Germany will pay reparations to Namibia. The country has recognized its killings of tens of thousands of people in the early 20th century in what was then a German colony as genocide.
Washington state charged three police officers in the killing of a Black man. In March 2020, months before George Floyd's death, Manuel Ellis was beaten, tasered, and suffocated with a hood over his head even as he repeatedly told police, "I can't breathe."
An ex-Hong Kong lawmaker's interviews were used to deny her bail. In an ongoing national security law case, prosecutors successfully cited Claudia Mo's remarks to the foreign press seeking US support for Hong Kong's democracy. Meanwhile HSBC and Citigroup were threatened with jail time if they unfreeze media tycoon Jimmy Lai's accounts.
Paytm's IPO could be India's largest yet. The digital payments provider, which counts China's Alibaba and Ant, as well as Japan's SoftBank as major investors, reportedly aims to raise Rs 218 billion ($3 billion) when it goes public later this year.
---
What to watch for
Chinese food delivery giant Meituan reports its earnings for the three months ended March 31 today. As China started recovering from the pandemic, Meituan delivered better-than-expected revenue of $5.8 billion for the previous quarter on the back of increased meal orders. However, the company has warned that it will continue suffering operating losses in the short term due to its investment in new projects, so it's expected to stay in the red this time. There are several other aspects worth watching:
Antitrust scrutiny: In late April, China's top market regulator launched an investigation into Meituan, raising fears the company could become the next target of Beijing's crackdown on big tech.
Outspoken CEO: Wang Xing stirred huge controversy this month after he posted and deleted an ancient Chinese poem that some say is a veiled criticism of Beijing. Whether Wang will join today's earnings calls and what remarks he might make are likely one focus for investors.
Updates on new initiatives: The company has said it will spend part of the $10 billion funding it raised in April on drone technology. It has also been developing autonomous delivery, which has been in use in Beijing for some orders.
---
Tallying India's true death count
Journalists in Narendra Modi's home state exposed India's Covid-19 deception. Rajesh Pathak, resident editor of a 98-year-old local newspaper in Gujarat, was alarmed by government figures counting local Covid deaths at 0 on a day his wife had personally seen two dead bodies. So he sent his reporters digging.
Sandesh's Ahmedabad journalists talked to sources at the biggest hospital in the state's biggest city. With every conversation, their suspicions became clearer: There was a glaring gap in the Covid death counting at the facility. The team then took it upon itself to piece together the reality, and found that undercounting dead bodies was just the tip of the iceberg.

---
Is there a way to make brainstorming meetings more productive?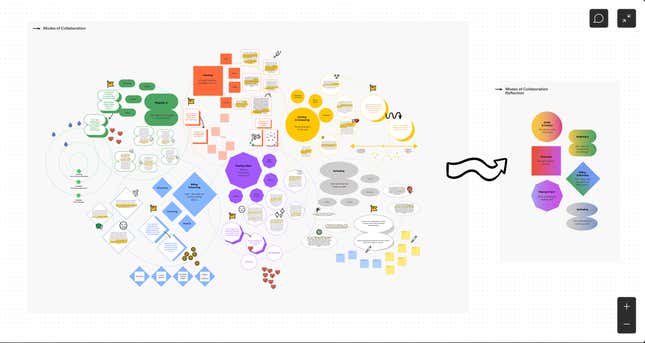 Some experts believe that open-ended, idea-gathering meetings are better done virtually, but that isn't exactly conclusive given the various distractions associated with working remotely. Who among us has not experienced a Zoom grid of awkward silence during a virtual brainstorm?
Dylan Field, the co-founder and CEO of Figma, says the answers lie in playfulness and clarity. "I think that when we're in a state of play, we're able to think more creatively, which often improves whatever work we're doing," says Field. His company's tool, Figjam, combines a multi-player game mentality with a pared-down interface that evens the playing field for designers and non-designers alike.
✦ Quartz at Work looks into how and where human beings get their jobs done. A Quartz membership will give you access to all of it. Try it free for a week.
You asked about vaccine hesitancy
How can we encourage people who are skeptical about vaccines to get their jabs?
With the benefit of hindsight, it's clear that the issues around who is not getting vaccinated and why are more nuanced than simply being anti-vax. A recent paper published in the New England Journal of Medicine classified individuals' attitudes towards vaccination on a "spectrum of vaccine 'hesitance,' ranging from being 'vaccine ready' to 'vaccine neutral' to 'vaccine resistant.'" Different forms of vaccine hesitancy call for different public health approaches.
Some US states, for example, offer lottery tickets and free beer to adults who get vaccinated, which might help nudge vaccine receptive or vaccine neutral adults. For those who are receptive to vaccines but not "avid seekers," simply facilitating access could do the trick. Giving more information about vaccines to the "vaccine neutral" group might help sway them.
Once all the people who are receptive to vaccines have been inoculated, the NEJM paper makes the case that governments should go back to providing vaccines where people are used to seeing them, like doctors' offices, because they have a better chance of reaching people who identify as "vaccine resistant" there than in baseball stadiums and theme parks.
---
Handpicked Quartz
🛒 Costco is proof that in-store shopping is far from over
🎮 The chip shortage is pitting bitcoin miners against gamers
😐 Elizabeth Warren doesn't buy Jamie Dimon's commitment to conscious capitalism
⛏  China's crackdown on bitcoin mining is getting real
➡️ How businesses can create lasting change to advance racial equity for Asian Americans & Pacific Islanders
🤗  How the venture capital community can better support Black founders
💪Companies need to empower their chief diversity officers
💸 The US "labor shortage" is just a wage shortage
🇬🇭 Ghana is entering the surging social bond market
🧘‍♂️ India's doctors are battling the pandemic—and a yoga guru's misinformation campaign
☀️ Charted: The biggest hurdles for Narendra Modi's solar power ambitions for India
⚖️ The 20-word clause that exposed Amazon to an antitrust lawsuit
🏬 The US labor shortage is about to create a big problem for retailers
---
Surprising discoveries
"Charlie Bit Me" won't be leaving YouTube after all. The buyer of the non-fungible token (NFT) version of the viral video decided it was too important to internet culture to take down.
China hopes to improve marriage rates by making it cheaper for men to tie the knot. Special economical wedding zones have been set up to weed out traditions like "bride prices."
Europeans welcome their robot overlords. About half of respondents to a recent survey want to replace some government representatives with AI.
A tiger did the voiceover for the MGM lion. The distinctive roar was added in the 1980s.
Is this the original turducken? Scientists say a fossil shows a shark eating a squid eating a lobster.
---
---
Our best wishes for a productive day. Please send any news, comments, tiger roars, and turducken recipes to hi@qz.com. Get the most out of Quartz by downloading our iOS app and becoming a member. Today's Daily Brief was brought to you by Tripti Lahiri, Mary Hui, Ananya Bhattacharya, Amanda Shendruk, Annabelle Timsit, Susan Howson, and Liz Webber.