If any line of inquiry dominated this newsletter in its early days, it was pointing out that the Trump administration's plan to send astronauts to the Moon by 2024 was not going to happen.
The Artemis program survived the election of Joe Biden in 2020, and the hand-over gave NASA an opportunity to share a (slightly) more realistic deadline: 2025. The success of the Artemis 1 mission in 2022, which tested the Space Launch System rocket and the Orion space capsule in an uncrewed flight, raised hopes that this deadline might (might!) be possible.
Should you buy McDonald's and Caterpillar stock right now?
But in an update this week, NASA administrator Bill Nelson and associate administrator Jim Free, who is leading Artemis, said there is a chance that the mission earmarked for the first woman and person of color to touch regolith might be repurposed to do... something else.

And for a simple reason: While transportation into deep space seems assured (if mind-bogglingly expensive), the technology that NASA needs to get to the Moon itself is still up in the air. Most notably, that's SpaceX's Starship, which will take astronauts from lunar orbit to the surface and back again, and spacesuits being developed by Axiom Space.
When we checked in on this topic in March, things were a little sunnier: Axiom planned to finalize its suits in 2025, and the first orbital test of Starship was approaching. Five months later, and Free is fretting about timing after Starship failed to reach orbit and revealed a series of issues, ranging from a slow-acting flight termination system to a lack of energy dampening that tore up the launch site. In June, he said Artemis III might be delayed until 2026.
SpaceX has installed a new water-deluge system and tested it with Starship's Super Heavy booster this week. The test largely went as planned, with the dampening system absorbing the energy of the rocket's 33 powerful engines, but they didn't run for the planned test duration and some shut down early. Now, Spacex will need to convince the Federal Aviation Administration, which is still investigating the mishaps during the first flight, to license it for the next one. That could take awhile, and remember, we haven't gotten into orbital refueling operations or lunar test flights. Keep in mind as well that two years elapsed between the first flight of the Falcon 9 and its first operational mission for NASA.
Free compared the situation to the construction of the International Space Station, when NASA had to be flexible and schedule missions around the availability of the station's modules. But the Space Shuttle was much cheaper to fly than the SLS and Orion, and there were more obvious things to be done in low-earth orbit.
If Starship isn't ready, what would a mission in 2025 look like? One option is a visit to the Lunar Gateway, a space station that NASA plans to place around the Moon. Originally intended to be a key part of the Artemis program, it became a secondary objective after it became clear it wouldn't be ready in time; it is currently expected to launch no earlier than 2025. That might be a disappointing outcome, but it could also help bend the Artemis program back towards its original vision of a long-term exploration program at a time when future Artemis missions are in jeopardy due to budget cuts.
And now the pressure is squarely on SpaceX to get Starship off the ground. If you thought things became intense between Elon Musk and the US space agency over the Crew Dragon, well, things are just heating up. At least this time, their interests are more closely aligned: The vehicle is not just central to the future of Starlink and the financial sustainability of SpaceX, but also NASA's most visible project.
🌕🌖🌗
IMAGERY INTERLUDE
Artemis II, a mission that would see four astronauts orbit the Moon for the first time since the Apollo era, is at least on schedule. This week, the four assigned to the mission—pilot Victor Glover, commander Reid Wiseman, mission specialist Christina Koch, and mission specialist Jeremy Hansen—got their first look at the Orion capsule that will take them into deep space.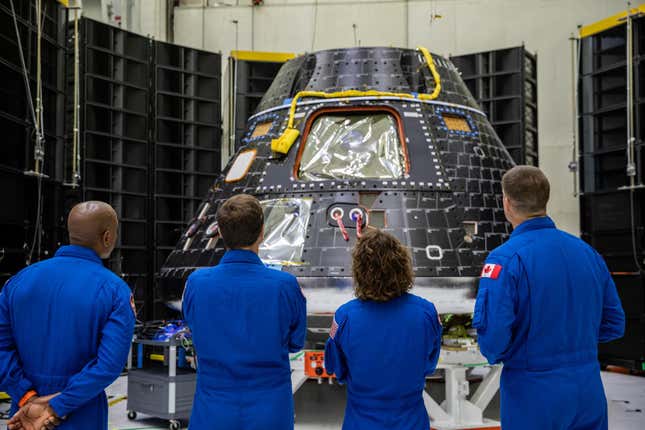 📡 📡 📡

SPACE DEBRIS
The US government is letting remote-sensing companies cook. The National Oceanic and Atmospheric Administration has relaxed limits on sensors used by private companies in space, which, for example, will let Umbra share high-resolution space radar data and Maxar sell imagery of spacecraft in orbit.

What is Blue Origin doing? It's an honest (and frequent) question that is asked yet again in a Wall Street Journal feature that explores the company's long-delayed plans to fly its New Glenn orbital rocket, which might take off next year. Blue, which has 11,000 employees, hasn't taken a product into operation since the debut of the New Shepard in 2015.
Capella's satellites are deorbiting sooner than expected. The space radar company will soon have just two satellites left in orbit after apparent problems with a Phase Four-built propulsion system and more solar weather than expected. That puts pressure on Rocket Lab to deliver two new Capella spacecraft into orbit after the first attempt was scrubbed last week.
Starliner 2024. NASA and Boeing shared an update this week on the Starliner spacecraft, a capsule designed to ferry crew to the International Space Station that is now expected to launch no earlier than April 2024, almost five years after its first uncrewed test flight failed.

Virgin Galactic preps for first tourism flight. After flying a group of employees in May and a group of Italian Air Force personnel with research payloads in June, the tourism firm will send three civilian passengers on a 20-minute flight to the edge of space. The participants include a former British Olympian and two contest winners.
Last week: A detour into the future of physics.

Last year: Shooting YouTubers into space with crypto and Jeff Bezos.
This was issue 191 of our newsletter. Hope your week is out of this world! Please send your predictions for American astronauts landing on the Moon, tips, and informed opinions to tim@qz.com.