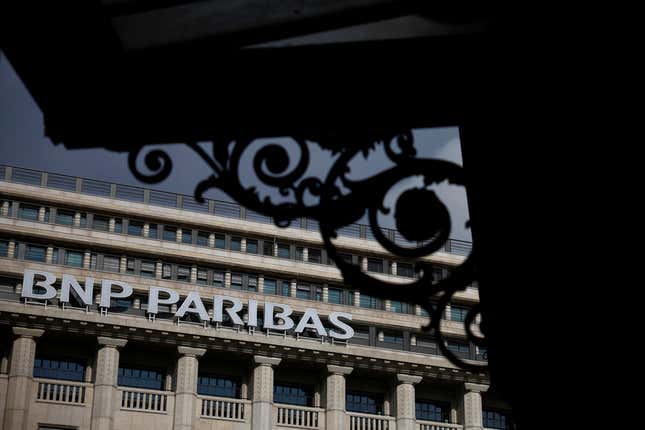 French authorities raided five major banks on March 28 as part of a long-term investigation into alleged money laundering and tax evasion. The massive operation, which involved 160 investigators from the French Financial Judicial Investigation Service in Bercy, 16 French magistrates, and six German magistrates from Cologne, targeted BNP Paribas and its Exane subsidiary, as well as Société Générale, Natixis, and HSBC. The banks are now facing a collective fine of €1 billion ($1.1 billion), Bloomberg reported.
According to French newspaper Le Monde, the searches are the latest chapter in an investigation that kicked off in December 2021. The French National Financial Prosecutor's Office has been looking into the financial institutions' suspected engagement in so-called "cum-cum" transactions, a type of trade used to evade taxes on dividend payments.
The raids come at a time of turbulence in the banking sector. The failures of Silicon Valley Bank, Signature Bank, and Silvergate Bank, in addition to the emergency rescue of Credit Suisse in the past month, have sent ripples through the global financial system and sparked fears of a credit crunch.
What are cum-cum transactions?
Cum-cum trading, named after the Latin for "with-with," refers to when shareholders move stock to an investor abroad for a short time to avoid paying a dividend tax. It's a controversial practice closely associated with, but distinguished from, "cum-ex" trading.
Also known as "dividend stripping," cum-ex trading involves the transfer of shares with ("cum") and without ("ex") dividend rights between different parties in order to obscure the true owner. Carried out just before the payment of dividends, the scheme was deployed in Germany to exploit a legal loophole (pdf) allowing multiple investors to claim tax refunds on a payout, despite only paying tax once.
Cum-cum deals have been regarded as more pervasive than cum-ex because they trigger fewer legal tripwires. France's crackdown could indicate that no longer holds true.
The Financial Times reported in 2016 that Germany's Commerzbank banned cum-cum trades after facing criticism. At the time, the country's finance ministry called the trades "illegitimate, since their only purpose is to get around the legal taxation of dividends," but also said they aren't criminal in nature.
Meanwhile, cum-ex trades lie at the center of a vast financial scandal that German authorities have been unraveling for more than a decade. Involving some 100 banks and spanning four continents, it's been called one of the biggest fraudulent stock trading schemes in history. The scandal is estimated to have cost taxpayers in Germany and at least 10 other countries over €55 billion ($56.9 billion).
French banks have previously faced scrutiny for participating in these trading schemes. In January, authorities searched BNP Paribas headquarters in Frankfurt as a part of an ongoing probe into cum-ex trading.
Related stories
👉 Jack Dorsey's fintech company Block is being accused of facilitating criminal activity
🤕 Credit Suisse's main shareholders count their losses after the UBS takeover
🌐 Silicon Valley Bank's collapse is hitting financial hubs around the globe