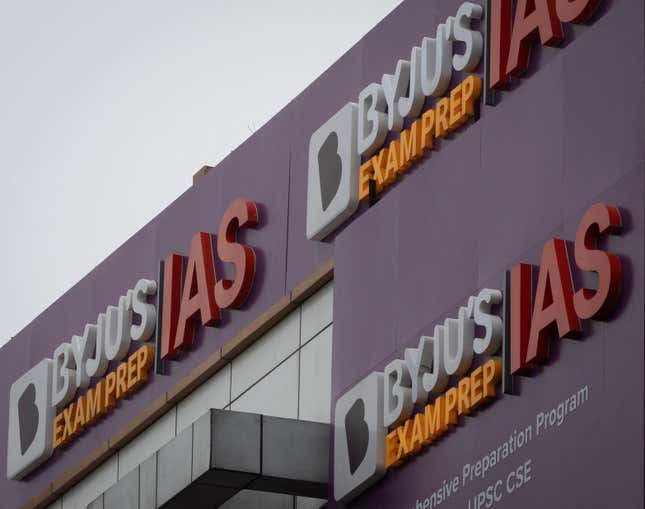 Byju's glory days seem to be behind it, and its fall from grace is unfolding very much in public. India's largest edtech company, valued at $22 billion until last year, has seen growth drop sharply from the highs of the pandemic—a decline that its competitors have experienced too. But in the last month, Byju has been dealing with a lot more than shrinking revenue, including a missed loan repayment deadline, an auditor resignation, and three high-profile board member exits.

Why a tightening of credit conditions could lead to a weak economy
At the start of June, Byju's missed a deadline to make a $40 million on a $1.2 billion loan, and instead sued the lenders. It wasn't the first time the company has risked defaulting on that specific loan.
A couple weeks later, on June 22, came another blow. Deloitte, which had dealt with delayed financial records in the fiscal year 2021 cycle and did not get the documents for fiscal year 2022 at all, quit as the company's auditor. The following day, three board members quit, cutting the board's size in half.
The signs of trouble were there for over a year: Byju's books were likely marred by "accounting issues, onerous lending arrangements, and a constant need for cash are all in play," a June 22 report in The Ken warned. Byju's controversial subsidiary, WhiteHat Jr.—heavily criticized its fake ads, subpar teachers, and coercive marketing—was a financial nightmare. It would apparently draw loans to keep prices affordable, and in some cases, offer a 100% default guarantee to lending partners.
The startup's star status—exemplified by sponsorship deals with cricket world cup tournaments and later FIFA—and the glamour of its ambassador, Indian movie icon Shah Rukh Khan, helped to hide the grub. But over the last year, these issues starting bubbling to the surface, and there's no
One big number: Byju's ballooning loss
Rs 4,589 crore ($559 million): Byju's losses in FY 2021, 19 times more than the Rs232 crore ($28 million) reported in 2020. Byju said it was because of accounting changes and fast-growing but loss-making acquisitions, but the figure indicated something was wrong, especially since it was reported after an 18 month delay.
A brief timeline of Byju's recent unraveling
May 19: Lender Glas Trust company and investor Timothy R Pohl file a lawsuit against Byju's US-based entities for certain alleged wrongful acts, but Byju's says there are no default concerns.
May 30: Minority stakeholder BlackRock—it owns less than 1%—slices Byju's valuation to $8.2 billion. It's a small cut after the fund manager had already slashed the valuation by half, from $22 billion to $11 billion in February.
June 6: Byju's skips a payment of $40 million interest on its $1.2 billion loan that it took on in late 2021. The edtech giant sues its lenders for using predatory tactics and acting in bad faith, worsening the standoff with creditors. The lender cohort calls the lawsuit "meritless."
June 19: Byju's fires between 500 and 1,000 workers as a cost-cutting exercise.
June 22: Auditor Deloitte, which was meant to work with Byju's through 2025, quits over the company delaying financial statements for the year ending March 31, 2022. "The financial statements for FY22 are long delayed… there is no communication on the resolution of the audit report modification in respect of FY21… there will be a significant impact on our ability to plan, design, perform and complete the audit in accordance with the applicable accounting standards," the auditors wrote in their resignation letter to the board of directors. Byju's then appointed of BDO (MSKA & Associates) as its statutory auditors for the next five years.
Also on June 22: Three key board members—GV Ravishankar, managing director of Peak XV Partners (formerly Sequoia Capital India); Dutch-listed tech investor Prosus' Russell Dreisenstock; and Vivian Wu from the Chan Zuckerberg Initiative, step down without giving a reason. Just three people remain: Byju's co-founders—Byju Raveendran and Divya Gokulnath—and Raveendran's brother Riju.
June 23: In a press statement shared with Quartz, Byju downplayed the board member departures. "The need for reconstitution arose as few investors had to vacate the board seat due to their shareholding falling below a minimum required threshold as per our SHA [shareholder's agreement]," it said. "We want to reassure all stakeholders that we are actively working towards constituting a diverse and world-class board commensurate with the company's size and scale."
June 27: Prosus, which has a 9.6% stake in the company, cuts Byju's valuation to $5 billion.
June 28: Byju's delays hiring new employees by six months amid the turmoil, according to Business Today. The company says it's a planned, phased hiring strategy, specifically for the engineering department, but new recruits the outlet spoke to worry whether they won't get a start date at all.
Company of interest: Aakash Institute
On June 5—which was also Byju's loan repayment deadline—the company set the timeline for the upcoming IPO of Aakash Education Services, bought for nearly $1 billion deal back in January 2021, for "mid next year."
It's one business that's robust in the Byju's edtech universe. In the two years since the acquisition, the test prep subsidiary's revenue has tripled and is on track to reach Rs4,000 crore ($487 million) in the fiscal year 2023-24, according to Byju. But the trouble brewing at parent company Byju's doesn't bode well for the IPO's prospects.
"This may disrupt the IPO timeline, erode investor confidence, attract regulatory scrutiny, and cause reputational damage," Piyush Sharma, who heads the leadership centre at Indian Institute of Management, Ahmedabad, told Forbes India. "Aakash must take prompt remedial actions, improve transparency, and demonstrate a commitment to strong financial reporting to navigate these obstacles and maximise the potential of the IPO."
Byju's own IPO was supposed to happen this year. That's also up in the air now.
Related stories
💻 WhiteHat Jr's dream run until it became controversy's favourite child
🤔 What India's most controversial ed-tech entrepreneur would do differently next time
🤷 India's largest education technology startup was built by an engineer who aced CAT for fun—twice