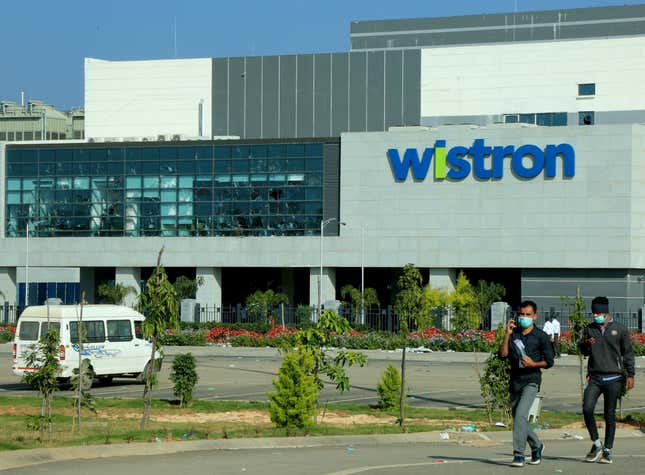 Taiwan-based Wistron is reportedly winding up its India operations.
Wistron, along with its fellow-Taiwanese companies Foxconn and Pegatron Corp, manufactures Apple's iPhones in India. Its factory in the southern state of Karnataka constitutes a major chunk of its business in the country.
"The company will mostly withdraw from India, and likely to approach the National Company Law Tribunal and the Registrar of Companies to dissolve its India operations within the next year," The Hindu reported citing sources on May 1.
Wistron's decision to step back has come at a time when Apple is increasing local manufacturing in India. The California-based company has even opened its first two retail stores in the country. In 2022, shipments of Apple's made-in-India iPhones grew 162% year-on-year by value, according to market research firm Counterpoint Research.
The iPhone-maker's India journey
Wistron set up shop in India in 2008 as a sales and maintenance service center. In 2017, it began making iPhones in the country.
Wistron, along with Foxconn, was among the top 10 electronics manufacturing services players in India in 2022. Their growth was mostly fueled by rising Apple product exports.
"The contribution of exports in 'Made in India' smartphone shipments reached the highest ever in 2022 both in volume (20%) and value terms (30%)," Counterpoint said in a research report published in March. Apple has an estimated market share of 5.5% in India.
However, in recent years, Wistron had raked up a few controversies.
For instance, in 2020, its 2.2 million square foot factory near Bengaluru witnessed violent unrest among workers. The premise suffered damages of $7 million after allegedly underpaid employees vented their anger at the firm.
A government probe revealed that the management had followed several malpractices, Quartz reported earlier. Apple has pressed a pause on business with the company following the row before reviving operations.
Now, India's 150-year-old Tata group reportedly is set to acquire Wistron's Karnataka factory, which employs over 12,000 people. It could value Wistron's facility at more than $600 million, Bloomberg reported in January.
In recent months, the Tatas have taken several steps to increase its business with Apple. The group has accelerated hiring at its own factory in Hosur, near Bengaluru, where it produces iPhone components. It has also announced its plan to launch 100 exclusive Apple stores in India.