One particular show from Paris haute couture week is currently drawing an unusual amount of attention on Twitter. Even people outside the fashion industry are sharing photos of the collection. But it's not the breathtaking grandeur from Valentino they're on about, or the otherworldly beauty dreamed up by Iris van Herpen, or the chaotic exuberance John Galliano sent down the runway at Maison Margiela.
It's Viktor & Rolf, who used couture techniques to plop stock phrases such as "No photos please" and "I'm not shy I just don't like you" and "No" on the fronts of their usual pretty-but-oddball gowns. Predictably, images of the clothes, or more specifically the clothes and their slogans, exited the normally tight gravity of fashion followers and spread—along with many jokes—to a broader audience that usually wouldn't much care about couture.
It's a readymade lesson in what it takes brands to break out from the crowd and actually get noticed. Particularly for a medium such as couture, where literally thousands of hours of elaborate handwork and craft practically vanish in the constraints of a picture on Instagram or Twitter, the path to getting attention is usually to go big and blunt.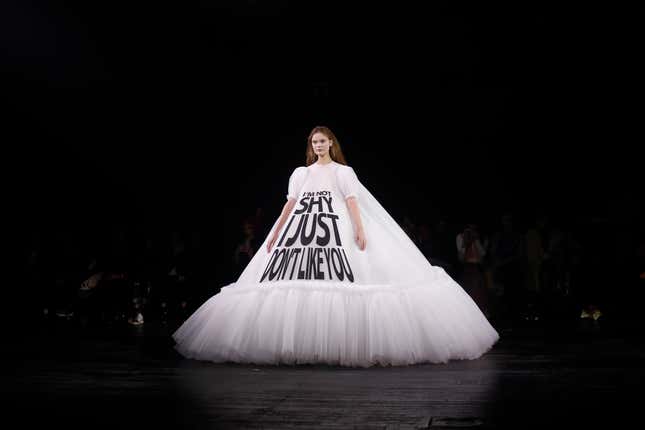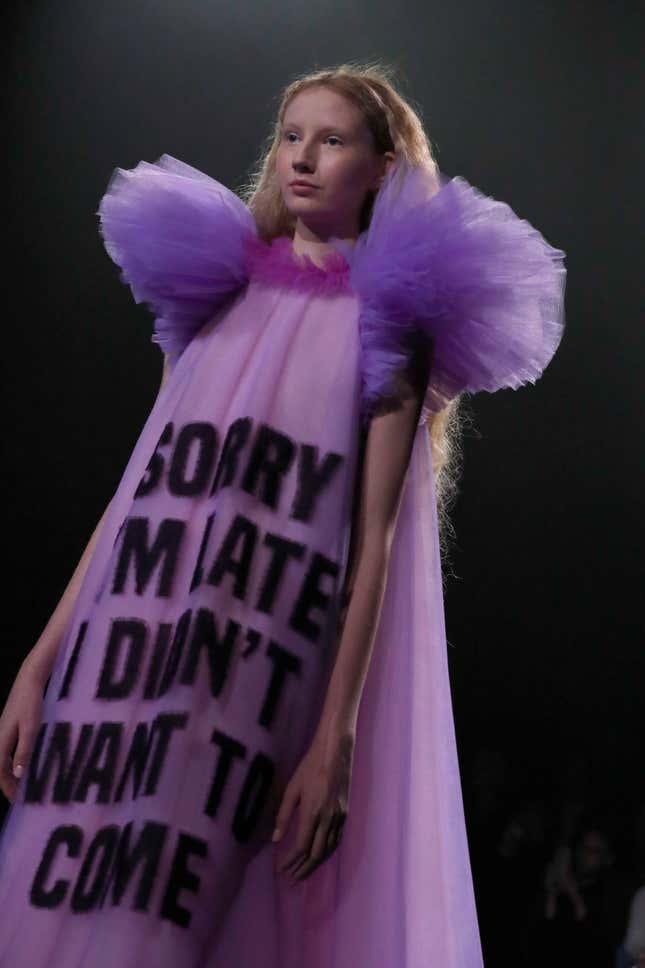 This state of affairs is a consequence of social media's importance today, and it has very real effects on the way brands and retailers work. "There are things that sometimes we won't buy because it doesn't necessarily translate online as well," explained Brigitte Chartrand, senior womenswear buying director at Ssense, a large online fashion retailer, in an interview last year. "Anything that's not contrasted, for example, we know won't register as well online. Or if it's beaded versus print, and things like that."
These considerations are arguably less important for couture, since most people don't buy multi-thousand-dollar dresses by casually adding them to an online shopping cart. But if the point of holding an expensive runway show is in large part publicity and branding, then getting attention is a measure of success. Chanel doesn't build absurdly elaborate sets such as a rocket launch because its new tweed suits are designed for space travel.
Meme-ready designs, which practically seem created just to be shared online, have become a particularly successful means of grabbing eyeballs. The 2018 "year in fashion" report by the large fashion-search platform Lyst pegged "meme fashion" as one of the year's most important trends. "When meme culture met Internet-melting product design, the result was a series of Internet breaking fashion moments that got the world talking, and searching," Lyst noted.
Balenciaga has been a leader in this form of product design, with its "viral layered parka," its $1,290 button-up shirt with a separate t-shirt sewn to the front, and its $2,000 recreation of an Ikea bag. Whether or not people view these as silly stunts, they've become integral to the brand, which is the fastest-growing in parent company Kering's portfolio.
Designers Viktor Horsting and Rolf Snoeren didn't necessarily have these concerns in mind with their new couture collection. They told Vogue that their collection, titled "Fashion Statements," was asking, "To what extent can you say something with clothing, literally." Their statements varied, but the subtext was always the same: Look at me.