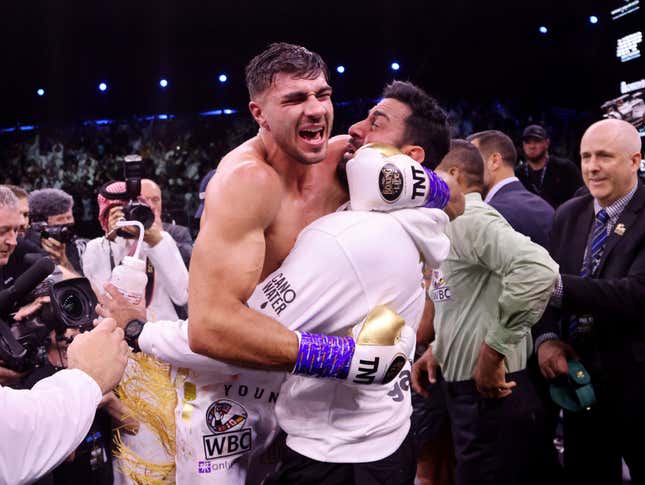 Saudi Arabia has ventured into the world of professional fighting with a nine-figure investment in the US mixed martial arts circuit. SRJ Sports Investments (SRJ) announced in a press release today (Aug. 30) that it bought a minority stake in Professional Fighters League (PFL) and plans to create a regional league in the Middle East and North Africa in 2024. The investment, the newly established company's first, totaled $100 million, according to the Financial Times.
Should you keep investing in Big Tech?
SRJ is a new company established by Saudi Arabia's $594 billion (pdf) Public Investment Fund (PIF)—it just cut the ribbon on Aug. 6—but it's not the first time the country's sovereign investment arm has forayed into the world of sports.
Since crown prince Mohammad bin Salman (MBS) unveiled his Vision 2030 plan in 2016, Saudi Arabia has poured billions of dollars into sealing sports deals around the globe. Its investments included golf, soccer, Formula 1, boxing, basketball, and cricket. The recently created fund appears to be designed to hone in on those efforts.
"SRJ is shaping a new era of sports in Saudi Arabia and accelerating the growth of the domestic sports economy," said fund chairman Bander Bin Mogren in a statement. He claimed the investment aimed "to nurture the local and regional talent pool in martial arts, promote gender equality in sport, and bring new opportunities directly to Saudi Arabia and the wider MENA region."
It's an assertion that may raise eyebrows, as the country only lifted a ban on women attending sports events in 2018. It's also likely to fuel critics of Saudi Arabia who have accused the country of "sportswashing"—a means of distracting from its human rights and fossil fuel track record with eye-catching events and buyouts. Saudi Arabia has maintained the investments are part of its efforts to diversify and modernize its oil-dependent economy.
Saudi Arabia is competing with the UAE and Qatar through its sports conquests
SRJ's stated aim to foster regional talent and opportunities also signals wider strategic ambition in the Gulf's sports economy. Saudi Arabia's backing of PFL puts it in direct competition with the neighboring United Arab Emirates (UAE), which hosts its own UAE Warriors tournament, and Qatar, which is seeking to build up its own MMA attractions.
In June, Singapore's ONE Championship signed a deal with Qatar to host live MMA events as soon as this year in Doha, according to the South China Morning Post. The UAE also once backed PFL's rival, Ultimate Fighting Championship (UFC), though Abu Dhabi-based Flash Entertainment sold its 10% stake for an undisclosed amount in 2018, as Arabian Business reported.
Even before the PFL deal, Saudi Arabia expressed interest in combat sports. Earlier this year, it played host to a YouTube boxing showdown between Jake Paul (of social media and energy drink fame) and Tommy Fury (professional boxer and reality star). In 2018, Riyadh also signed a 10-year partnership with World Wrestling Entertainment (WWE). Wrestlenomics estimates WWE makes about $50 million per event through the deal, in which two events are held each year in Saudi Arabia.
PFL, which calls itself the "#2 MMA company worldwide," has stated ambitions to build six regional tournaments by 2026.
One more thing: SRJ wants you to know it's not pronounced "S-R-J"
According to the SRJ Sports Investments website, the name of the fund should be read as "surge," a creative interpretation of phonetics that lends a certain sporty, energy infusion-esque vibe to the branding.
Related stories
🛢️ For Saudi Arabia, the price of oil is falling too low
⛳ The PGA Tour and LIV Golf don't actually have a deal yet
🥊 One of the world's fastest-growing sports is building its brand around these Nigerian stars