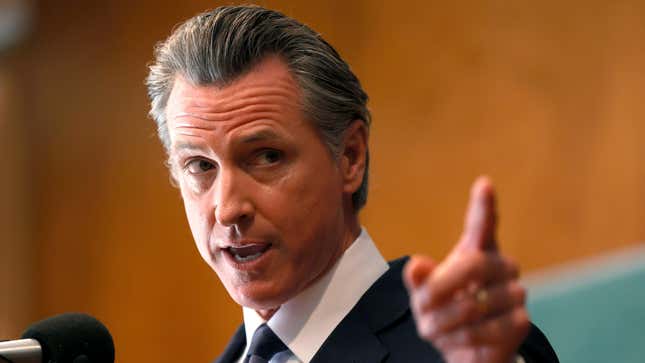 Days after a planeload of Latin American migrants arrived on a private jet at a small Sacramento airport, a second such group has landed in California's capital.

Should you keep investing in Big Tech?
Twenty more migrants, on top of the 16 who were abandoned outside a church last Friday (June 2), arrived yesterday (June 5), the New York Times reported. The migrants, mostly from Venezuela, took the same route as the previous batch: flown to Sacramento from the same airport in New Mexico. Like the earlier cohort, they had been approached at a shelter in El Paso, Texas, with the promise of securing work, shelter, and food in California.
Since the migrants came with Florida paperwork, California state authorities have accused the Florida government of being behind these migrant flights. Moreover, the company organizing the chartered flights, Vertol Systems Company, has strong ties to Florida.
"Manipulating & exploiting vulnerable human beings for cheap political points is cruel, morally bankrupt, & un-American," Rob Bonta, the California attorney general who has opened an investigation into these flights, wrote in a tweet yesterday.

Is Florida kidnapping migrants?

Gavin Newsom, the California governor, took a more targeted dig at Ron DeSantis, the Florida governor and 2024 Republican presidential hopeful.
"Ron DeSantis, you small, pathetic man. This isn't Martha's Vineyard. Kidnapping charges?" Newsom tweeted, alongside a screenshot of California's criminal code, which states anyone who transports a person by fraud to the state is guilty of kidnapping.
Florida lawmakers expanded the state's "relocation" program in February, giving DeSantis the powers to decide to fly migrants from anywhere—not just Florida—to Democratic-led cities and states. Three months later, Florida handpicked a number of companies to execute this phase of DeSantis's plan. So far, DeSantis has kept mum on his alleged involvement in the two California flights. He might address them on June 19, when he's scheduled to meet wealthy donors at Sacramento fundraiser, with tickets going for $3,300 a piece.
Company of interest: Vertol Systems Company
In an interview, Bonta said that the second flight appeared to be "part of the same scheme, the same official policy of the state of Florida whereby the state of Florida used public tax dollars to fund this program, the so-called voluntary transportation program." Bonta linked both the Friday and Monday flights to Vertol.
That's not all. Last September, DeSantis paid to charter two planes to fly nearly 50 migrants from Texas to Martha's Vineyard. Those flights were also organized by Vertol. DeSantis, on his presidential campaign trail, has been boasting of the "innovative" migrant flights he sent to Martha's Vineyard.
Oregon-based Vertol's connection to Florida is much stronger than one-off contractual jobs. It has been known to back DeSantis allies and was once legally represented by Matt Gaetz—a crucial member of DeSantis's transition team in 2018. Gaetz's former law firm partner, Larry Keefe, is Florida's "public safety czar," overseeing immigration policy.
One big number: Florida's payment to Vertol

$1.56 million: The sum that Vertol received from Florida's Division of Emergency Management last year to fly migrants and asylum seekers from Texas to Martha's Vineyard. The flights cost $615,000; another $950,000 was allocated to flights to Delaware and Illinois, but these never transpired, Florida records show. In total, the Florida legislature has set aside $12 million for these relocation schemes, much or all of it carved out of federal covid-19 relief funds.
Person of interest: Greg Abbott, governor of Texas

Like DeSantis, Abbott, the governor of another red state, has been running migrant relocation programs of his own. In April 2022, Texas started busing migrants to major cities led by Democrats, such as Washington DC, Illinois, New York, and, most recently, Denver. Abbott has blamed Biden's "reckless open border policies" for burdening Texas' small border towns. Representatives for Abbott have denied involvement in the two flights sent to California, though.

Quotable: White House condemns deceitfully transporting migrants
"[B]using or flying migrants around the country without any coordination with the federal government...is dangerous and unacceptable because you're putting people's lives at risk. And it's dangerous and it's unacceptable because you're actually putting a lot of pressure on these states and local areas."

—White House spokesperson Karine Jean-Pierre, during a June 5 press briefing.
One 🛩️ thing
Florida and its contractors are already facing a federal class-action lawsuit from the migrants flown to Martha's Vinyard. They may also at the center of a criminal investigation by Sheriff Javier Salazar of Bexar County, Texas. Salazar's office yesterday recommended criminal action on account of felony and misdemeanor charges of unlawful restraint, although it didn't specify against whom these charges would be levied.
Related stories
✈️ Did Florida fly out 16 migrants on a private jet to jettison them in California?
🚧 The Biden administration is preparing for the end of Title 42
🏃 Ron DeSantis's 2024 presidential race got off to a glitchy start