In the end, Australia pipped Taiwan at the post to legalizing same-sex marriage, in a year of major achievements for LGBT rights in the Asia-Pacific region. Here's a recap of the big and little steps forward that 2017 ushered in.
Taiwan
For much of the year, Taiwan looked set to win the accolade of becoming the first country in Asia to make marriage equality a reality, after its top court ruled in May that the existing law that bans same-sex marriage is unconstitutional, and must be amended within two years. But progress on enshrining same-sex marriage in law in Taiwan has stalled, despite a pledge by its premier that the executive branch of government would send a same-sex marriage bill to the legislature in the current session, which is closing shortly. Meanwhile the backlog of same-sex marriage applications continues to pile up.
Lawmaker Jason Hsu, a vocal proponent of marriage equality, said that with local elections slated for late 2018, it's likely that no same-sex marriage bill will pass until early 2019, as a substantial portion of society still remains opposed to it. Nevertheless, Taipei continues to be the center of LGBT life in Asia, with its annual pride parade attracting record attendance—more than 100,000 people—from all around the region this year. And businesses are ready to welcome the a new set of wedding clients.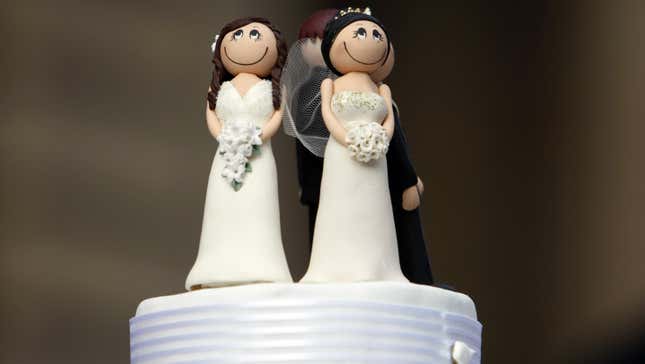 Australia
In that time, Australia—which had stood out conspicuously as a Western democracy that still had not legalized gay marriage—finally moved on the issue after mounting pressure from advocacy groups, liberal politicians, and companies. A majority of Australians had been in support of gay marriage, but the issue had been held hostage by conservative forces in the political arena in Canberra. Prime minister Malcolm Turnbull, himself a supporter of marriage equality, agreed to hold a non-binding referendum on the issue via a postal ballot. Less than a month after the results re-affirmed majority support for marriage equality, parliament passed a bill legalizing same-sex marriage. The first gay marriages took place the same week after two lesbian couples were granted an exemption from the normal 30-day waiting period to marry. Other same-sex couples who've filed to marry could be celebrating as soon as the first week of 2018.
Japan
Six local governments (paywall) in Japan now recognize same-sex partnerships, which ensures that gay couples are entitled to the same local benefits as heterosexual couples. The northern city of Sapporo became the first major city in Japan to recognize same-sex couples in June. Shibuya and Setagaya wards in Tokyo certified same-sex partnerships in 2015, followed by the municipalities of Iga, Naha, and Takarazuka last year.
Even as Japan's political classes and society at large remain conservative—Japan's only openly gay lawmaker said that legalizing gay marriage on a national level is still years away from becoming reality—it's clear that such attitudes are increasingly at odds with Japan's youth. A video of a New Zealand lawmaker who made a speech on marriage equality in parliament went viral in Japan in response to comments made by a member of Japan's ruling party who said that gay couples would not be welcome to attend banquets at the imperial palace. Japan's conservative stance on LGBT rights will also increasingly come under the spotlight as the country tries to showcase itself as a welcoming and diverse destination as it tries to attract more skilled foreign workers to live and work there.
Hong Kong
Hong Kong, one of the world's major financial centers and home to many foreign workers, has for years seen little progress on the LGBT front despite growing calls from civil society and the private sector to improve rights for sexual minorities. Still, two legal challenges offered some hope in 2017. In April, a court found that the partner of a Hong Kong civil servant—the two had married overseas—was entitled to the same benefits as a heterosexual spouse. The hearings in the Hong Kong government's appeal against the decision began this month.
Then, in September, a court ruled in favor of a lesbian expatriate couple seeking to be treated on par with heterosexual couples by the immigration department. The Hong Kong government is seeking to appeal that decision too and if it is allowed, that could be heard next year or in 2019. In the meantime, according to the law firm that represented the British couple, "the law in Hong Kong now is that foreign registered same-sex marriages and civil partnerships shall be recognised by the Immigration Department for dependant visa purposes." Since the legal situation is in flux, it's not clear that same-sex married couples can actually count on that for the moment.
China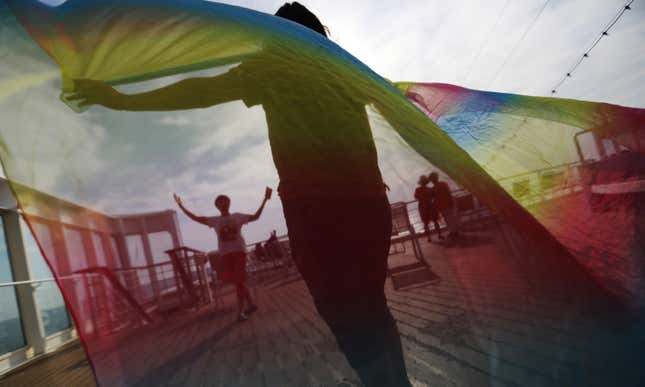 Amid a worsening crackdown on civil society groups in mainland China, there was little substantial progress on the LGBT front—indeed, in the months leading up to a crucial Communist Party meeting in October, a number of events hosted by LGBT groups were forced by authorities to be canceled. Given the climate, one prominent gay rights organization decided to rent a cruise ship to hold a major annual gathering. Nevertheless, society is becoming more accepting of LGBT people, particularly in cities. "Signals from the state are fragmented and contradictory. Regardless, society is rapidly becoming more open and—even despite setbacks—the LGBT community is becoming increasingly visible," said Darius Longarino, senior fellow at Yale Law School's Paul Tsai China Center.