China's embrace of the dot-com era gave birth to three internet companies that now dominate the country's tech scene: Baidu, Alibaba, and Tencent, together known as the BAT. Founded at the end of the 20th century, the big three have grown far beyond their core businesses—search engines, e-commerce, and social networks, respectively—to do just about everything from digital payments to cloud computing. Increasingly, they are challenging the likes of Google, Amazon and Facebook as they go on global investment sprees, while shifting from copying to innovation.
But now China's seeing its next generation of tech giants rise—born in the mobile age and focused on the newest iteration of online services, fueled by AI and sharing. The world's most valuable tech startups now include three Chinese firms less than a decade old: news app Toutiao, group-buying service Meituan-Dianping, and ride-hailing firm Didi Chuxing. The three unicorns, together known as TMD (an acronym that is also a rather rude profanity in Chinese), are the top contenders to be the new BAT. While their emergence gives consumers more choices in their smartphone-dominated lives, they also present a challenge to the older BAT, perhaps for the first time since each of those firms achieved dominance.

"For BAT, this will force them to consider… how to create competitive advantage through innovation, either by adopting emerging technologies or by creating better user experiences," says Yu Xue, a senior analyst at market research firm International Data Corporation (IDC). "The competition in China's internet industry has leveled up."
Toutiao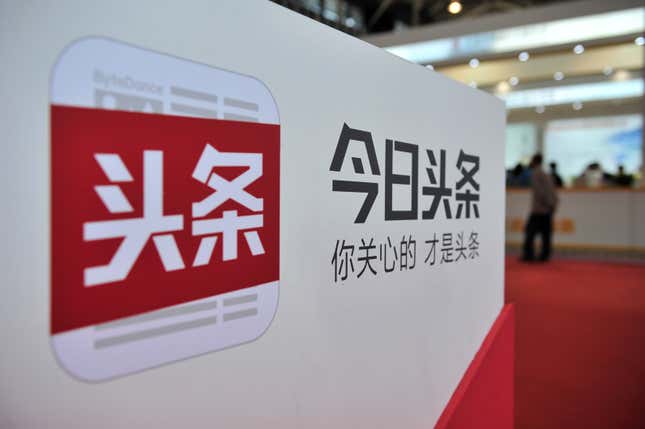 Toutiao, fully known as Jinri Toutiao, or "Today's headlines," is a popular news app in China, and it's growing fast. By the end of July, it had recorded 120 million (link in Chinese) daily active users, up from 68 million six months earlier.
The app's machine-learning algorithms monitor users' reading habits and tailor offerings—including articles, videos, and ads—accordingly. While Facebook and Twitter also deploy machine learning to refine recommendations, their feeds are more dependent on social connections, and heavily feature mainstream media. Toutiao, in comparison, has more than 1.2 million registered content publishers on the platform, running the gamut from traditional media outlets, government agencies, and businesses, to bloggers on everything from celebrity tidbits to parenting. A Chinese farmer can customize his feed on Toutiao to read just blog posts about, say, pig-rearing.

Behind the AI-powered news aggregator is Beijing Bytedance Technology, valued at more than $20 billion in its latest funding round. Founder Zhang Yiming is a 34-year-old software programmer, who's been described by Chinese media as "robot-like." He told Chinese media (link in Chinese) in 2016 that he intends to build the company into "the world's largest platform for information creation and distribution."
Both BAT and China's long-established news portals are investing in machine learning to tailor feeds for users of their news services, but Toutiao owns the "first-mover advantage," a company executive notes (paywall). In the five years since it started, it's accumulated enough data to have a more fine-grained understanding of what Chinese readers want. It also now has its fair share of detractors.
Toutiao is routinely accused of republishing rival platforms' articles and videos without authorization—and has faced a a series of copyright lawsuits over the issue. In response to criticism over the spread of clickbaity and salacious stories on the Toutiao app, and questions over whether the app needs editors, Zhang famously claimed Bytedance is not a media company. To most of his critics, Zhang insists that Toutiao should be managed with "non-interference" (link in Chinese)—except one.
Toutiao employs thousands of censors to make sure its content is in line with the Communist Party's internet doctrine. The company has an army of 4,000 content monitors, and intends to expand censorship staff—called "auditors"—to beyond 10,000 (link in Chinese), after authorities recently temporarily shut down its most popular channels and accused it of "causing a negative impact on public opinion online." (Other Chinese tech companies are also taking similar steps as the party tightens its reins on the internet.) Toutiao didn't respond to a request for comment.

Toutiao has already expanded beyond China, acquired Flipagram and Muscial.ly—two social video apps that are popular in the US. It also runs an English-language news app similar to Toutiao, called TopBuzz. In India, it led a $25 million investing round in 2016 in news aggregator Daily Hunt.
Meituan-Dianping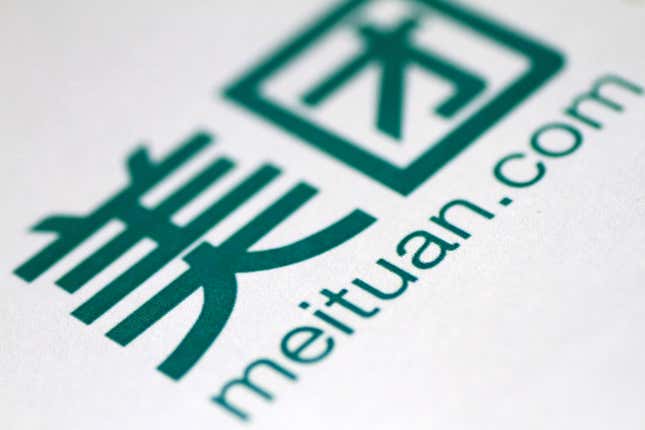 Meituan-Dianping is China's largest platform for lifestyle services and products ordered through smartphones. It's an all-in-one app for food delivery, movie tickets, restaurant reviews, group discounts, among other things, for nearly 300 million Chinese. The Beijing-based company, led by Wang Xing, is valued at $30 billion in its latest funding round. It was created through a 2015 merger of two archrivals, Meituan and Dazhong Dianping, which were backed by Tencent and Alibaba, respectively. 
Tencent has since become the main backer of the new combined company, while Alibaba cut its stake in Meituan-Dianping, and instead invested $1 billion in May in rival service ele.me. Wang told Chinese media (link in Chinese) that Meituan-Dianping's competition with ele.me would last for a long time, and that neither of either of them should expect to dominate the market anytime soon.
Wang is a 38-year-old entrepreneur with a track record of failure. In 2005, he founded Xiaonei, the first Chinese version of Facebook, but was forced to sell the business in less than a year after running out of cash. In 2007, he cloned Twitter to launch Chinese microblogging site Fanfou, which was later shut down by the government amid ethnic riots. In 2010, he founded Meituan as a group-buying site similar to Groupon. The story took a different turn from here, to be sure.
"We help people eat better, live better" is a slogan Wang created for Meituan. He told Chinese media that the company will keep expanding into news areas that fufill this mission. "I don't think I have to set limits on myself," he says.
Meituan is now developing  artificial intelligence and drone-delivery technologies, and it also intends to launch its own offline retail stores and a ride-hailing service—a surprising move considering Didi pretty much has a monopoly in China's car-sharing market. In November, Reuters reported that Meituan is considering an IPO of at least $3 billion in the US as soon as the first half of this year, but Wang later denied the report. Meituan didn't respond to a request for comment.
Didi Chuxing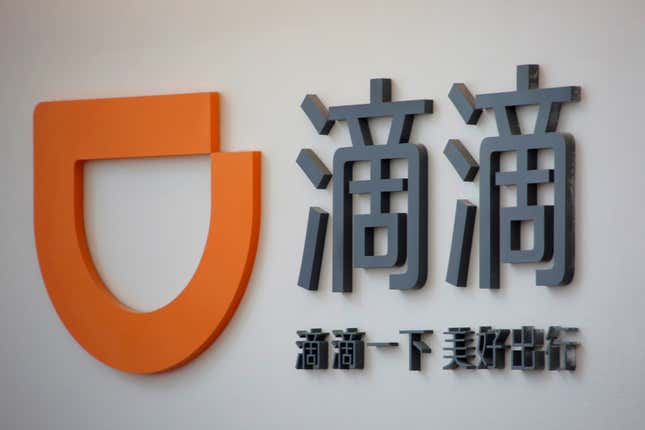 Didi Chuxing is restless. The Chinese ride-hailing giant formed in 2015 through a merger of Tencent-backed Didi and Alibaba-backed Kuaidi, in an episode similar to the Meituan-Dianping deal. The combined company engaged in a fierce subsidy battle with Uber until 2016, and then, effectively, showed it the door. Last year, Didi raised nearly $10 billion in two funding rounds, having become the world's second-most valuable startup after Uber.
But things didn't stop there. Domestically, Didi is steadily expanding into areas including car rentals, electric vehicles and on-demand bike service. The company recently launched a bike-sharing platform within its app providing services from two partner firms, Ofo and Bluegogo, and is planning to roll out a bike-sharing brand of its own. Food delivery is another area Didi is looking into. Like that, both Didi and Meituan are eyeing each other's territories—a competition one Didi executive declared (paywall) the "war of the century."

On the global front, Didi will continue its fight with Uber in ride-hailing—the Chinese startup recently announced it would acquire 99, one of Latin America's major ride-hailing services, in a deal that deepens its support of an international coalition of Uber competitors. But Didi CEO Cheng Wei has a much more ambitious goal: taking on Google and Tesla in the realm of self-driving cars. The company has a California-based research lab focusing on AI-based security and driving systems for cars, with key engineering talent from the self-driving units of Google and Uber onboard. 
Chen, 34, was once an assistant to the head of a foot massage parlor. He also worked for Alibaba and its financial arm for six years before founding Didi in 2012. Now his vision, he told Chinese media, is to "build a transportation and vehicle system for the future."