One of the greatest privileges of my job is that I get to test out a ton of new gadgets each year, often before the technology hits the shelves. Sometimes after I've finished reviewing something, I really, really don't want to return it. And that was especially true in 2018, which was a fantastic year for new gadgets.
Here are a few of the products I reviewed this year that I wished I didn't have to give back. Mind you, this isn't a complete list of all the things I've reviewed this year, like the great new iPhone XS Max, the wonderful copycat Huawei MateBook X Pro, the new Google Pixel 3, or the bizarre BlackBerry Key2. Rather, these are the things I loved but thought might be just a little too frivolous to pick up. That makes them great choices as Christmas gifts, in case anyone's wondering.
Apple Watch Series 4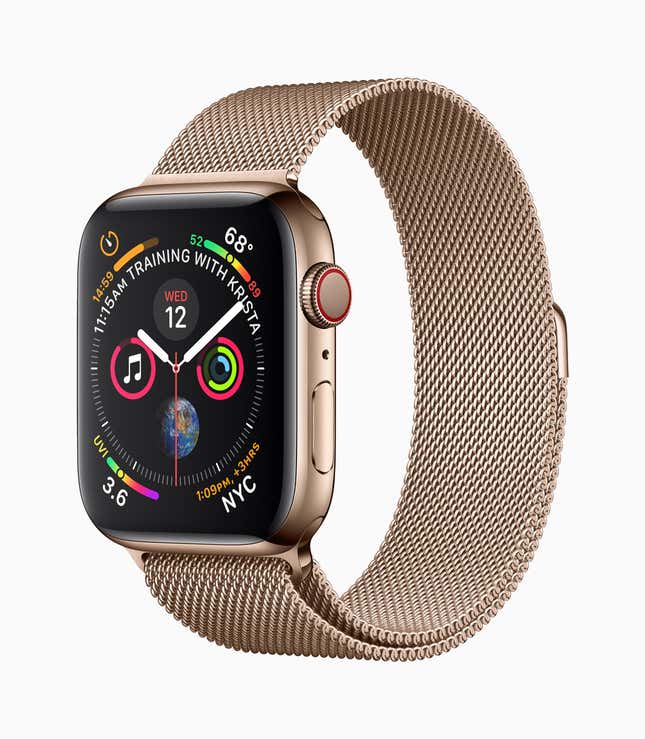 The big display and longer battery life on a watch that's faster than the previous Apple Watch models helped make this the best one yet. The new watch can also detect if you've fallen and will call emergency services (which is great if you're an idiot like me), and it's expected to soon be able to measure your heart's health with a rudimentary electrocardiogram (EKG) monitor. It's the most complete, general-purpose health tracker out there, and it starts at $399.
Samsung CJ791 curved QLED monitor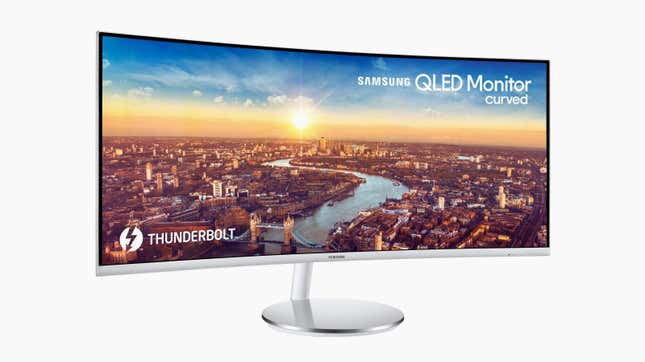 It might not have the catchiest name, but Samsung's high-end computer monitor has been an amazing addition to my office desk setup. The sharp, 34-inch curved screen has cocooned me from the world, effectively creating my own little cubicle in the middle of Quartz's open-plan office. The display has USB-C Thunderbolt ports that I can use to connect my Mac and charge it at the same time, freeing up desk clutter. It costs $880, and I am very sorry to see it go.
Lenovo Smart Display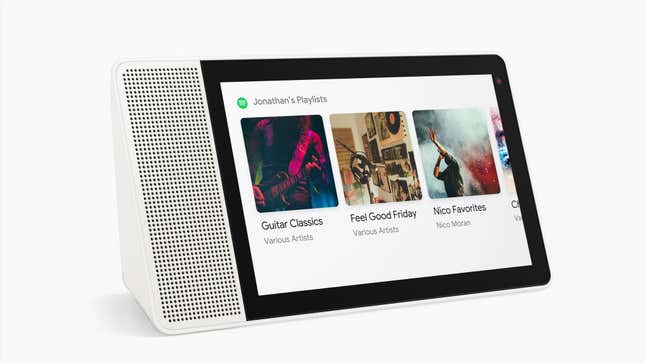 This is one of those things that I don't really need, but really enjoyed having. I've had an Amazon Echo for years now, and enjoy using it to control connected devices I own (like smart plugs and lights), but never felt the need to purchase an Echo Show, Amazon's smart speaker with a screen. The difference with Lenovo's is that it's powered by Google, so when you ask it questions, you generally get useful answers. I've used it to watch short videos when my hands are busy ("Hey Google, how do I tie a bowtie?"), and to turn on YouTube TV on my Chromecast, which still feels like magic. Since Lenovo released its display, Google has launched its own version, but I personally prefer the size and design of Lenovo's product over Google's. Lenovo's display starts at $200.
DJI Mavic Pro 2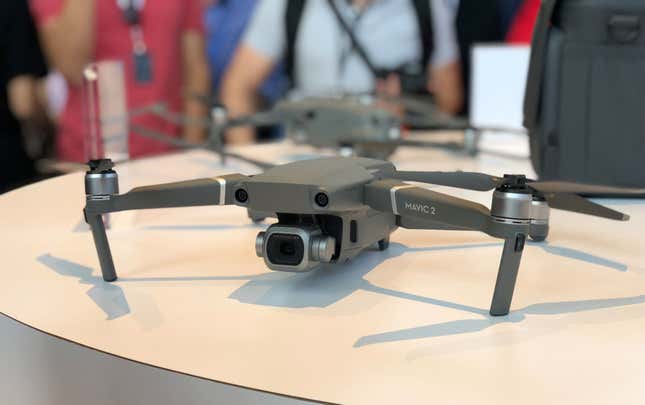 Hands down, this is the best drone I've ever reviewed. It's relatively small, super fast, handles perfectly, and takes stunning footage. For the price, I don't think there's anything close to the Mavic 2 Pro. Even though I've been flying drones for a few years now, and taking photos for longer, I'm still not great at either. The Mavic 2 can make a hack like me feel like a professional photographer, with its forgiving handling and fantastic camera, built in conjunction with Hasselblad. The drone starts at $1,249.
Samsung Galaxy Note 9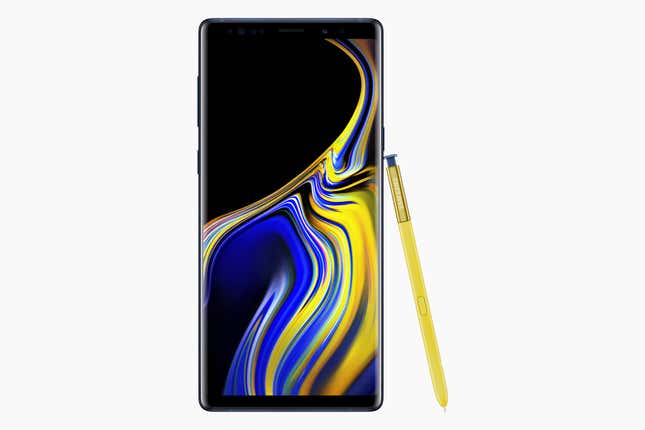 I'm pretty deep into Apple's walled garden these days, but if I were to jump ship, I would almost certainly be jumping for the massive Galaxy Note 9. It builds on the excellent Note 8 phone from last year. The Note 9 has one of the sharpest displays I've seen on a phone, and I find its built-in stylus surprisingly useful for taking quick notes, signing things, and making my own GIFs. It's the best giant Android phone on the market right now, and it'll set you back at least $1,000.
VanMoof Electrified S2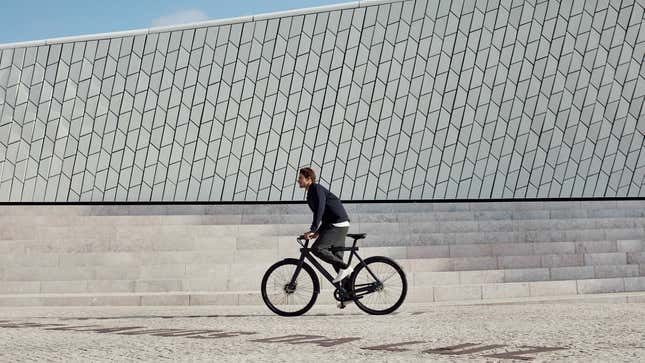 I live in a part of Brooklyn that will soon be a transportation disaster zone, so I'm really considering picking up one of VanMoof's electric bikes for myself. I reviewed the company's original Electrified S bike back in 2016 and loved its sleek design, but not its high price. I got a chance to take the new S2 when it was out for a few days (it's just starting to ship to customers), and it's a great upgrade on the original. The design is a little sleeker, featuring a new LED display that tells you how fast you're going and whether the bike is locked on the top of the frame. It has longer range, GPS tracking, and a built-in lock. The new model is available for $2,600, which is slightly less than the original model, though the price is expected to increase to $3,400 after the "early bird" promotion ends. But really, can you put a price on getting to work on time, and not having to deal with subways or buses?
Surface Arc Mouse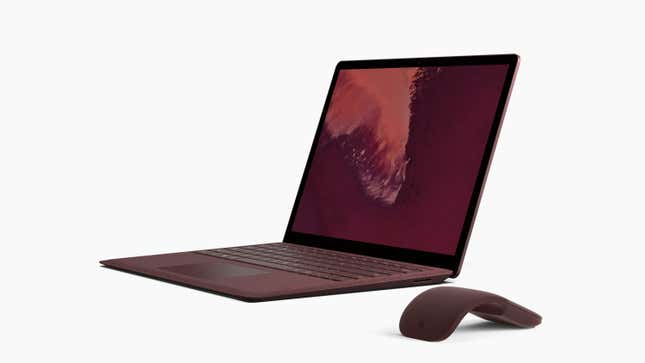 This one isn't new, per se—the latest version was released in early 2017—but Microsoft lent me one when I tested out a bunch of its products for a story on switching from Apple computers to Windows earlier this year. Although I enjoyed many of the laptops and tablets I tested out, I didn't really feel like I needed to drop a few thousand dollars to have them in my life. But the Bluetooth mouse, which snaps flat when not in use, is a perfect mouse for anyone who travels a lot. It takes up almost no space in my bag, and connects with ease to just about anything, whether you use a laptop, Windows tablet, or even a smartphone as your traveling computer. It also happens to look fantastic. The mouse will run you $64.
Looking for more in-depth coverage from Quartz? Become a member to read our premium content and master your understanding of the global economy.