Since the day Donald Trump launched his presidential candidacy in 2015, as a man descending a golden escalator, the symbols and imagery accompanying him have hardly been subtle. He has been captured giving two thumbs-up while wearing a coal miner's hard hat, made speeches in front of his private jet with his name emblazoned on the side, and lovingly embraced the American flag, in word and deed.
Now, 100 days into his term in the White House, Trump's campaign style has become fused with the trappings of office. For an administration launched in chaotic fits and starts, imagery can offer simple ways to decipher uneven messaging and a mixed bag of accomplishments. Let's take a photographic stroll down the–relatively short–memory lane of Donald Trump's first three months as president. The pictures reveal things in what they show, and in what they do not.
It starts with an argument
If an inauguration can allow a president set the tone for the next four years, it was Trump's press secretary Sean Spicer who did that for him, lambasting reporters in his first televised briefing over, of all things, the size of the crowd at the previous day's Capitol ceremony.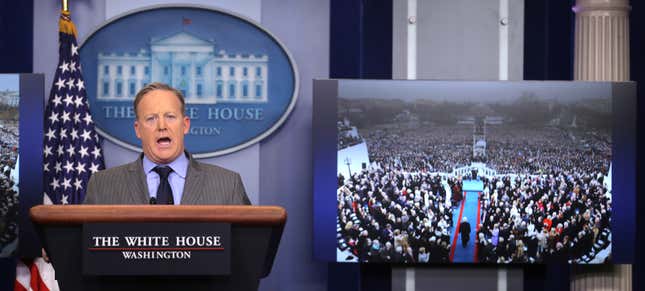 Despite being contradicted by aerial photos from multiple sources, Spicer declared it was "the largest audience to ever witness an inauguration, period." Spicer's first major appearance speaking on behalf of the administration set a new tone for the traditionally mundane White House press briefing. They are now far more contentious—and ratings gold.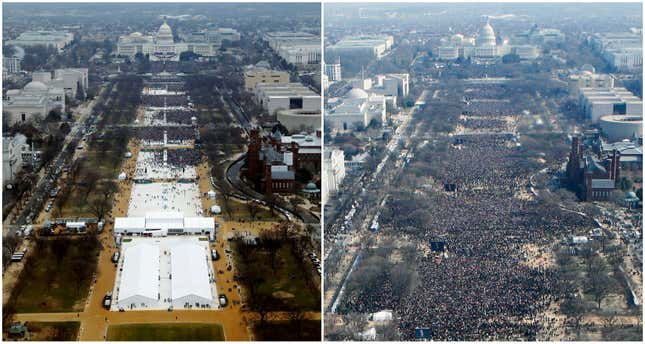 Scenes of early protest
The first few weeks of the Trump administration were marked with protest, both pre-planned and spontaneous. The Women's March on Jan. 21, flooded streets in Washington DC and around the world.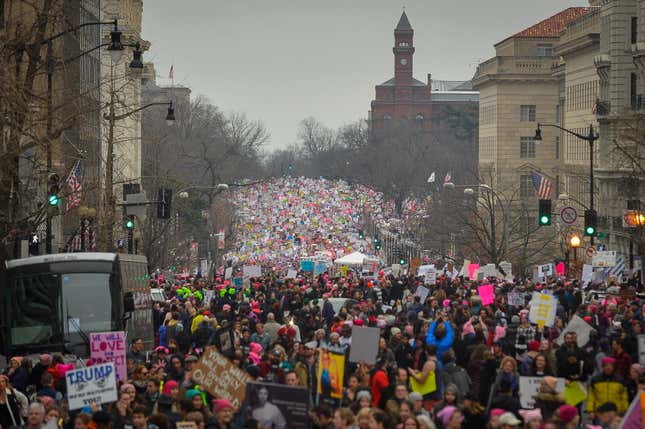 Following the administration's executive order seeking to block entry of travelers from seven Muslim-majority nations, crowds of protestors and lawyers mobilized at airports and other public areas around the US.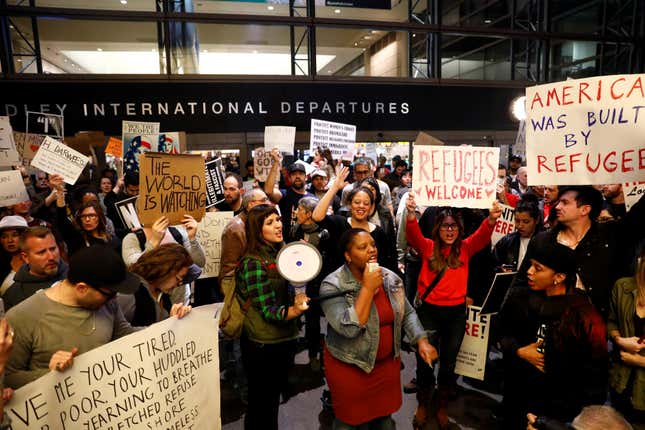 And just days after Trump moved into 1600 Pennsylvania Ave., a very well-placed sign of protest was unfurled nearby.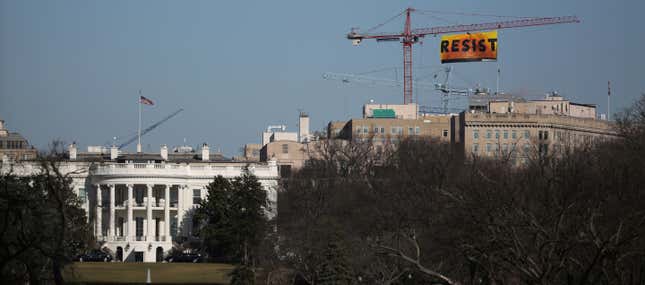 Seeing a world of trouble
Some of Trump's earliest tests as a president have come in his interactions with world leaders. How would his pugnacious rhetoric from the campaign trail change within the halls of power? As he welcomed leaders he ridiculed while running, would he try to show a different face as a leader?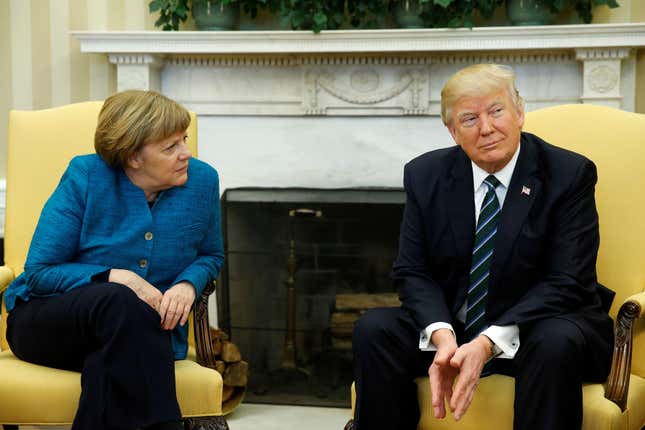 In many instances Trump has used these moments to act out power plays, or to just be rude, though its hard to decipher the pictures for his actual intent in every instance.
One of the most high-profile visits has been that of Chinese leader Xi Jinping. Decades away from the chummy photo-ops of the past, Xi's visit to the glitzy Mar-a-Lago, not the White House, made for pictures depicting an increasingly frosty relationship.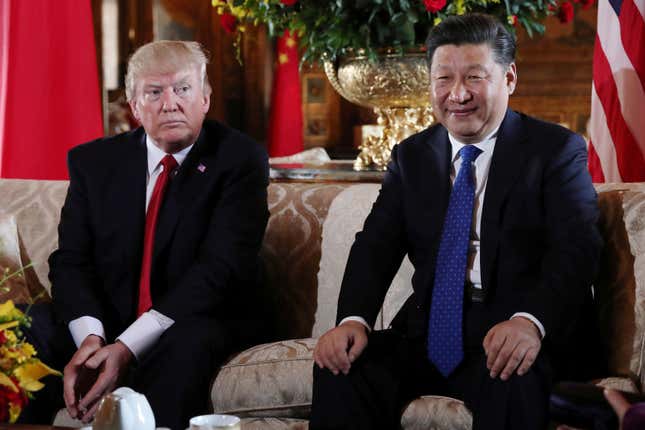 Instagram shade thrown his way
Pete Souza, Barack Obama's ever-present official White House photographer, left his job when the 44th president re-entered civilian life. But since Jan. 21, Souza has been offering near daily Instagram posts that have done double duty: drawing strong contrasts between Obama and Trump, while also showing what his eight years on the job accomplished in humanizing a president, a man who has one of the most personally isolating jobs in the world.
The president who ignored his own photographer
Souza's photography was instrumental in connecting Obama with the country. You would think a ratings-obsessed president would leap at the chance make the most of having an in house photo team. But strangely enough, Trump hasn't. The White House Flickr remains sparsely populated, and it's rare to see a photo released by the White House that isn't a very typical image of a him at a podium or surrounded by supporters. To some, Trump's approach to crafting his own image has been "haphazard and negligent."
Trump either has not invited Chief Photographer Shealah Craighead into the intimate closed-door meetings Souza was privy to, or that the administration doesn't care to share those pictures.
A notable exception would be the images capturing him getting a briefing on the Tomahawk missile strike on Syria. A photo taken in a makeshift Situation Room at Mar-a-lago looked strikingly similar to a 2011 Pete Souza image of Obama's team watching the raid that killed Osama bin Laden unfold from the actual Situation Room in Washington.
The meaning of Melania's close-up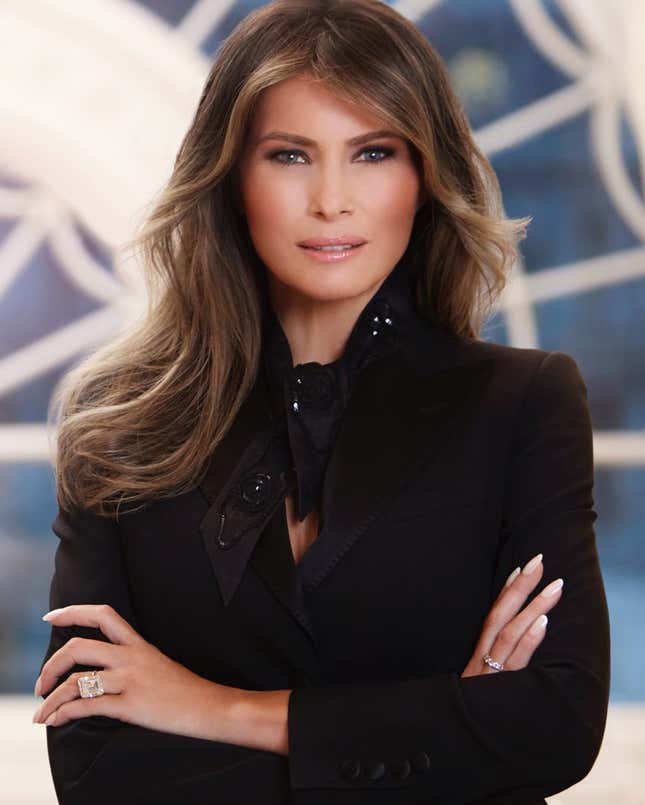 The official portrait of first lady Melania Trump seemed to harken back to a past administration, while also breaking with years of tradition. The portrait of the wife of the president is typically photographed by an official White House photographer, and taken in a way to connect her to the history and traditions of the residence. Trump's was shot by a longtime photographer of the Trump family, and felt more like a personal glamour shot, rather than a portrait of one of the public faces of the administration. But as nontraditional as it felt, it did have a precedent: Nancy Reagan, in all of her here-I-am, front-and-center glory.