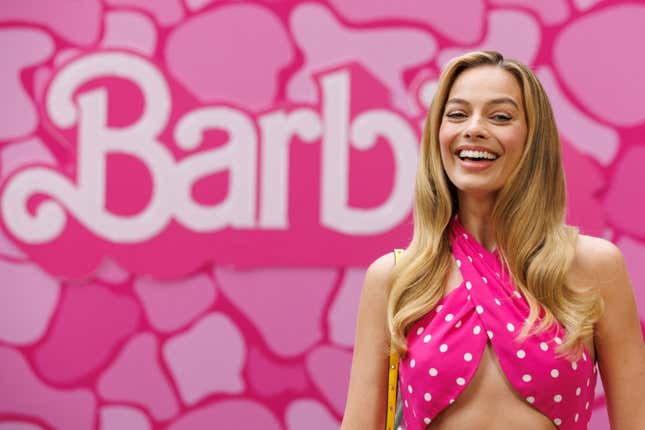 Movie theaters in Algeria aired the Barbie movie for three weeks—until they suddenly didn't. Algeria's Ministry of Culture and Arts notified cinemas in the cities of Algiers, Oran, and Constantine to "immediately" pull the Greta Gerwig-directed movie, online news outlet 24H Algerie reported on Aug. 13. The film, starring Margot Robbie as the titular doll on a mission to dismantle the patriarchy and Ryan Gosling as her accessory-boyfriend Ken, was pulled on grounds of immorality.

Should you keep investing in Big Tech?
The ministry apparently took issue with "homosexuality and other Western deviances" shown in the movie that don't align with the Islamic country's religious and cultural beliefs.
The movie's inclusion of transgender actress Hari Nef as one of the Barbies and other messaging on LGBTQ+ issues have become topics of debate in Arab countries with Muslim majorities. It only released in the UAE and Saudi Arabia on Aug. 10, and it is due to hit Egypt's silver screens on Aug. 31—albeit after some cuts.
Even without the middle eastern audiences, Barbie's global box office sales floated past the $1 billion mark within three weeks of its release.
One big number: Barbie was a hit in Algeria
More than 40,000: The number of spectators in Algeria who watched Barbie during the 20-day run it had, according to 24H Algerie
A brief list of other countries banning Barbie
🇻🇳 Vietnam: Banned over a scene with a map featuring the nine-dot line map that depicts China's claims to disputed waters in the South China sea.
🇰🇼 Kuwait: Banned for promoting "ideas and beliefs that are alien to the Kuwaiti society and public order", according to Lafy Al-Subei'e, an under secretary of the Ministry for Press and Publication in the country.
🇱🇧 Lebanon: Banned for depicting homosexuality and sexual transformation, and also because it "contradicts values of faith and morality" by diminishing the importance of the family unit, according to Lebanon's culture minister, Mohammad Mortada.
Person of interest: Hari Nef
Trans actor Hari Nef, who became the first trans woman signed by IMG Models in 2015 and starred in films like Assassination Nation and series like Amazon's Transparent, plays the role of Doctor/DJ Barbie in Greta Gerwig's movie. Her casting didn't just attract conservative backlash abroad—right-wingers in the US, too, were mad about it. Ahead of the movie's US release, Christian website MovieGuide urged families not to see Barbie. Besides Nef, the film also features other LGBTQ cast members including Kate McKinnon, Alexandra Shipp, and Scott Evans.
Place of interest: Saudi Arabia
Eight years ago, Saudi Arabia had no movie theaters and a notorious morality police that terrorized the streets, enforcing gender segregation and other such rules. Although things have changed, the gender imbalance is palpable: Saudi women can work, drive, and even travel to outer space, but they still need approval from a male guardian to marry. Acceptance of LGBTQ+ people remains elusive as homosexuality is punishable by death.
Combined with other Middle Eastern countries denouncing the film, the odds of Barbie releasing in the kingdom appeared slim. But a few weeks after the July 21 US release and a few censorship board-recommended cuts later, Barbie finally hit Saudi screens on Aug. 10.
The reception to the movie has been solid in Saudi. People showed up in droves, donning pink outfits, and some theatres scheduled and sold out 15 shows a day, according to the New York Times.
Related stories
🤑 Barbie made almost twice as much as Oppenheimer during opening weekend
🤷‍♀️ At 60, Barbie has no discernible personality, and that is the best thing about her