Good morning, Quartz readers!

---
Here's what you need to know
A major tech firm lender revealed it's in deep trouble. Silicon Valley Bank's share price tanked 60% after announcing it needs to raise $2.25 billion to offset a $1.8 billion loss on some bond sales.
The White House proposed tax hikes on the rich. President Joe Biden wants to increase taxes on those earning more than $400,000—himself included—as well as corporations, setting up a fight with Republican leaders.
General Motors announced voluntary redundancies. Thousands of workers in the US and abroad can opt to get paid to quit.
Reddit is killing its Clubhouse-style feature. The platform doesn't have the resources to keep Reddit Talk going without the help of its third-party vendor, which is shutting down.
---
What to watch for
An activist investor plans to challenge Apple's racial and gender pay gap reporting at the Cupertino company's annual general meeting, a virtual gathering scheduled for today (March 10).
Apple thinks it's already doing enough and has called on shareholders to vote against the proposal—in fact, Apple is urging shareholders to vote against all proposals. Ananya Bhattacharya looks at what's on the table, and who objects to Al Gore's board seat.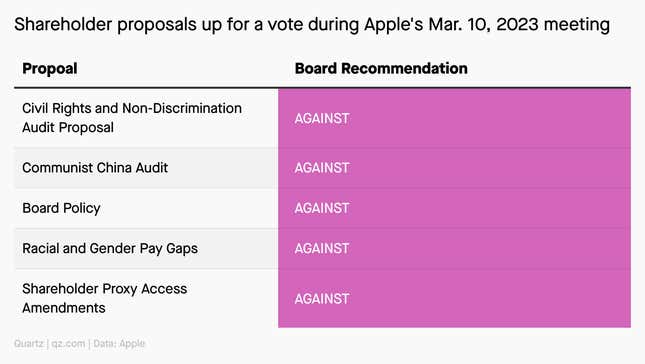 ---
It's already way too hot in India
Pop quiz: India just witnessed its hottest February in…

A. 2 years
B. 40 years
C. 93 years
D. 122 years
Find the answer in Niharika Sharma's Quartz story, which also explains why a hot February is sparking fears of widespread power cuts this summer.
✦ Do you rely on stories like this to keep up with global trends? Support our newsroom by becoming a Quartz member. Daily Brief readers get 50% off.

---
Quartz's most popular
🙃 China is struggling with too little inflation
🎬 Spotify is adding video content to its audio-streaming platform
⛪ An Australia MPs accused Hillsong of financial misconduct
🧠 Were mental health fears during the pandemic overblown?
🇨🇮 Côte d'Ivoire is the highest taxed country in the world
😎 The leisure and hospitality industry is driving US job growth
---
Surprising discoveries
Construction workers are commuting via private jet. It's another perk of the tight labor market.
Pistol shrimp claws snap as fast as a bullet flies. Their grabbers can produce a shockwave that also emits a burst of light.
The Flatiron Building is headed to the auction block. It'll hopefully settle a longtime dispute between its owners.
Mice were created with DNA from two dads. The breakthrough method could maybe one day be used for humans.
The green burial industry is expected to top $1 billion by 2030. The business around our deaths is taking an eco-friendly turn. Learn more in the latest episode of the Quartz Obsession podcast.
🎧 Listen on: Apple Podcasts | Spotify | Google | Stitcher
---
Correction: Yesterday's email incorrectly said that Sen. Bernie Sanders subpoenaed Starbucks CEO Howard Schultz. Sanders only threatened to subpoena Schultz.

Our best wishes for a productive day. Send any news, comments, pistol shrimp, and ownership drama to hi@qz.com. Reader support makes Quartz available to all—become a member. Today's Daily Brief was brought to you by Sofia Lotto Persio, Julia Malleck, and Morgan Haefner.