Good morning, Quartz readers!

---
Here's what you need to know
Credit Suisse shares hit an all-time low. The collapse, which prompted Swiss regulators to offer financial support, came amid a broader stock tumble in the fallout of two US bank failures.
A Chinese property tycoon was accused of a billion-dollar fraud scheme. US authorities arrested Guo Wengui, who is based in New York, for allegedly misleading investors online.
The UK got a new budget. The government will still support energy costs and more business investments are on the way, but mum was the word on increasing public sector wages.

Farmers protested onion prices in India. Low demand and bad weather have made the crucial crop particularly volatile this year.
---
Ryan Reynolds on T-Mobile vs. his mom
"We are so happy T-Mobile beat out an aggressive last-minute bid from my mom Tammy Reynolds as we believe the excellence of their 5G network will provide a better strategic fit than my mom's slightly above-average mahjong skills."

— Ryan Reynolds, Mint Mobile minority owner, in a statement announcing the $1.35 billion sale that will give T-Mobile more access to low-income customers
---
FedEx in one big number
$22.8 billion: Amount that global shipping giant FedEx is expected to report tomorrow (March 16) as its third-quarter revenue, down 3.6% from last year's numbers.
Many look to FedEx as a bellwether of the global economy, so, fair warning, there might be a lot of 😬 around the office. Quartz's Julia Malleck rounds up a report card.

---
The Federal Reserve is getting egged
Speaking of bellwethers, eggs have hatched into a rather surprising indicator of consumer prices in the US. Quartz's Nate DiCamillo asks how companies paying 41.3% less for eggs last month than they did in January will scramble the Fed's rate-hiking regime.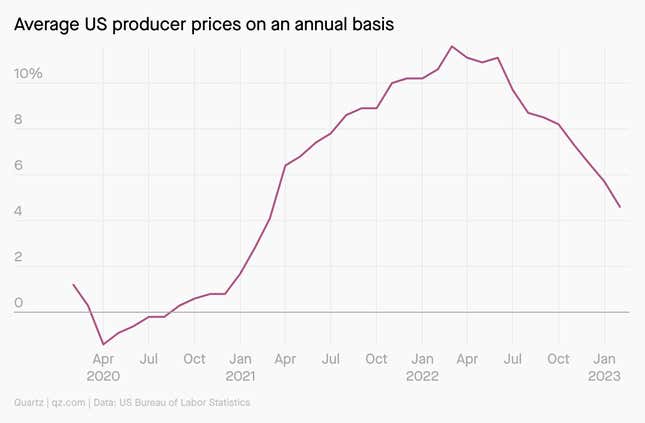 ✦ Love our email? Take our 1 minute survey and let us know how you feel about the Daily Brief (and if your feeling is a good one, consider becoming a member for 50% off).
---
Quartz's most popular
🌊 Six landlocked African countries could one day have a coastline
🧐 What the SVB fallout could mean for the next Fed rate hike
🚁 Can Archer make electric aviation a reality?
🤖 ChatGPT is getting more nuanced
📈 Indian banking saw a 40% increase in wilful defaults in two years
---
Surprising discoveries
The donkey's family tree has officially been mapped. Wild asses were likely domesticated just once in Africa around 5,000 B.C.E., whereas smart asses have been around since the dawn of time!

Nothing kills the vibe like smog... Fruit flies don't like to get it on in polluted air.

… and nothing mends geopolitical ties like omelet rice. South Korean president Yoon Suk Yeol and his Japanese counterpart Fumio Kishida hope omurice will break the ice.
Pro golfers have gotten too good. A proposal to change balls is aimed at making them travel shorter distances.

A shoebox-sized satellite developed for a college class experiment is changing our lives. You can't see them from the ground, but CubeSats have revolutionized how the space industry thinks about satellites.
🎧 Listen to "Earth observation: Taking the long view," the latest episode of the Quartz Obsession podcast

Apple Podcasts | Spotify | Google | Stitcher
---
Our best wishes for a productive day. Send any news, comments, omurice recipes, and mini golf tips to hi@qz.com. Reader support makes Quartz available to all—become a member. Today's Daily Brief was brought to you by Clarisa Diaz, Sofia Lotto Persio, and Morgan Haefner.