Good morning, Quartz readers!

---
Here's what you need to know

US lenders readied $30 billion to save First Republic Bank. The safeguard stabilized the San Francisco-based bank's crashing stock. Meanwhile, JPMorgan gave some sale advice to Credit Suisse, and the European Central Bank brushed off banking fears.
Poland became the first NATO member to send planes to Ukraine. Four Soviet-era fighter jets will be given to the country in coming days, with more earmarked for the future.

Healthcare workers in the UK struck a pay deal. The agreement comes after months of strikes disrupted operations at the National Health Service.

FedEx smoothly landed its earnings report. The global shipping giant's profit fell year over year, but it expects to earn more this year than previously thought, thanks to budget cuts.
The US gave TikTok an ultimatum. China-based parent company ByteDance must sell TikTok or face a ban.
---
St. Patrick's Day is big business in America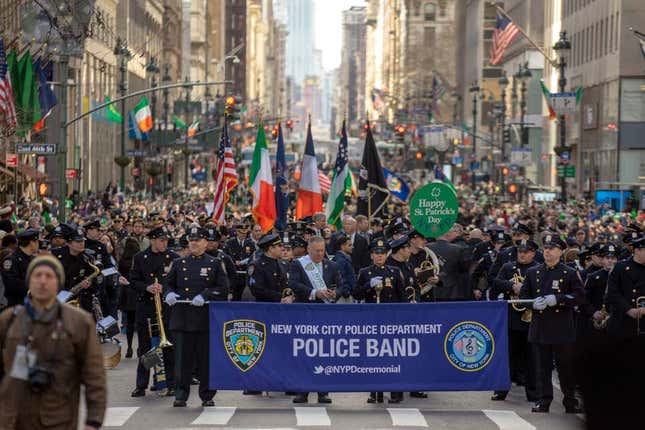 Sure, Chicago, Boston, and New York are thousands of miles away from Ireland, but if you go for an evening stroll through an American city on St. Patrick's Day, you should be prepared for crowds of green-clad, Guinness-toting revelers.

1 in 10: People in the US with Irish heritage, making it the country's second-largest ethnic group
70 million: Number of people in the global Irish diaspora. The population of Ireland is 5 million
$6.9 billion: Total amount Americans will spend during the holiday festivities, or roughly $44 per person
80%: Share of Americans expected to wear green this weekend
---
In an NCAA Cinderella story, schools get the glass slipper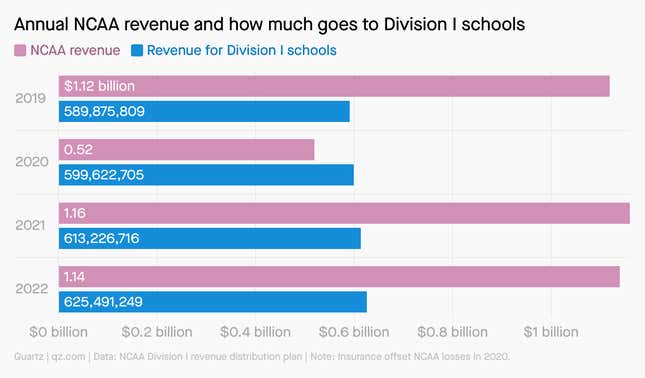 Get the full story on how much March Madness funding goes to colleges and universities (but not the student-athletes, of course.)

✦ Love our charts? Take our 1 minute survey and let us know how you feel about the Daily Brief (and if you want to feel like you're shooting a buzzer beater, consider becoming a member for 50% off).
---
Radioactive tubes keep disappearing
"If someone breaks the cylinder, when you are directly exposed to it, you could be exposed to a high risk of cancer and serious illness, so please don't break the cylinder."
—Office of Atoms for Peace secretary Permsuk Sutchaphiwat talking about a missing radioactive cylinder in Thailand. The hazardous tube, similar to the capsule that was lost in Australia, hasn't been seen for a week.
---
Quartz's most popular
🌕 How does NASA's new Moon suit compare to the original?
🚜 A party born out of farmers' protests won big in the Dutch election
😬 Newark entered a sister-city program with a fake Hindu nation 
🍼 Does the UK's childcare plan go far enough?
💸 Nigeria launched a $672 million fund for startups
🪀 Toys R Us had a rocky re-entry into India 
---
Surprising discoveries
Ernie Bot didn't come to his own launch party. The ears of the ChatGPT rival from Chinese search giant Baidu were left burning.
Rocks made of plastic were found in Brazil. The mixing of pollution with geology is terrifying scientists.

The world may get its first octopus farm. But the food operation planned for the Canary Islands is tangled in criticism.

Italy's dugout at the World Baseball Classic has a Nespresso. Paper cups aren't a hit among players though.

In the old days, astronauts would just chuck satellites out the airlock. Now, we have more efficient ways of getting these Earth observation machines into orbit, so that they can get right to the business of observing weather patterns, identifying human rights atrocities, and more.

🎧 Listen to "Earth observation: Taking the long view," the latest episode of the Quartz Obsession podcast: Apple Podcasts | Spotify | Google | Stitcher
---
Our best wishes for a productive day. Send any news, comments, unused Ernie Bot party favors, and dugout espresso to hi@qz.com. Reader support makes Quartz available to all—become a member. Today's Daily Brief was brought to you by Clarisa Diaz, Sofia Lotto Persio, Diego Lasarte, and Morgan Haefner.