Good morning, Quartz readers!

---
Here's what you need to know
The EU bolstered its arsenal of trade defenses. The bloc agreed to use an anti-coercion instrument, aimed at lessening economic pressure from other nations, including China.
Taiwan's president Tsai Ing-wen left for the US. China has threatened to retaliate if she has a stopover meeting with US lawmakers during her diplomatic trip to Central America.

Tech leaders called for a pause in the training of next-gen AI. Apple cofounder Steve Wozniak and Tesla CEO Elon Musk are among hundreds of signatories to an open letter advocating for shared safety protocols.

Turkmenistan earmarked $5 billion to build a city. It'll be named Arkadag, or "protector," in honor of its former president of 16 years, Gurbanguly Berdymukhamedov, who doesn't mind sharing the limelight—he wrote a song once about his favorite horse.
---
The right to a preference at Starbucks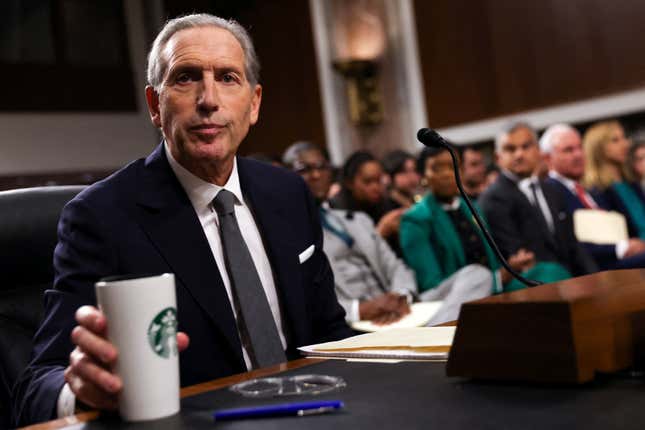 "We want to treat everyone with respect and dignity. However, I have the right, and the company has the right, to have a preference. And our preference is to maintain the direct relationship we've had with our employees, who we call partners."

—Howard Schultz, founder and three-time CEO of Starbucks, in a contentious US Senate labor committee hearing yesterday. Lawmakers asked him about the roughly 130 violations of labor laws—which he might just term "partner preferences"—submitted by the National Labor Relations Board in the last 18 months.
---
How's your company doing re: remote work?
Not every employer has handled the WFH shift gracefully—but we want to hear about those companies who are doing it right.
Does your workplace…
🧠 Use digital tools to help teams overcome creative blocks?
🗣️ Or perhaps you have a manager who has vowed to adapt to an all-remote team?
🧳 What if you want to travel while you work—are they good with that?
↩️ If they've done an about-face on remote work, have they been open to your suggestions?
We're currently accepting submissions for our annual Best Companies for Remote Workers report, and we want to know if your company should make our list!
---
Amsterdam is watching your online searches
Amsterdam kicked off its "Stay Away" ad campaign this week, targeting people who use very specific terms when searching online for things to do in the Dutch city. Plugging "pub crawl Amsterdam" into Google is just one of the phrases that'll trigger ads telling you to keep your drugs and sex away from the city, thank you very much.
✦ Love stories about how global tourism is changing? Don't stay away! Help keep our content free and accessible to all by becoming a member. Daily Brief readers get 50% off.
---
Quartz's most popular
🪦 Can a billionaire die without anyone noticing?
🤖 If you went to college, GPT will come for your job first
🥓 The meat industry really didn't like the IPCC's plant-based diet
🙃 Not one Adani company is among India's top corporate taxpayers
🏠 A real-life billionaire owns the mansion in Succession's season 4 premiere
🌸 Cherry blossoms are blooming earlier than expected
---
Surprising discoveries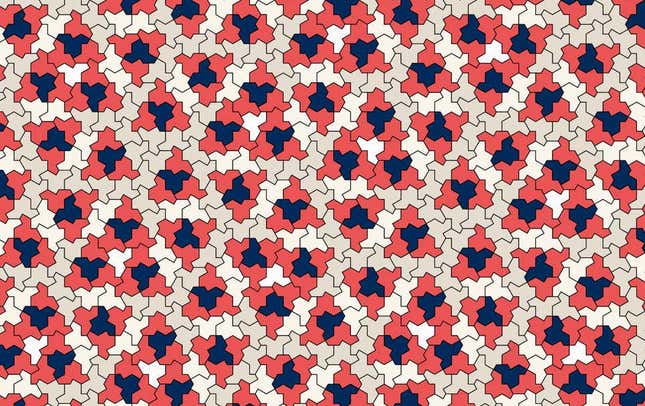 There's a new shape called the hat. The 13-sided configuration can tile a surface without repeating itself.
Mammoth meatballs were developed. Nothing says "save the planet" like growing food in a lab using the DNA of an extinct animal.
South Africa is the world's most internet-addicted country. Most people there are online nearly 10 hours a day, about three hours longer than the global average.
Forget supermassive black holes. An ultramassive one was found that's 30 billion times the mass of our sun.
Only 1.2% of people have a perfect credit score. Should we even strive for 850? Scott Nover and host Annalisa Merelli talk about why that might be unattainable in the last episode of the Quartz Obsession podcast, season four.

🎧 Listen on: Apple Podcasts | Spotify | Google | Stitcher
👀 Or: read the transcript!
---
Our best wishes for a productive day. Send any news, comments, hat backsplash ideas, and ultramassive doughnut holes to talk@qz.com. Reader support makes Quartz available to all—become a member. Today's Daily Brief was brought to you by Morgan Haefner and Susan Howson.
Correction: Yesterday's chart on firearm deaths was not a rate per 100,000. The numbers are the total number of deaths. Nationally, the rate of children killed by firearms in the US in 2020 was 5.38 per 100,000 or 4,368 deaths.