Good morning, Quartz readers!

---
Here's what you need to know
Former US president Donald Trump pleaded not guilty to 34 felony charges. It marked the first time in American history that an ex-president has faced criminal charges.

Australia didn't hike interest rates. It's the first time in 10 months the country hit the brakes on increases, raising questions around whether other global central banks will follow suit.
China tried to rename 11 places in India. The changes, sought in a disputed area that Beijing claims as its own but New Delhi sees as its eastern state of Arunachal Pradesh, were rejected.

Italy temporarily banned ChatGPT. It's the first Western country to take action against an AI chatbot, and the ban comes as the country is also mulling limits on the use of English language.
---
Australia is feeding China's EV battery dominance
Australia is close to reaching a milestone in the global energy shift away from fossil fuels and toward renewable sources: Within five years, the country will earn as much from exporting lithium, the mineral at the heart of current battery technology, as it does from thermal coal.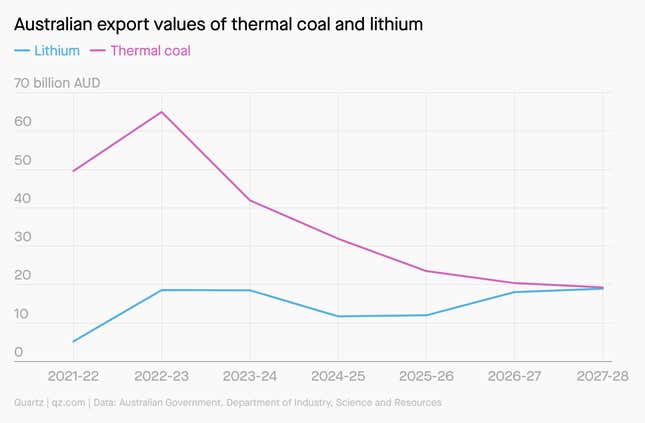 Australia's lithium exports are helping to feed China's EV battery dominance—96% of Australia's lithium exports went to China as of 2022. But as Quartz reporter Mary Hui explains in the second part of her three-part series (here's part one if you missed it), Australia isn't the only country that China is targeting in its race to dominate the global rare earths economy.
---
The Disney-DeSantis duel deepens
"While a company has First Amendment rights, it does not have the right to run its own government and operate outside the bounds of Florida law. The Florida Legislature and Gov. DeSantis worked to put Disney on an even playing field, and Disney got caught attempting to undermine Florida's duly-enacted legislation in the 11th hour."

—Taryn Fenske, a spokesperson for Florida Gov. Ron DeSantis, in response to Disney CEO Bob Iger's criticism of the state's repeated attacks on the entertainment giant, including a new investigation into its outgoing board.
---
The US job market is cooling off
The US economy's demand for workers is finally waning: The number of job openings fell by 632,000 in February, continuing a rapid decline that started in January. That may be good news for inflation, but it's not-so-good news for worker's negotiating power.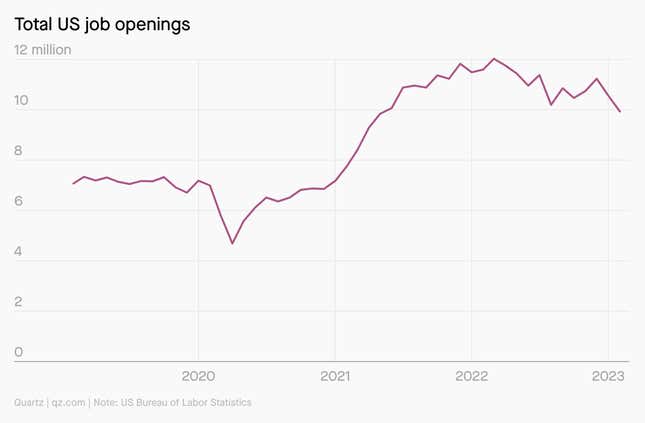 ✦ Love stories that help you understand changes in the global economy? Help keep our content free and accessible to all by becoming a member. Daily Brief readers get 50% off.
---
Quartz's most popular
🐶 Why Elon Musk changed Twitter's logo to the Dogecoin symbol
🪢 Illumina has to unravel its $7 billion Grail purchase
🧐 Tesla's racism fine was cut by 98%, but Elon Musk still thinks it's too much
🇵🇰 Why Pakistan is on the brink of a disaster
🎢 How Joe Biden's oil bet went sideways
☁️ Sky-high rents make Bengaluru India's hottest residential market
---
Surprising discoveries
An exoplanet 12 light-years away is sending out radio signals. The waves aren't alien parlé, but they could indicate the Earth-sized orb has a magnetic field and an atmosphere like ours.

A wet wipes ban is coming for England. The flushable squares have been quite controversial.

KFC and Chick-fil-A really want four-pound chickens. The smaller birds are needed for sandwiches, but they're hard to find.

Opposable thumbs made monkeys more gullible. Those with the digits were more likely to fall for the classic "French drop" magic trick.
Twenty-five million people watched the premiere of Lord of the Rings: The Rings of Power TV series, but not many finished it. Only 37% did, to be exact.
---
Our best wishes for a productive day. Send any news, comments, alien communication, and thumb exercises to talk@qz.com. Reader support makes Quartz available to all—become a member. Today's Daily Brief was brought to you by Morgan Haefner.