Good morning, Quartz readers!

---
Here's what you need to know
The International Monetary Fund forecasted the world's economy will grow just 3% annually over the next five years, its weakest projection since 1990.
The IMF has been making predictions like these for many decades (pdf), but how accurate do they tend to be? For the most part, IMF predictions are pretty on the nose. Though, as the chart below shows, their aim gets a little wild around major recessions.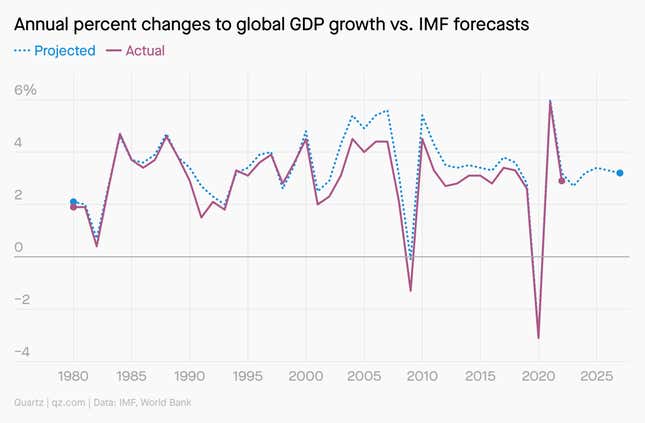 Plus, the five-year projection is on par with what the IMF already crystal-balled for 2023, which is unlikely to really change the plan for central banks. Well, most central banks.
---
A very accurate prediction: Secondhand clothing market will keep exploding
There's one shopping trend that's overperforming, anyway: thrifting. The global secondhand apparel market is expected to grow 127% by 2026, three times faster than the apparel market overall. Quartz's Clarisa Diaz explains why.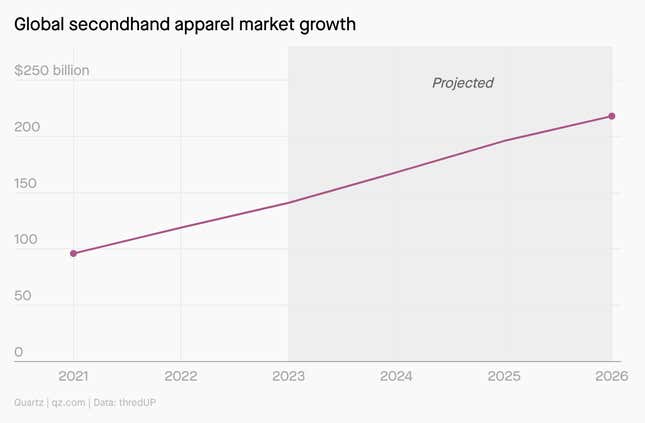 ---
New EPA rules could supercharge EV demand
The US Environmental Protection Agency (EPA) is expected to propose new rules this week limiting tailpipe emissions from automobiles tomorrow. It could be just what car-makers needed to get more people behind the wheel of an electric vehicle—if instructure improvements can keep up.

67%: Share of cars sold in the US that'll need to be EVs by 2032 under the new rules
5.8%: Share of the total auto market that EVs made up last year
130,000: Number of EV chargers in the US right now
>1 million: Number of chargers needed by 2030
---
The DRC wants more from its mining deals with China
The Democratic Republic of Congo (DRC) is pushing for an audit of the country's mining contracts with China, which it says heavily favor Beijing.

But the root of the problem lies in the past. Case in point: Most of these deals were put in place informally by DRC's previous government between 2007 and 2008, and have since become a major political issue heading into this December's presidential election.

---
Quartz's most popular
🤑 Can a billionaire die without anyone noticing?
🤑🤑 5 negotiation myths that hold you back from more money
🤑🤑🤑 You lived through the fastest economic recovery in three decades
🧲 The West is trying to cut China out of rare earths⁠—and China is noticing
🛫 What were the world's busiest airports in 2022?
🍪 How the tech squeeze is affecting Silicon Valley's famous office perks
---
Surprising discoveries
Albert Einstein always thought animals had super senses. He had an inkling birds could see magnetic fields before evidence suggested as much.
The world's new favorite animated film is a real peach. The Super Mario Bros. Movie smashed records by grabbing $375.6 million in global ticket sales during its opening weekend.
Microplastics have made it into the Indian diet. Sea salt samples across the country reveal a troubling additive.
Twitter is now Titter. Well, at least at its headquarters.
Humans were tripping during the Bronze Age. Hairs from 3,000 years ago indicate psychoactive drugs were used in Europe during that time.
---
Our best wishes for a productive day. Send any news, comments, super senses, and Super Mario Bros. tickets to talk@qz.com. Reader support makes Quartz available to all—become a member. Today's Daily Brief was brought to you by Morgan Haefner and Susan Howson.