Good morning, Quartz readers!

---
Here's what you need to know
Billionaire Carl Icahn got the Hindenburg Research treatment. The short-selling research firm deems the activist investor's fund to be inflated by 75% or more.
Ford's EV unit registered a $722 million quarterly loss. The automaker is nonetheless slashing the price of its all-electric Mustang Mach-E.

Tinder's parent company Match Group is finally exiting Russia. The company mentioned its commitment to "protecting human rights" in deciding to leave more than a year after the invasion of Ukraine.
A key TikTok executive in the fight against a US ban is leaving the company. Eric Han was tasked with leading the US Data Security Trust and Safety team formed in December.
AI helped achieve a breakthrough in mind-reading technology. The technology's progress is raising ethical concerns. Meanwhile, IBM suspended hiring for jobs that can be done by AI.
Where press freedom is most at risk around the world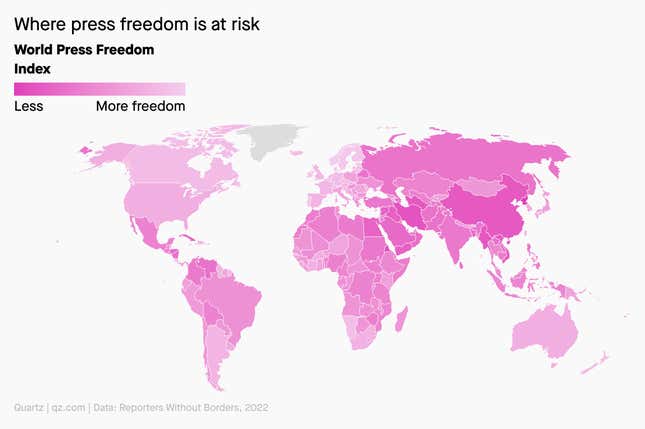 May 3 is known as World Press Freedom day, and this year marks the 30th anniversary since the United Nations General Assembly made the proclamation. The detention of Wall Street Journal reporter Evan Gershkovich in a Russian prison is one of the most prominent current cases of abuses against media freedom, but sadly, it is not an isolated one.

According to Reporters Without Borders, as of December 2022 there were 533 journalists imprisoned across the world, a 13.4% increase from the previous year. Clarisa Diaz looked at the most recent World Press Freedom index to see which countries score highest and lowest.
---
Another part of the Murdoch media empire was caught fibbing
Pop quiz: On which topic did Australia's media authority say Sky News Australia—owned by Rupert Murdoch's News Corp—aired misleading information?
A. Election coverage
B. Climate change
C. Space launches
D. The covid pandemic

Find the answer in Cassie Werber's report.
---
International drug enforcers clocked a huge bust
288: Number of arrests across nine countries announced yesterday in a sprawling drug bust that took down a major dark web narcotics ring

Dubbed Operation SpecTor, the investigation focused on an online drug hub called Monopoly Market and was one of the largest international operations of its kind.
---
Quartz's most banky
🤔 Why did JPMorgan Chase buy First Republic out of receivership?
💼 Jamie Dimon, from Sandy Weill's assistant to savior of First Republic
🏦 ​​The FDIC's proposal for deposit reform is narrow and uninspiring—and it just might work
🖐️ The FDIC says it didn't have the staff to regulate Signature Bank
🫵 The Fed's report on Silicon Valley Bank is out, and it blames everyone
📉 Credit Suisse's final earnings report was one last quarterly run from hell
Surprising discoveries
France's finance minister has enough time to write erotic novels. What's mightier, the pen or economic turmoil?
Quebec is taking an Uber approach to its public transit. People love it.

Enamored by Sweden, young Chinese workers are moving there in record numbers. But it "isn't as chill" as they had hoped.

The CEO of edtech firm Chegg name dropped ChatGPT in its weak earnings report. It sent stocks in a tailspin.

The first World's Fair had 10 miles (16 km) of exhibits. It took place in London and kicked off nearly two centuries of gathering the world's ideas into one exhibition. So why don't we talk about the World's Fair anymore? We'll explain in the first episode of the Quartz Obsession podcast, season five!
⬇️ Subscribe today, wherever you get your podcasts: Apple Podcasts | Spotify | Google | Stitcher | YouTube 
---
Our best wishes for a productive day. Send any news, comments, time to write and manage a country's finances, and Nordic cuisine to talk@qz.com. Reader support makes Quartz available to all—become a member. Today's Daily Brief was brought to you by Sofia Lotto Persio and Morgan Haefner.