Good morning, Quartz readers!

---
Here's what you need to know
Elizabeth Holmes is finally going to prison. The disgraced tech founder lost her last battle to avoid jail and must pay $452 million in restitution to Theranos investors like billionaire Rupert Murdoch.
Elon Musk avoided a succession showdown at Tesla. Shareholders rejected a proposal to publish a report on "Key-Person Risk," which sought to establish succession plans.
A former Apple engineer was charged for stealing company secrets and fleeing to China. Weibao Wang has been accused of stealing thousands of documents containing information about Apple's self-driving technology.
Ecuador's president is facing an impeachment vote. Guillermo Lasso has been accused of embezzlement, which he denies, and has in response threatened to dissolve the country's legislature.

Taco Bell is suddenly hungry to fight a "Taco Tuesday" trademark battle. Rival chain Taco John's trademarked the slogan in 1989 in 49 US states.
---
Sam Altman got a warm Congressional welcome
"My worst fear is we cause significant harm to the world. If this technology goes wrong, it can go quite wrong."
—Sam Altman, CEO of OpenAI, the company responsible for the large language model GPT-4 and its most famous consumer application, ChatGPT, during his testimony in front of US lawmakers yesterday

Compared to other Congressional grillings of Big Tech executives, Altman was treated like a responsible steward of an inevitable technology rather than an adversarial industry leader… and no one was hallucinating, as far as we can tell.

---
A soft landing is still very much possible for the US economy
US retail sales are growing again after two straight months of decline. It's good news for those who are still holding out for the world's largest economy to make a soft landing on the shores of a recession. But a US debt default would of course trigger a tsunami.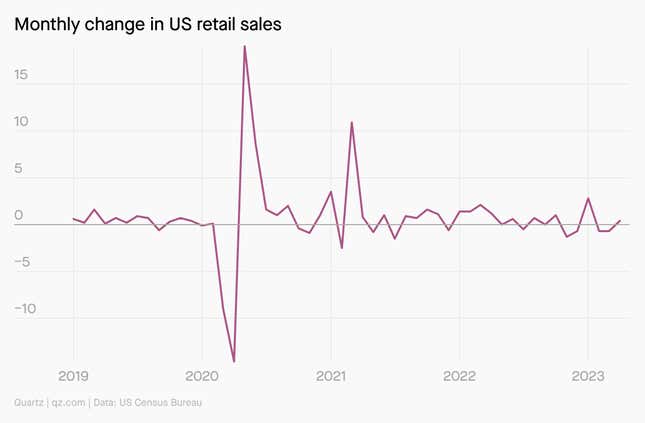 ---
One big Bollywood number: $40.7 million
That's the quarterly loss of the newly combined PVR INOX, now India's largest movie theater chain

Bollywood is beyond big (just ask Indian politicians how big). But as Quartz's Niharika Sharma explains, the Hindi film industry is losing its luster among moviegoers in India.
---
Quartz most popular
🤑 Africa's richest man has a built-in advantage with Nigeria's government
🤝 Russia wants to settle its trade in yuan—and India is running out of options
👨‍💻 The investor of Big Short fame is making a huge bet on Chinese tech stocks
🐭 The other battle brewing in Florida over Disney and the "Don't Say Gay" bill

🇹🇼 Warren Buffett's $4.1 billion bet on TSMC lasted less than six months
👋 It's not just conversation—Gen Z is missing some essential nonverbal skills, too
---
Surprising discoveries
Baseball fans can agree on one thing: pitch clocks. The countdown used by Major League Baseball in the US is making viewers more interested in watching games.
Eight million people speak Sorani Kurdish, but it wasn't on Google Translate until 2022. The community that worked to digitize the language was made up mostly of volunteers.
Water was found around a rare comet for the first time. The James Webb telescope's discovery generated more questions than answers.
Eight US pharma giants paid just above 2% in US taxes. Their combined 2022 profits were $110 billion.
Plastic bottles were created in 1973. That's a fairly recent date, considering the item has entrenched itself so firmly into our daily lives. Host Scott Nover and Quartz editor Sofia Lotto Persio unwrap the invention of single-use plastics in the latest episode of the Quartz Obsession podcast, season five.
✅ Subscribe wherever you get your podcasts: Apple Podcasts | Spotify | Google | Stitcher | YouTube 

👀 Or, read the transcript

---
Our best wishes for a productive day. Send any news, comments, pitches about clocks, and theories about comets to talk@qz.com. Reader support makes Quartz available to all—become a member. Today's Daily Brief was brought to you by Sofia Lotto Persio and Morgan Haefner.