Good morning, Quartz readers!

---
Here's what you need to know
Montana became the first US state to ban TikTok. The state law also compels Apple and Google to drop TikTok from their app stores under penalty of a $10,000-per-day fine.
Cancer patients are struggling to access drug treatment in the US. The reason for the shortage is one American drugs don't often have to contend with: they're too cheap.
Amazon announced its largest-ever investment in India. The tech giant committed $13 billion to build cloud infrastructure in the country.
Deutsche Bank is settling a Jeffrey Epstein lawsuit... The bank offered $75 million to the women who accused Epstein of sexual abuse—half the sum it paid New York regulators to settle a similar case in 2020.
…while Walgreens is paying another record sum in an opioid-related case. The $230 million settlement with San Francisco is thought to be the highest ever won by a local US government over the opioid crisis.
American home improvement fever has broken
A craze to rip up floors and re-upholster everything has been waning ever since pandemic lockdowns started easing in the US. Now, the trend has all but faded into a dusty corner, much like those half-used paint cans in your basement.

It's no wonder, then, that Home Depot, one of the largest retailers in the US, is expecting its yearly sales to drop for the first time since 2009. Read more about what's driving people to abandon their measuring tapes and hammers.

---
Pop quiz: How much money would put you in India's 1%?
A. $175,000
B. $550,000
C. $906,000
D. $1.5 million

Find the answer in our report. Here's a hint: The place with the highest super-rich entry point is Monaco, and that threshold is about 70 times higher than what it is in India.
---
Charted: Union membership in the US is nearing a 100-year low
For all the news surrounding new unionization efforts among Hollywood writers, Starbucks employees, Amazon warehouse workers, and, most recently, dancers at a Los Angeles strip club, the fact is that union membership in the US is at its lowest level since the Great Depression.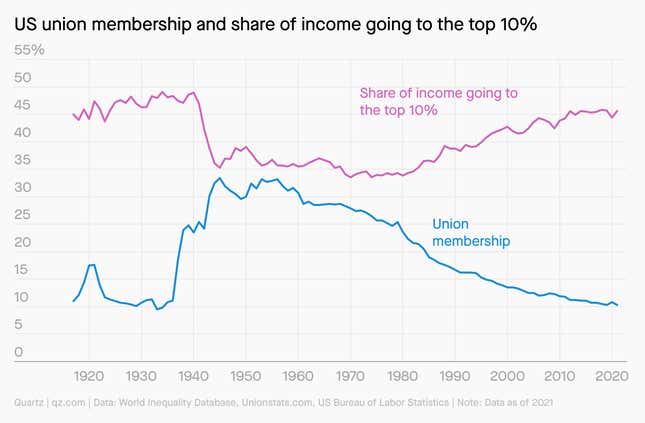 ---
Quartz most popular
👀 Wall Street is paying more attention to the business risks posed by water
🥷 A former Apple engineer was charged with theft of corporate secrets
🎓 Young people in China are struggling to find work
🎲 This game will show you just how foolish it is to sell stocks right now
🚪 3M fired a veteran exec for inappropriate conduct weeks after promoting him
🤑 Rupert Murdoch is the biggest beneficiary of Elizabeth Holmes's $452 million bill
Surprising discoveries
There's a whole catalog devoted to collective nouns. The words denote a group of individuals—think "murder of crows" etc.—and no one really has a say over which words are correct.

Japan's famous vending machine culture was superpowered by covid. T-shirts, fortunetelling slips, and neckties can all be yours with the touch of a button.
The global temperature is expected to breach 1.5°C of warming sometime in the next five years. Though the threshold will be broken temporarily, it'll still be uncharted territory.

Salvador Dalí is the world's most faked artist. His counterfeits are a huge market of fraudulent prints and inconsistent signatures.

Seaweed can help make a substitute for plastic. But not all bio materials aimed at replacing single-use plastics are causing more good than harm. Host Scott Nover and Quartz editor Sofia Lotto Persio explain in the latest episode of the Quartz Obsession podcast.

🎧 Listen right now, and subscribe wherever you get your podcasts: Apple Podcasts | Spotify | Google | Stitcher | YouTube 

---
Our best wishes for a productive day. Send any news, comments, loner nouns, and vending machines to talk@qz.com. Reader support makes Quartz available to all—become a member. Today's Daily Brief was brought to you by Sofia Lotto Persio and Morgan Haefner.