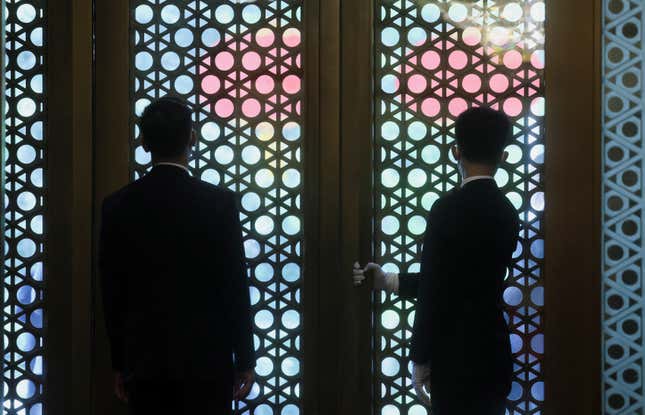 Good morning, Quartz readers!

---
Here's what you need to know
The US and China are sitting down together. In the highest-level visit in five years, US secretary of state Antony Blinken began "constructive" talks, which may even include president Xi Jinping, though it's unclear if the two countries will make much headway repairing their fraught relationship.

Militants killed at least 41 people at a Ugandan school. Authorities are pointing the finger at the extremist group Allied Democratic Forces for the attack, an unusual occurrence in Uganda.
London's dirtiest cars will have to pay more to park. Lambeth council has big "15-minute city" goals, and its emissions-based parking fee structure will likely become the new norm even outside London.
Elon Musk says a Twitter video app for TV is "coming." Prepare yourselves.
---
Where is the climate money going?
$37 billion: Amount spent by the World Bank on what it has categorized as climate initiatives
According to an analysis by the Breakthrough Institute and the Center for Global Development, the majority of climate projects funded by the World Bank between 2020 and 2022 turned out to have little to do with climate at all.
As Annalisa Merelli explains, part of the problem lies in the squishy nature of measuring results when detailed information on projects is hard to come by. But with a 23-year, $119 billion budget (and the future of humanity on the line) it may be time to dig into spending where it's most impactful.

---
Reddit can't ignore its mods forever
"Like all blowups on Reddit, this one will pass as well."
—Steve Huffman, Reddit's CEO, in an internal memo on Monday, June 13
A week into the moderator-led protest over the social media platform's plans to paywall its API, big chunks of Reddit are still dark. Quartz's Julia Malleck isn't quite as confident as Huffman that this will blow over in short order. In our latest Weekend Brief, Julia connects the dots between moderator action and the valuation Reddit is seeking in its upcoming IPO.
You'll need to be a Quartz member to read it, but consider signing up! Members also receive Sunday Reads to help start their week in the know. Here's a 50% discount, with our thanks.
---
ChatGPT could be your copilot
Mercedes-Benz is integrating ChatGPT into its vehicles' voice control system, MBUX, which already provides weather reports and, of course, turn-by-turn directions. But the richness of the generative AI's responses could result in detailed information about a destination or suggestions for a dinner recipe.
Automakers will likely be just one of a fleet of industries experimenting with incorporating tools like ChatGPT into their products. And Mercedes may run up against a simple question: Do drivers even want this kind of on-the-road, in-depth conversation with AI, which tends to present hallucinations as fact?
---
Quartz's most popular
🤑 Elon Musk is starting to face the consequences of not paying Twitter's bills
🤮 2023 is the year of getting sick on a cruise
😏 American Millennials and GenZers feel wealthier than Baby Boomers 
🍻 America's new best-selling beer is also an LGBTQ champion
🏠 Google has officially changed its mind about remote work
😘 Every successful relationship is successful for the same exact reasons
---
Surprising discoveries
Do not put confidential information into AI tools. That may seem obvious, but the very makers of these tools had to warn their employees about privacy concerns.
Do put cows into forests. Silvopasturing—letting a herd wander around in the woods—can give an entire area a lower carbon footprint.
The best podcasts have only one host and are shorter than an hour. If you add an element of true crime, you've pretty much got the golden ticket.
A second cockpit door could provide an extra layer of protection against hijackers. But it will cost US airlines half a billion dollars.
Miami has its own dialect. South Florida's Spanish-English mashup is unique in its use of "calques," literal translations from one language to another.
---
Our best wishes for a productive day. Send any news, comments, Miami-isms, and bovine tree sprites to talk@qz.com. Reader support makes Quartz available to all—become a member. Today's Daily Brief was brought to you by Susan Howson.